This article first appeared in The Edge Malaysia Weekly, on December 23, 2019 - December 29, 2019.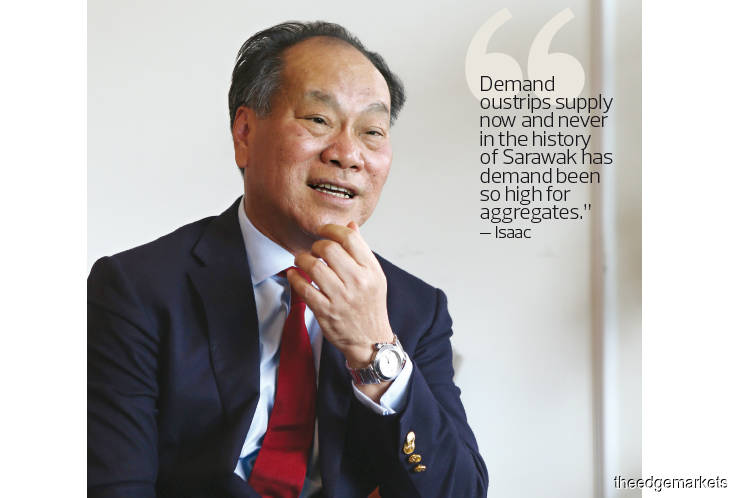 Photo by Mohd Izwan Mohd Nazam/The Edge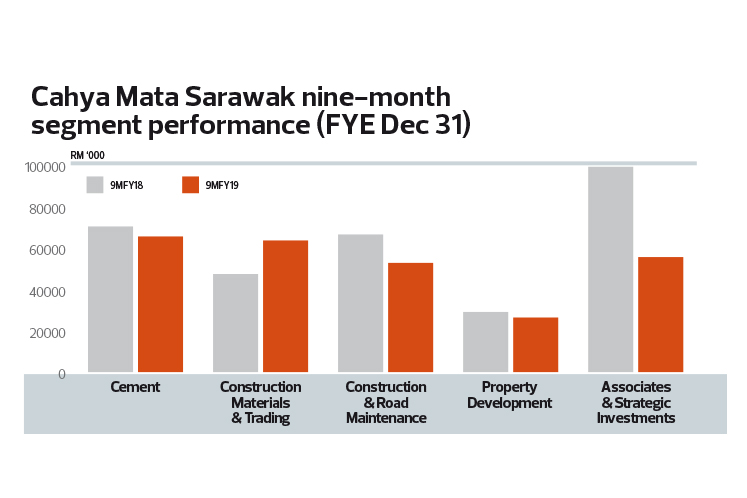 NOW that its state road maintenance contract has been renewed — but only for only half the road length — Cahya Mata Sarawak (CMS) is eyeing new maintenance jobs for public roads in the coming two years to make up the shortfall.
Managing director Datuk Isaac Lugun says the group is preparing for an expected tender in 2021 for the maintenance of up to 6,000km worth of rural roads in Sarawak. These roads are not maintained by private parties at present.
"We hear that quite a lot of the municipal roads will be given out to private parties to be maintained by players like CMS, so I think we will get some of those," Isaac tells The Edge in his first media interview since assuming the managing director's role in October.
"In 2022, the federal road maintenance (tender) will come back up again, so that is also a big prospect and we like to think that we'll have a share of the cake."
The federal road maintenance tender is expected to include the Sarawak portion of the Pan Borneo Highway, which is expected to be completed by 2022.
On Dec 6, CMS said its 51% unit, PPES Works (Sarawak) Sdn Bhd, had accepted a 10-year contract to maintain 3,300.65km of state roads beginning in January 2020. That represents 52.77% of the length of the current contract (6,254km), which expires on Dec 31.
In 2003, CMS was awarded a 15-year maintenance contract concession for the 6,254km of roads, but when the contract expired on Dec 31, 2018, it was extended by a year on the same terms and conditions.
Group road maintenance earnings will likely be significantly hit by the reduction. Already, the division is on course to post a lower profit contribution for the fourth year running.
Adding to the impact is that its current contract is via a 100%-owned subsidiary where it had a full share of earnings, whereas the renewal is via a 51% unit.
The other 49% in PPES Works is owned by Sarawak Economic Development Corporation (SEDC), a statutory body mandated to promote socioeconomic development in Sarawak.
Asked why CMS partnered SEDC for the new 10-year contract, Isaac says it was a strategic consideration. "We could have lost it," he adds.
"In any case, PPES Works is preparing to subcontract out to CMS because we have 400 people (in the road maintenance division), over RM100 million worth of equipment plus the proprietary software that we have developed."
That said, the group is already moving to right-size its road division by trimming its workforce by 386 workers and selling some surplus machinery in view of the smaller contract size.
"What we hear is that the state government has made it an imperative for new road maintenance contractors to absorb them [the retrenched workers]," Isaac says.
'Historic high demand'
CMS is also back on the acquisition trail for another quarry ahead of an expected boom in demand due to the state government's aggressive infrastructure push.
"Demand outstrips supply now, and never in the history of Sarawak has demand been so high for aggregates," says Isaac, adding that CMS has responded by optimising production across its existing five quarries.
In early 2019, the group concluded its acquisition of a 56% stake in granite quarry operator Borneo Granite Sdn Bhd for RM31 million. By end-2020, it expects to boost its annual production from about 200,000 tonnes to one million tonnes, Isaac says.
CMS also installed a new production line in its Sebanyis quarry that is expected to eventually boost its output to 1.3 million tonnes per annum. Overall, it anticipates output capacity to hit 3.4 million tonnes in the next year or so.
Even that may not be enough and CMS is now casting its eyes on potential acquisitions to capture more of the demand.
"We still have the appetite for one more quarry and we are looking at a few in the southern part of Sarawak," says Isaac.
The record high demand is due to the Sarawak government's aggressive infrastructure push, particularly for new rural roads and bridges.
The 2020 state budget, presented in November, had earmarked RM13.36 billion for rural infrastructure. Specifically, RM1.526 billion was allocated for the Second Trunk Road, RM1.173 billion for the Coastal Road Network and another RM1.148 billion for projects under the Regional Corridor Development Authority (Recoda).
As the state elections must be called by September 2021, it is likely the spending will commence well beforehand, political observers say.
Isaac declined to comment on the potential size of any prospective acquisition. However, it is worth noting that CMS is sitting on cash balances of RM580 million as at Sept 30.
In the nine-month period ended Sept 30, 2019 (9MFY2019), CMS recorded RM154.93 million in net profit (-26% y-o-y) from RM1.28 billion in revenue (+6% y-o-y). The group said the weaker performance was due to falling profits across almost all its business divisions.
The road maintenance division contributed 22.85% of group pre-tax profit or RM52.75 million (-21% y-o-y) in 9MFY2019. The only bright spot was its construction materials and trading segment, which saw pre-tax profit rise 34% y-o-y.
CMS is projected to record a net profit of RM199.86 million from RM1.75 billion in revenue, based on consensus estimates from seven research houses compiled by Bloomberg.
Hitting those numbers will mean the group's highest annual revenue in four years as well as its weakest net profit in three years.
Analysts are split on CMS' prospects. Three out of seven retain "buy" calls (target price from RM2.83 to RM2.94); two rate it a "hold" and the remaining two, a "sell".
Last Friday, CMS closed at RM2.40, down 13.59% over the past year, translating into a market capitalisation of RM2.57 billion.
Taib family committed to stay out of CMS
The founding family of Cahya Mata Sarawak Bhd (CMS) has committed to taking a step back from the diversified conglomerate with the latest leadership restructuring, says managing director Datuk Isaac Lugun.
"Our biggest challenges today remains the changing political landscape and the perception that we are a family-controlled company," he points out.
"We saw how these issues panned out in the state road maintenance contract renewal — we lost half of it (in terms of road length)."
On Oct 18, CMS announced the retirement of Datuk Syed Ahmad Alwee Alsree as group executive director after 15 years. Isaac was appointed managing director.
The restructuring consolidated the C-suite reporting line to Isaac. Prior to the restructuring, CMS had two CEOs — one for corporate and one for operations — plus a group chief financial officer, all of whom reported to the board and to Syed Ahmad Alwee.
Syed Ahmad Alwee is the son-in-law of Sarawak Yang di-Pertua Negeri Tun Abdul Taib Mahmud, who served as chief minister from 1981 to 2014. Taib's family founded CMS over four decades ago and the group has persistently been seen as his family vehicle.
Post-Oct 18, however, no member of the Taib family holds any executive board role though Taib's son, Datuk Seri Mahmud Abu Bekir Taib, remains non-executive deputy chairman.
The Taib family also do not hold any board position in CMS subsidiaries, except in associate company Kenanga Investment Bank where Syed Ahmad Alwee is deputy chairman, a non-executive role.
"The family agreed because they see the challenges we face and they recognise that there is that perception," says Isaac. "Even after the changes were made, people still think that all this is being done to pave the way for another family member to come in."
Isaac was referring to market talk that former minister Datuk Seri Sulaiman Abdul Rahman Abdul Taib, one of Taib's sons, was attempting a comeback in an executive board role.
It is notable that Sulaiman has been slowly growing his personal shareholding in CMS. In early May, his direct stake was 84.21 million shares (7.85%) but that had increased to 102.91 million shares or 9.61% as at mid-December.
Sources tell The Edge that some board members were opposed to the idea of Sulaiman taking an executive board position as it would contradict the direction CMS has been taking.
Looking back, Isaac, who joined the group in 1996, notes how much has changed in the family's involvement in the company over the past two decades.
"Back then, the family's total shareholding was in excess of 60% and now, it is 32%. In comparison, the combined institutional shareholding across the likes of Employees Provident Fund, Kumpulan Wang Persaraan Diperbadankan and Tabung Haji is about 52% today."