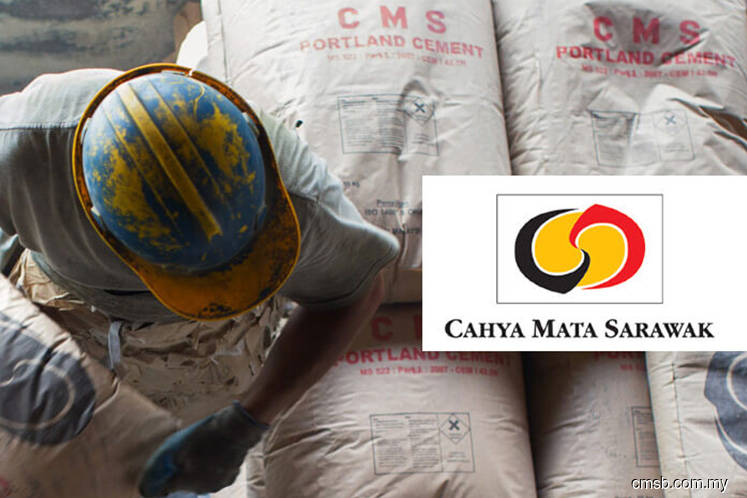 KUALA LUMPUR (Nov 28): Cahya Mata Sarawak Bhd reported an increase of nearly a fourth in net profit to RM78 million in the third financial quarter ended Sept 30, 2018 (3QFY18) against RM63.2 million a year ago, owing to higher contribution from its associates.
In a filing with Bursa Malaysia, Cahya Mata said the main contributor was OM Materials (Sarawak) Sdn Bhd as its plant achieved full production, coupled with improved commodity prices. Associates SACOFA Sdn Bhd, KKB Engineering Berhad and Kenanga Investment Bank Bhd also made improved contributions.
Revenue grew by 30% RM465.17 million, from RM357.36 million a year ago.
Net profit for the cumulative nine months improved 42.4% to RM208.62 million from RM146.5 million in 9MFY17. The group's construction and road maintenance division saw an improvement in profitability on the back of higher revenue from the construction of the Pan Borneo Highway, the Miri-Marudi road rehabilitation project and the Sarawak Museum project.
Cumulative revenue expanded by a fifth to RM1.22 billion, from RM1.01 billion a year ago.
Cahya Mata group chief executive officer Datuk Isaac Lugun said the company's growth strategy for strategic investments to drive the next wave of growth is beginning to come to fruition.
"The aim of this growth strategy is for our traditional core businesses and our strategic investments to equally contribute to double the group's earnings in the next three to five years."
He expects the group's traditional core businesses of cement and construction materials to maintain a steady performance despite operational challenges.
"This is expected to come on the back of the Pan Borneo Highway project, which has received full backing by the Federal government, and is expected to drive the construction sector in the State for the next 2 to 3 years.
"It will also be supported by the state government's increased spending on infrastructure, as it recently announced a record budget of RM9.07 billion for development which in part will fund the implementation of a few major infrastructure projects including the Coastal Road, Second Link Road and the State's Water Grid project.
"This ensures that the state will be a pocket of increased construction activity unlike in Peninsular Malaysia where the research houses have lowered their outlook for the construction sector," he added.
Cahya Mata closed down 6 sen or 1.8% to RM3.22, for a market capitalisation of RM3.4 billion.