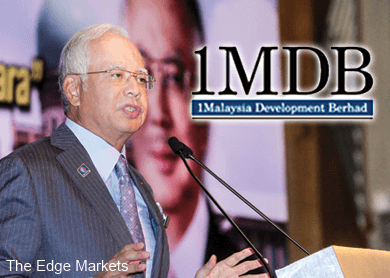 KUALA LUMPUR (Mar 4): The Cabinet has come out to say it is confident that "no wrong-doing" has been committed within 1Malaysia Development Bhd (1MDB), even as controversies continue to plague the state-owned strategic investment fund.
This follows a special briefing called by Prime Minister Datuk Seri Najib Razak today, between the Cabinet and 1MDB and its auditors Deloitte Malaysia, amid recent media reports on 1MDB.
In a statement issued by the Prime Minister's Office (PMO) today, Najib said: "If any wrongdoing is proven, the law will be enforced without exception."
The prime minister has also instructed the Auditor-General (A-G) to independently verify 1MDB's accounts.
"The A-G's report will be passed for transparent inspection to the Public Accounts Committee," said the PMO.
During the briefing, the Cabinet was told that the recent allegations directed at 1MDB relate to transactions undertaken by third parties such as Petro Saudi International Ltd (Petrosaudi), and not 1MDB.
"The relevant investments of 1MDB have been returned in full, with significant audited profit.
"Having received clarifications from 1MDB and Deloitte, Cabinet expressed confidence that no wrong-doing has been committed within 1MDB, and their desire for the company to be allowed to implement the proposed outcomes of its strategic review," added the PMO.
In a separate statement issued shortly after the PMO's earlier statement, 1MDB president and group executive director Arul Kanda Kandasamy said it will cooperate fully with the A-G to verify its accounts which have been audited by Deloitte, adding the "attacks being directed at 1MDB are politically motivated".
"These are deliberately coordinated attempts to undermine the company by spreading unsubstantiated allegations and speculation, which in turn could potentially harm the economy.
"We will cooperate fully with the A-G and hope the outcome of his findings [will] put to rest recent speculation," said Arul.