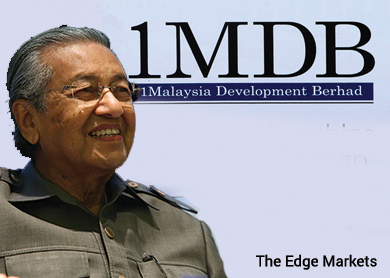 (June 16): Troubled state investment vehicle, 1Malaysia Development Berhad (1MDB) today said that a cabinet paper was presented and approved for the government's RM5 billion guarantee for its sukuk bond issuance in 2009.
It also said that the guarantee was not off-budget and that the government was fully liable for the amount it guaranteed, as the company responded to former prime minister Tun Dr Mahathir Mohamad's criticism in his two latest blog posts – last Friday and yesterday.
The firm issued two statements today, one to rebut allegations made in Dr Mahathir's blog posting from June 12 titled the "1MDB story" and another for the June 15 blog posting titled "More investments by 1MDB".
Dr Mahathir had said in his blog earlier that there was no proof that a cabinet paper existed for the RM5 billion guarantee.
"A cabinet paper on this matter was prepared and approved by the cabinet, in line with standard practice as required for all government activities," 1MDB said in the statement.
1MDB also denied Dr Mahathir's claim that the RM2 billion loan it obtained from Ananda Krishnan was used to pay interest on its loans.
"These proceeds were used to repay a RM2 billion loan from a syndicate of domestic money lenders. It was not used to pay interest, as claimed by Dr Mahathir," it said.
The 1MDB statements rebutted Dr Mahathir point-for-point, and even criticised the latter for "repeating" allegations despite 1MDB's clarifications regarding the US$1.1 billion it reportedly had in BSI Bank in Singapore.
It said that its president, Arul Kanda Kandasamy, never said that he saw the "cash" as alleged by Dr Mahathir, but merely said he saw the "statements" regarding the units and trusts 1MDB had in the bank.
"We must question why Dr Mahathir keeps repeating his earlier statement, when clarification was provided and responsibility has been accepted," it said, referring to an acknowledgement regarding a misunderstanding on the matter between 1MDB officials and Finance Ministry officials.
It also questioned the "motivation" behind Dr Mahathir's allegations, which it said had numbers and figures changing every time.
It also said that all documentary proof regarding 1MDB's investments had been submitted to the auditor-general, who is expected to finish his audit of 1MDB by the end of this month. – The Malaysian Insider