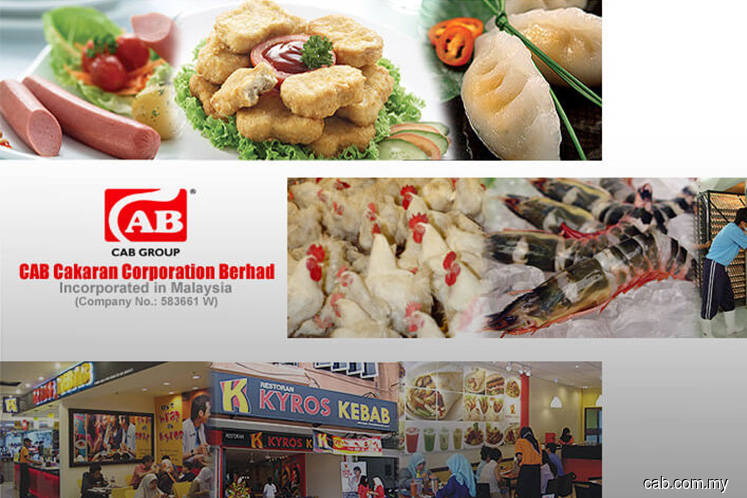 KUALA LUMPUR (June 17): CAB Cakaran Corp Bhd says it is allocating financial assistance of S$11.21 million (RM34.21 million) to its 25%-owned joint-venture company Singapore Poultry Hub Pte Ltd (SPH). 
This is to ensure SPH has access to the required funding to mainly finance its JTC poultry processing hub in Singapore, the group said in a stock exchange filing.
CAB Cakaran said financial assistance is to be provided by its 51%-owned subsidiary Tong Huat Poultry Processing Factory Pte Ltd (THPPF).
It would come in the form of corporate guarantee and shareholders' loan.
THPPF will provide a corporate guarantee of up to S$10.21 million in proportion to its 25% equity interest held in SPH, while THPPF would also provide a shareholders' loan of up to S$1 million to SPH.
"As the provision of financial assistance is to the joint venture company of Cab Cakaran and that the quantum of the proposed provision of financial assistance is more than 5% of the net tangible assets (NTA) of Cab Cakaran, based on its latest audited consolidated financial statements for the financial year ended Sept 30, 2018, the company is required to issue a circular to its shareholders and seek its shareholders' approval in a general meeting," CAB Cakaran noted.   
The principal activity of SPH is slaughtering of poultry and cold storage activity. The total amount which is required to put SPH's poultry-slaughtering business on stream at JTC poultry processing hub is S$38.86 million. 
Of this, S$17.81 million will be used to part finance the purchase of a 30-year lease. 
Another S$13.50 million has been earmarked to part finance the purchase of equipment for slaughtering operation; SG$2.4 million to finance renovation cost and fit-out works; and SG$5.15 million to allocate for financing SPH's working capital requirement. 
Shares of CAB Cakaran closed unchanged at 51.5 sen today, with some 74,500 shares traded.