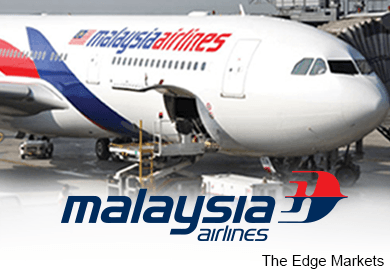 KUALA LUMPUR (Dec 12): Investors are scrambling for shares of Malaysian Airline System Bhd (MAS) on the stock's last trading day today.
Today offers the last chance for buyers to own the shares, which will entitle them to the 27 sen a share privatisation offer by government investment arm Khazanah Nasional Bhd.
Khazanah, which owns 69.37% in MAS, is privatising the airline under a selective capital reduction and repayment (SCR) exercise.
At 10.30am, MAS shares stood at 26.5 sen, maintaining its half-sen distance from the 27 sen privatisation offer price.
The exchange's most actively traded stock saw some 45 million shares done.
According to stock brokers' data, MAS shares had earlier seen more demand that what sellers had to offer on the open market.
At 10:13am, the buying order stood at 344.37 million shares, outstripping the 131.35 million shares under selling order.
According to loss-making MAS' filing with Bursa Malaysia, trading in MAS shares will be suspended starting this Monday (Dec 15).
The ex-date for the SCR exercise is on December 17.
MAS' net loss widened to RM1.33 billion in the nine months ended September 30, 2014 from a net loss of RM830.25 million a year earlier.
Revenue was lower at RM10.57 billion versus RM11.22 billion. MAS' financial performance had worsen after two aviation tragedies this year.
On March 8, flight MH370, which was enroute from the Kuala Lumpur International Airport (KLIA) to Beijing, China went missing. The aircraft, which was carrying 239 people including 12 crew members, has not been found until now.
On July 17, flight MH17, enroute from Amsterdam to KLIA, crashed in Ukraine. The aircraft was carrying 298 people including 15 crew members.