This article first appeared in Forum, The Edge Malaysia Weekly, on December 10, 2018 - December 16, 2018.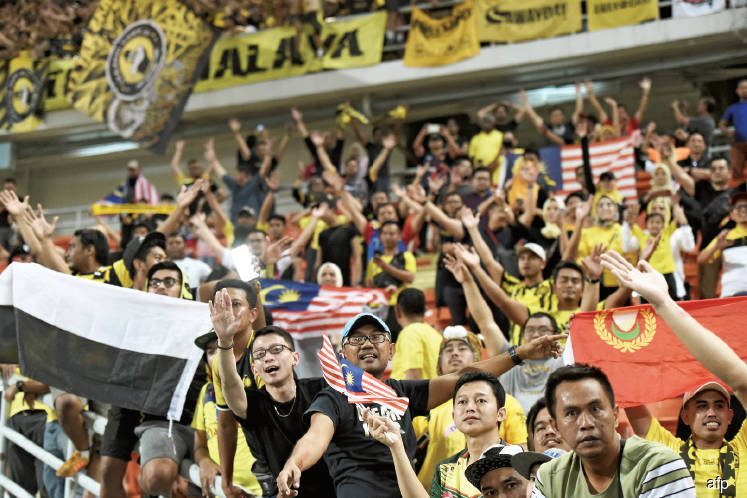 FAM is trying to win fans over by doing the basics right
Mention "Malaysia" and "football" in polite company and you are likely to see people wince. If they don't think of match-fixing or salaries going AWOL, they will be aware of a scraping sound in the world rankings: it is the national team scrambling around at the bottom of the barrel.
Mokhtar Dahari and Santokh Singh are almost mythical figures now, as are victories over Japan and South Korea — once the norm. Then there is "the Football Association of Malaysia (FAM) being responsible for 40 years of not moving forward".
Those last words belong to new FAM secretary-general Stuart Ramalingam, 41, on just some of the adverse perceptions with which he has to deal. "There are negative impressions of Malaysian football from fans, from officials, from the public, from ..." he pauses before adding, "pretty much everybody."
Although he claims to have come into the job with his "eyes wide open", he knows it is a mission Tom Cruise might have shied away from. "The problem," he says, "is that sitting in this chair, you carry the stigma of the mistakes of the past. I may not have even been born [when they happened] but I live with those transgressions."
But none of this has stopped him from making an impressive start. Appointed in July, after the change of government meant the removal of the previous regime, he could not hit the ground running because he first had to find a way out of the mess.
A football club can buy its way out of trouble but new players are not an option for an association. There is no GPS for this either, and certainly not if history has bequeathed such a hefty millstone.
So, Stuart, FAM president Datuk Hamidin Mohammad Amin and a team of fresh minds brainstormed. Tirelessly. The upshot has been a road map and, if their sense of direction is half as good as their timing, they have given Malaysian football a fighting chance. The target is to be in Asia's top five by 2030, currently it languishes in 35th place.
When it came to launching it, the two most powerful men in Asian football just happened to be in town. Fifa president Gianni Infantino and Asian Football Confederation (AFC) boss Sheikh Salman Bin Ibrahim Al-Khalifa were attending an AFC meeting at its Kuala Lumpur HQ. Not only did both grace FAM's prestigious launch at the Hyatt, they gave the idea their heavyweight blessing.
It may have been just a plan, but in such illustrious company and with a slick presentation, it attracted far more eyeballs, likes and column inches than normal. But above all the glitz, there was the unmistakable impression that FAM means business — it was a bold and impressive statement of intent.
In short, they have gone back to the drawing board to sort out the fundamentals in order to provide proper governance to every aspect of the sport. The goal? Improving the performances of national teams on the pitch.
A month after the event, it is still "so far so good". In fact, Stuart adds: "We had an invitation from Fifa to attend an executive summit in Qatar and the three topics they wanted to talk about were governance, development and competition. These were the three key areas and exact words we came up with. My president and I had a private joke that Fifa may have copied us!
"If they took from our topics, at least we know in principle that we are doing the right thing. Or, if they really had these topics planned, it is still fantastic as we are now thinking along the same lines as Fifa.
"The launch lent a lot of credibility to Malaysia. I spoke at a badminton conference and a meeting of badminton associations of Asia. They wanted me to present a road map. A football road map for badminton!"
Cynics might say that too many lines have already been crossed in football, but Hamidin and Ramalingam have come up with an ambitious, but far from impossible, 12-year plan to improve Malaysian football on and off the field.
Globally, the Harimau sits 167th — up from the all-time low when even Bhutan was ranked higher — but still below the unlikely powerhouses of New Caledonia, South Sudan and, yes, Singapore.
Stuart says: "A lot of people have said, 'Finally, we have a road map' and even if we don't achieve everything — and I guarantee we won't — in the 80% we achieve or 20% we fail, we will have achieved something. We will have progressed from where we are today.
"Yes, there was a previous attempt by former coach Robert Alberts but FAM cannot do this alone. It is an effort to build belief and support. Managing negative perceptions is one part, we are trying to win fans over by doing the basics right — the simple things.
Not so simple is getting the affiliates on board. Explains the new sec-gen: "When we launched the road map, the big question was: 'Will the affiliates play ball?' If they don't, it will fail. That's why we had the Affiliates Capacity Enhancement (ACE) programme ready to launch."
Intended to boost the power of the state associations and encourage them to focus on technical and competition development, it could turn out to be a masterstroke. The onus is on them now and Stuart adds: "As policymakers and guardians of the game, we have to make sure that the production line and the relationship with our affiliates work. From now on it is governance, development and competition — everything else is a distraction.
"I think we can change the local sports landscape, but it needs bigger decisions with a bigger vision to do this. We had a Wawasan 2020, a national economic plan, but we don't have a national sports plan."
FAM has plenty though, with schools, futsal and municipal playing fields among them. Says Ramalingam: "We need to challenge the system, break the mould, strive to be better. I need to create a sense of belief that we can do this. People need to be inspired, to feel that it can be done. Let's have more innovative conversations so something may be sparked.
"We are relaunching a National Futsal League, where you will have a lot more razzamatazz. I feel that futsal is now going to be our next cash cow. We are better at it — by world ranking we are 100 places higher [than in football].
"We are working with local authorities to protect our fields instead of having them taken over for development. We need to get these fields designated as football fields. They could be sponsored by companies.
"Based on our current revenue, to achieve the road map we need to increase our income within the federation itself of RM30 million a year. That's how big football is. We have to be ambitious. We have to fix the basics so the fans start to believe again. If you get the fans to have a more positive perception, then the public will have a more positive impression. We have to fix the brand."
He admits to "putting a noose around my neck — it would have been easier to do the job without the road map". Like the country itself, it could just be that Malaysian football is taking the first tentative steps to recovery.
The fans' enthusiasm for an improved showing in the Suzuki Cup has been encouraging. It's too early to tell if it can be sustained but it is heartening to know the governing body is hell-bent on changing the game's image and knows which direction to head in.
---
Bob Holmes is a longtime sports writer specialising in football
Save by subscribing to us for your print and/or digital copy.
P/S: The Edge is also available on Apple's AppStore and Androids' Google Play.