This article first appeared in Forum, The Edge Malaysia Weekly, on June 13, 2022 - June 19, 2022.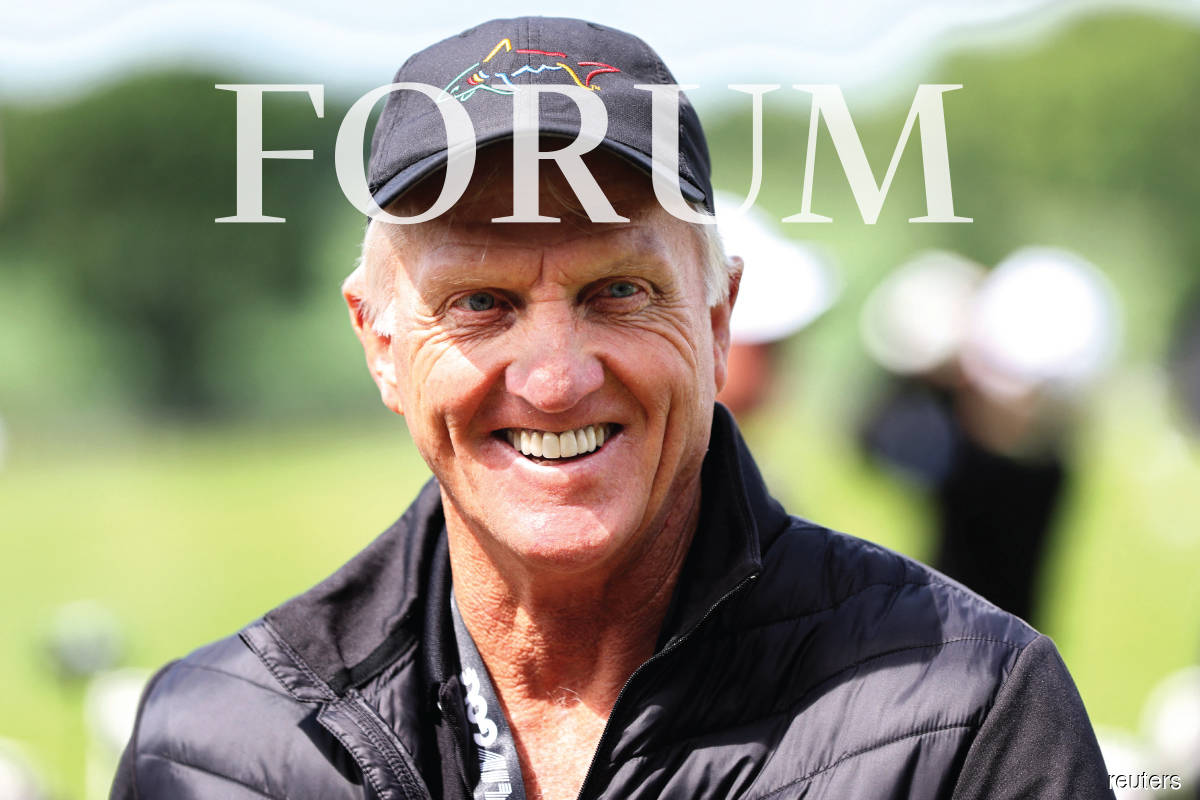 Sports-washing now seems to be the must-have policy of any regime whose reputation is not as pure as the driven snow. But while many organisations — from Newcastle United FC to Formula One — are grateful recipients of the largesse, there are those who risk being thrown out with the bathwater. The staging of the richest golf tournament in history, from June 9 to 11, leaves the sport's governing bodies as potential casualties.
At first glance, the opening event in the LIV Golf Invitational Series in rural England appears unlikely to pose an existential threat. A field of no-hopers, has-beens and just two A-listers playing on a former landfill seems an improbable launchpad for a revolution against the royal and ancient game. But it is the money being shown (and where it is coming from) that is sending shivers through the high offices of the PGA (US) and DP (European) tours.
"Mind-bogglingly enormous", is how LIV frontman Greg Norman described the near US$1 billion offer to Tiger Woods to be the tournament face! That he turned it down tells you there is a pretty enormous catch too. Woods gave short shrift to the idea of softening the image of the brutal regime of Saudi Arabia.
But down the pecking order, US$150 million signing-on fees were enough to persuade 2020 Masters champion Dustin Johnson and six-time major winner Phil Mickelson to join at the 11th hour — and may prove a game-changer. Especially as Bryson DeChambeau and Patrick Reed also appear to have switched.
A total purse of US$25 million — US$4 million to the winner — up for grabs at the Centurion Club dwarfs the US$10 million on offer at the 127-year-old US Open. As wealthy and powerful as the PGA Tour, in particular, is, it is a pauper compared to the Saudi's Public Investment Fund (PIF).
For this is about more than the makeovers of Paris Saint-Germain and Manchester City football clubs bankrolled by Qatar and Abu Dhabi respectively. Says Norman, "The whole notion is to change the look and the presentation of the way the game has been played over the last 53 years. And we've just got approval to launch our schedule into 2023, 2024 and 2025 with US$2 billion to back it up."
LIV's events will be shorter and supposedly sharper. But with shot-gun starts, no one will know where the finishing putt will be sunk. Such a format is handy for a rain-delayed monthly medal, but a US$25 million tournament? It is perhaps why there is still no broadcasting deal: which hole do the cameras and galleries go to for the climax? It makes you wonder how well they have thought this through.
Even the title is obscure. LIV is the Roman numeral for 54 and the number of holes over which the loot will be divvied up in three days with no cut. There will be eight tournaments for a total purse of US$255 million — a lot more money for less work. Smaller fields of 48 will be divided into 12 four-man teams, but the intention is for a Super League — yes, another — by 2024.
Alarmed at the prospect of an exodus of players unable to refuse life-changing offers, the game's rulers have so far played predictably hard ball. They have upped the rewards for loyalists and threatened to fine and ban deserters. Sponsors, too, are in cancelling mode, with the Royal Bank of Canada dropping Johnson. Mickelson had already become poster boy non grata.
So far, most players have stuck by the PGA Tour — only 23 of the top 100 had joined Norman by press time. But for some, it is a wait-and-see operation. The stench of greed is overpowering and if it is no more than the odd big fish gobbling up obscene sums from lopsided fields, it is surely doomed. Yet many feel it is a battle that can only be settled in court, where LIV are confident of winning. The PGA and DP Tours are banking on it not getting that far.
Legal opinion leans towards bans backfiring as players are classed as independent contractors — which is key to the PGA Tour's own tax-exempt status — and have the right to choose who they work for. Antitrust lawsuits would be likely and LIV has promised to pay all legal expenses. But jumping to a Saudi tune would make a mockery of that independence.
The PGA Tour has the weight of history and tradition on its side. It is also a lucrative gravy train with no fewer than 67 players picking up at least US$2 million in prize money last season. Johnson won US$15 million from the FedEx Cup alone. Only "mind-boggling" money would make anyone want to get off — and it is. Without Saudi Arabia's human rights record, more players would probably have alighted by now.
Even Mickelson, who fell from grace so spectacularly over this issue, said, "They are scary mothers to get involved with. We know they killed [Jamal] Kashoggi … and execute people for being gay. Knowing all this, why should I even consider it?" Yes, why, Phil?
Golf itself has a very different kind of image problem. Although Covid brought a renaissance in global playing numbers, the average age of a TV viewer is 65 and, according to a YouGov poll in the UK, golf is seen as "the most boring sport". Norman, 66, wants to lower it the way fellow Australian Kerry Packer did with cricket in the 1970s.
But the erstwhile Great White Shark's tweaks fall far short of Packer's floodlights, drop-in pitches and coloured clothing. The broadcasting billionaire made one-day cricket sexy and paved the way for today's Indian Premier League. But he, too, had to go to court and prove that, like today's golfers, players were free agents.
Cynics may sneer but Norman claims, "We have a vision to make golf a greater force for good around the world." As the grateful recipients of a US$200 million handout, the ailing Asian Tour will vouch that it is no idle boast. It also has five slots at Centurion, including one for Thailand's teenage sensation Ratchanon Chantananuwat. These are examples of it making golf "less US-focused", says LIV.
But the Saudis will find that PGA Tour commissioner Jay Monahan is no pushover and Norman himself may not be the safest pair of hands. His 1994 World Golf Tour flopped, while his recent quip — "We all make mistakes" — on the murder of Khashoggi, showed he is still accident-prone.
In the wake of the Johnson and Mickelson defections, many are saying the ball is in Monahan's court but switching back to the fairway, Norman is also facing a difficult lie. Compared to glitzier, high-profile motor racing, world heavyweight boxing and English Premier League football, this feels like a non-event for (mostly) nobodies in the middle of nowhere.
Centurion is 50km north of London and even free tickets are hard to give away. Might Saudi Crown Prince Mohammed bin Salman just think that he is not getting much ROI for his US$255 million? After all, how on earth — with no major network and the media mercilessly highlighting its flaws — is it going to make the world look more kindly upon his kingdom?
Without a genuine competitive element and players trying to justify being there, he may be grateful it is not on wider display. We have to wonder: Could this be where sports-washing only highlights the stains and flushes some reputations even further down the plughole?
---
Bob Holmes is a long-time sportswriter specialising in football