This article first appeared in Forum, The Edge Malaysia Weekly, on May 31, 2021 - June 06, 2021.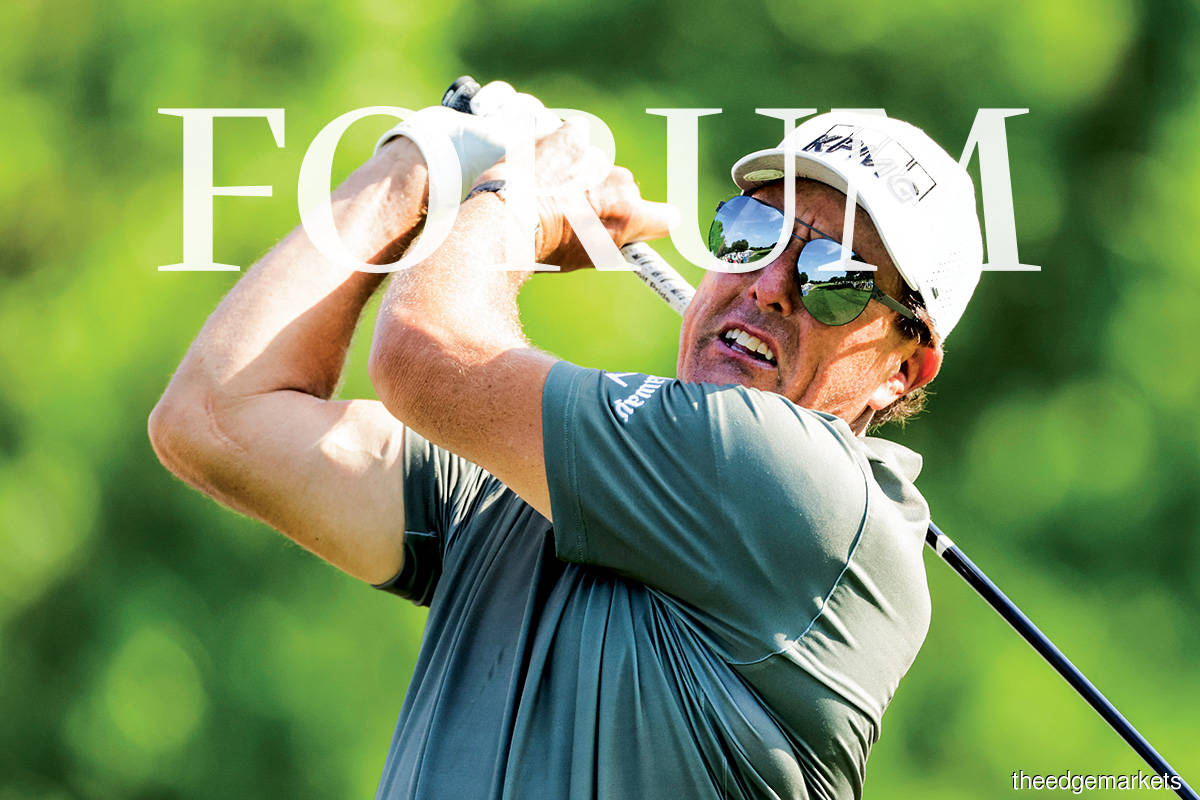 Phil Mickelson didn't just rewrite a slice of golf history by becoming the oldest major winner last weekend, he also ensured a chunk of its future. The 50-year-old American's US PGA triumph at Kiawah Island, South Carolina, was fairytale stuff but also dispatched the latest cash-rich challenge to elite sport into a deep bunker with an unplayable lie.
Two days before the year's second major teed off, Saudi Arabian emissaries had met the agents of leading players to hear details of the kingdom's much-discussed Golf Super League (GSL). As with football's ill-fated European Super League (ESL), the money was off the charts but the Saudis still needed a Pied Piper to spark an exodus.
They wanted a genuine legend who commanded universal respect; ideally, someone in the twilight of his career and less concerned about the punitive bans sure to be imposed on any rebels. The player they had in their sights had not won anything or even been in the top 10 for five years. He had also been conspicuously less critical of the plan than most others, saying he was "intrigued" by it.
Sometimes, you wonder if there's a hidden hand, for this player, 51 next month, out of sorts and having sunk to 115th in the world, then delivered golf's greatest moment since Tiger Woods won the Masters two years ago. You've guessed it: the man the Saudis had in mind is the same one that had just elevated golf to the front pages.
Mickelson, who had played second fiddle to Woods for two decades, now had his own rock star moment. Only just emerging in one piece from the milling hordes who invaded the 18th green, it was spontaneous adulation that money can't buy. He told the watching world: "It was quite unnerving, but exceptionally awesome. I don't think I've ever experienced anything like that before."
He was not done. Lifting the Wanamaker trophy aloft, he said: "This is just an incredible feeling. I just believed that it was possible yet everything was saying it wasn't and I hope that others find that inspiration." Those were the words Woods used in a congratulatory tweet and it's the line the world's media have repeated in unison: it's up there with George Foreman becoming world heavyweight champion at 45 — a rare and priceless victory over anno domini. And no one asked him about the Super League.
To have done so would have been as tasteless as a jilted ex gate-crashing a wedding. And who needed to when there's already a storyline out of bounds for all but the most reality-defying of Hollywood scripts? Mickelson, so long the bridesmaid, had finally stepped out of Woods' shadow. He's also become, like Foreman, an icon for those past their prime.
Having been fasting, playing 45 holes a day and taken up yoga, he could not be more different from the previous oldest major winner. When Julius Boros achieved the feat in 1968 aged 48, golf scribe Dan Jenkins wrote: "A middle-aged man struck a marvellous blow for tired, portly, beer-drinking, slow-moving fathe
Lefty, as he's universally known, has always been a popular figure in the US, and his clubs have answered the GSL question in the most emphatic manner. Then he spoke about his ambitions — his rekindled hopes for a career grand slam and the Ryder Cup.
By talking about his future, he simply underlined how top sports stars are tethered to the past. What made his triumph so great was that he took a record that had stood for 53 years, and what will make a career grand slam so special is that only five in history have ever done it.
These are landmark achievements that no amount of Saudi oil money can compete with. No one has ever been mobbed by thousands or hailed as an inspirational figure for topping a money list. Nor is counting the stuff the reason he or anyone else started swinging a club as a kid.
His next challenge will be to fill the one glaring gap in his glittering career — to win the US Open in which he has been second no less than six times. He'll never have a better chance as it's in three weeks' time at Torrey Pines, the course on which he grew up.
There, he will try to join Ben Hogan, Gene Sarazen, Jack Nicklaus, Gary Player and Tiger Woods in winning all four majors. That's the kind of company he wants to keep. Immortality is something else Saudi money can't buy.
His PGA triumph also helped ease golf's worries about its Tiger-dependency as well as another existential threat. In the last five majors, there have been five different
winners, including the first Asian-American (Collin Morikawa) and first Asian (Hideki Matsuyama). So besides an old favourite, there's diversity and new faces.
And just when the game feared that 2m-tall, 20-something automatons would blast their way to dominance, the counter attack is led by an old guy with the best short game. Surgical around the greens, Lefty has even opted for an extra wedge in his bag instead of a driver. He had the big stick at Kiawah Island, though, and hit the longest drive — 366 yards.
As for the Saudis, Mickelson's win was the worst possible outcome. Having bought a multi-million-dollar pad to use as a HQ in Jupiter, Florida, presumably to be on the same planet as several stars who live there, they find the PGA Tour and European Tour have already pulled up the drawbridge: lifetime bans and pariah status await any of their members who join.
And a source who attended the pre-tournament briefing told Golf Digest: "I left the meeting more confident than I was before that this likely won't go forward," and suggested others in attendance share his sentiment. "I think they'll realise there are too many hurdles, too many obstacles." The Saudis were unable to come up with the guarantees that agents needed, but still insist that contracts will be sent to certain players "in four to six weeks".
From the difficult lie in which they find themselves, their best option may be to hit out sideways and approach the less richly endowed tours such as the Asian Tour, South Africa's Sunshine Tour or those in Japan, South Korea or Australasia.
With the game having regained its mojo and still hoping Tiger can return, not to mention the fortunes already on offer — any half-decent tournament in the US offers at least US$1 million to the winner — you can't see why anyone would join. Certainly, not Mickelson right now — Saudi Arabia doesn't offer a pantheon either.
---
Bob Holmes is a long-time sports writer specialising in football