This article first appeared in Forum, The Edge Malaysia Weekly, on May 16, 2022 - May 22, 2022.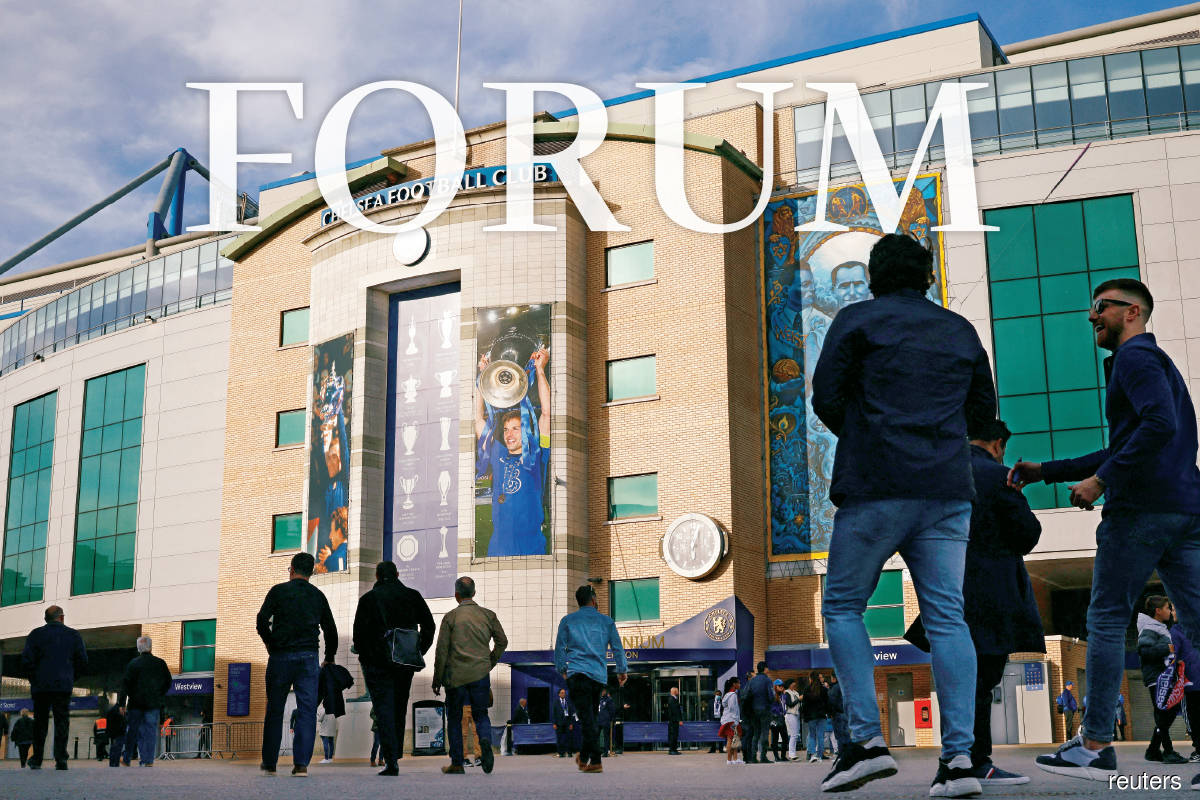 Regardless of how ill-gotten his gains may have been, or how close he is to the planet's arch-villain of the moment, as Chelsea FC owner, Roman Abramovich is proving a devilishly hard act to follow. As a weary team prepared to take on Liverpool in the FA Cup final on May 14, matters off the field looked even more daunting. Just completing the sale of the club to an American-led consortium, the Blues find themselves in what UK ministers are calling "an incredibly complex situation". 
The May 6 signing in London of a purchase agreement by preferred bidder Todd Boehly, who has met the sale price of £2.5 billion, was a significant step forward, but major obstacles remain. Having sanctioned Abramovich for being "a close associate" of Vladimir Putin's, the UK government is adamant that the oligarch will not get a penny from the sale. For his part, the ex-boss fears the £1.6 billion that he loaned to the club and offered to "victims of the war in Ukraine" may be frozen.
The UK authorities, who are both cheerleaders and weapons suppliers for Ukraine, are also concerned that two of the Russian's most trusted advisers may have roles in the Boehly regime. Chelsea chairman Bruce Buck, 76, and director Marina Granovskaia, 47, are the most loyal and long-standing of all the Abramovich lieutenants. British minister Julian Knight admitted to the Financial Times: "Any continuity with the Abramovich regime at Chelsea is certainly an unsettling development."
Once, when described as Abramovich's right-hand man, Buck quipped: "I'm only the little-toe-on-the-left-foot-man." A bit rich from someone who can claim an assist in legally smoothing the Russian's rise from nowhere to becoming one of the world's richest men.
Granovskaia, a Russian-Canadian, was Abramovich's PA during the Yeltsin years and switched seamlessly from flogging Soviet industrial assets to buying expensive footballers. Her no-nonsense approach earned her the title "iron lady" and in 2018, Forbes listed her as the fifth most powerful woman in sport. The pair, who have been linked with the Boehly bid, have been described as "the beating heart" of Abramovich's Chelsea operation: right and left ventricles.
Continuity is what Chelsea fans crave but what worries them is that the special licence the UK government granted the club to carry on playing runs out on May 31. UK Culture and Sports minister Nadine Dorries has already warned Chelsea it's "on borrowed time". On June 8 at its annual general meeting, the English Premier League (EPL) will hand out licences to its 20 members to play next season. Chelsea needs one to stay in existence.
Fears that Abramovich might put a late spanner in the works were heightened last month when he proposed that Chelsea's parent company Fordstam Ltd pay off the loans to the offshore Camberley International Investments, registered in Jersey. Both companies belong to the Russian.
The tax haven island had followed Britain's lead and frozen another £5.4 billion of his assets — moves which he believes are illegal and could fight in court at a later date. There was also a leak about a £500 million price rise demand. It was hard not to sense that, with news of his French chateau being seized and his yacht holing up in a safe haven, the screws were tightening. 
The UK tabloids were relishing the prospect. "If it becomes a blinking contest between [UK prime minister] Boris Johnson and Putin, Chelsea could be in jeopardy," declared the Daily Mail. It suggested that "no one should be surprised if Abramovich reneges on the deal" and called him "a ruthless commercial operator".
Comparisons were also made with Chelsea's existential crisis of 1987 but were not valid. Back then, a property developer came close to building apartments on Stamford Bridge but this time it's in no one's interests for the club to fold. Johnson — although no football fan — knows it would be a political catastrophe if the club were to go under on his watch.
And the notion that Abramovich, suddenly feeling the pinch and at Putin's behest, could trigger its demise after funding what will always be a golden age (21 trophies in 19 years) would be a tragedy that even Shakespeare might not have been able to get his quill around.
It was later claimed that the extra £500 million was to cover future spending while the influence of Buck, an American lawyer and diplomat par excellence, was seen in the amelioratory tone of the oligarch's denial that he was reneging on the agreement. This paved the way for Boehly to sign and the two Americans spent much of Chelsea's recent home draw with Wolves in deep conversation. At the time of writing, it was being reported that Buck could remain as chairman but the takeover still awaited EPL and government approval.
Boehy, 46, who also co-owns the Los Angeles Dodgers (baseball) and Lakers (basketball) franchises, agreed to a set of rules that are a significant departure from the past when the EPL asked fewer questions than the French Foreign Legion. The irony is that the long overdue stiffening is not because of Abramovich, who was a model owner in many respects, but the Glazer family, who borrowed so heavily to buy Manchester United. Indeed, one report described the measures as "anti-Glazer clauses".
Boehly and his principal partners, Swiss businessman Hansjorg Wyss, American businessman Mark Walker and British entrepreneur Jonathan Goldstein, will not be allowed to pay dividends or management fees for 10 years, and the level of debt they can take on board will be limited. Backed by US equity company Clearlake, which owns 60% of the shares, the group has also agreed to invest a further £1.75 billion in the stadium, playing squads and academy. But unlike Abramovich, the new guys are out to make money.
If the long haul looks reassuring, the short term is anything but. Manager Thomas Tuchel admits that the whole business has been a distraction for the squad whose performances have dropped off in recent weeks. Unable to plan for next season, no less than three defenders whose contracts are ending, are about to leave for Spain. Prior to the sanctions, counter-offers would have been made but Chelsea was not allowed to make any.
Replacements, too, are forbidden under the terms of the special licence so nothing could be done about record signing — and £97.5 million flop — Romelu Lukaku. So, although a win over Liverpool at a packed Wembley stadium would be a welcome boost to morale, its significance pales compared to what's at stake off the field. Even if it all works out, the new guys will need help in acquiring players in the summer transfer window and a lot of luck with UK planning laws when it comes to rebuilding Stamford Bridge.
Boehy will want to hit the ground running, but no matter how well-intentioned, he is never going to match his predecessor's fantasy football largesse. We will also discover whether Buck will preside over the last rites of the old regime or still be carrying a torch for the former. Either way, Chelsea will always savour its Roman Empire.
---
Bob Holmes is a long-time sportswriter specialising in football