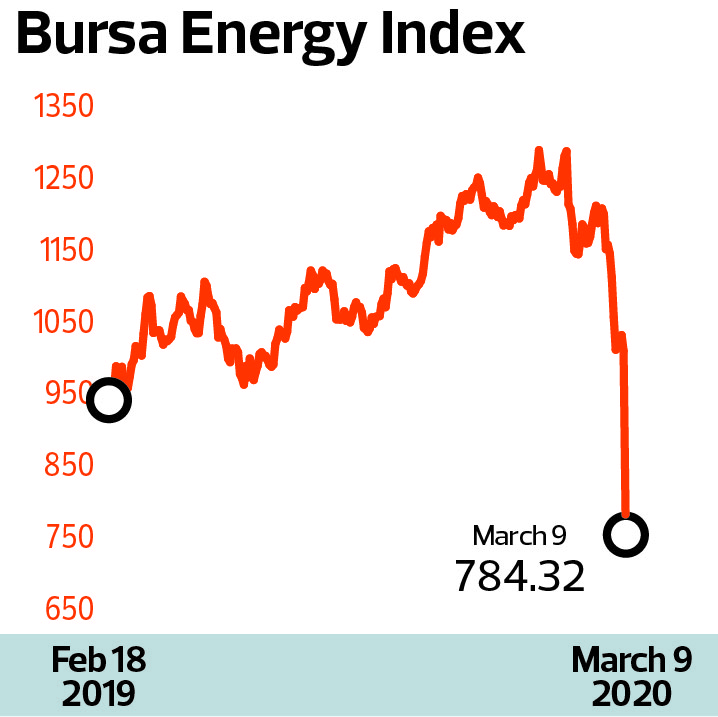 KUALA LUMPUR (March 9): Bursa Malaysia has suspended the proprietary day trading (PDT) and intraday short selling (IDSS) of multiple oil and gas stocks for one day this morning, after the last done price of the approved securities dropped more than 15% of the reference price.
The counters affected include: Dayang Enterprise Holdings Bhd, Velesto Energy Bhd, Hibiscus Petroleum Bhd, Bumi Armada Bhd, Serba Dinamik Holdings Bhd, Dialog Group Bhd, Coastal Contracts Bhd, Wah Seong Corp Bhd, and Muhibbah Engineering (M) Bhd.
Local-listed O&G derivatives fell as much as 90% in early trade today, while O&G stocks were among top actives as shares touched record lows.
This follows the steep fall in oil price on Saturday and Monday, as OPEC talks to lift oil price collapsed, resulting in Saudi Arabia planning to flood the oil market and lower prices to position against competitors.
At press time, the Bursa Malaysia Energy Index fell 19.9% to a low of 810.42 points.