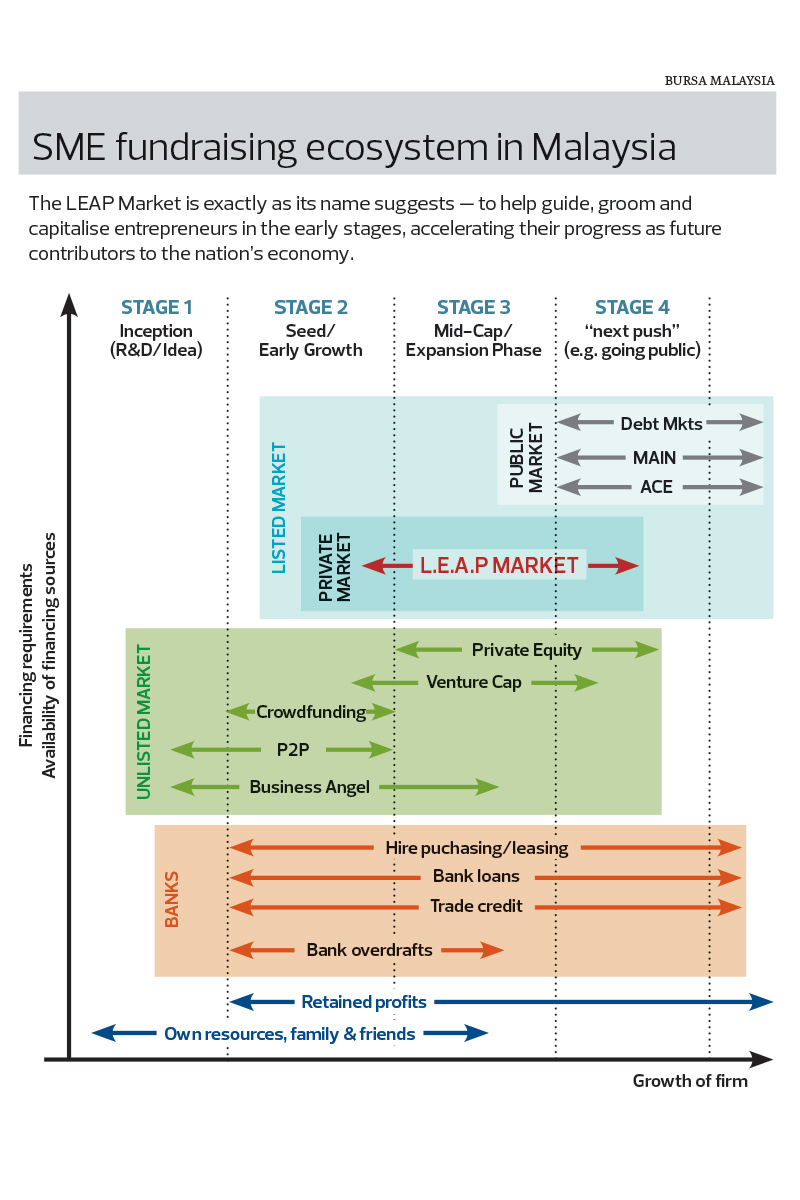 This article first appeared as "Making the LEAP to ACE or Main Market" in The Edge Malaysia Weekly, on June 17, 2019 - June 23, 2019
BURSA Malaysia's Leading Entrepreneur Accelerator Platform — better known as the LEAP Market — was launched in 2017 during the tenure of former Bursa CEO Datuk Seri Tajuddin Atan. It made Malaysia the first Asean country to have an alternative capital-raising platform for underserved small and medium enterprises (SMEs).
Bursa saw the first listing on the LEAP Market in October 2017. Today, 20 companies are listed on this platform, which is seen as a stepping stone for them to enter the ACE Market or even the Main Market in the future.
Bursa CEO Datuk Muhamad Umar Swift tells The Edge that the LEAP Market is something close to his heart because it is where the country's next generation of entrepreneurs will be forged.  "While we have other markets that are meant to drive liquidity, LEAP serves a different purpose. It has a very specific target — companies that are in their seeding phase, the early growth or expansion stages before they go public via the ACE, Main or debt markets.
"It's critical that we view them as the future drivers of the Malaysian economy. They are in this particular stage of growth, which is like finding their path to potentially becoming the stars of tomorrow, here and across the region," he adds.
So far, Umar says the LEAP Market has been playing its role well. Bursa is also encouraged by the number of listings and the healthy pipeline. As at May 31, the average market capitalisation of LEAP Market companies had increased by 55.2% since listing.
"There are companies in the technology, healthcare, manufacturing, engineering, food, apparel and service sectors. To us, these are interesting companies, and they represent the structure of our economy." 
 
Transfer framework
Despite the encouraging development, those familiar with LEAP Market companies know that Bursa and the Securities Commission Malaysia (SC) have yet to establish the framework to process a transfer or graduation to the ACE or Main Markets.
For perspective, the SC is not involved in the initial public offering (IPO) of LEAP Market companies, but it plays a role in the listing of ACE Market and Main Market companies.
So, should the SC be involved in the graduation of LEAP Market companies or should they be allowed to seamlessly transfer to their desired board once they meet the criteria?
Currently, any LEAP Market firm seeking a listing on the ACE or Main Market must apply to Bursa (for the ACE Market) or the SC (for the Main Market), and comply with the admission requirements and guidelines.
Umar discloses that key stakeholders are now engaged in ongoing discussions with the SC as they await a transfer framework from the regulators for companies that want to shift from the LEAP Market to the ACE or Main Markets.
"Bear in mind that there are two different regulatory regimes. LEAP has a lighter touch, whereas ACE has a more formal process. What we want to see and agree is to formulate a transfer framework, be it time or performance-based, that serves as a guideline to companies," he says, adding though that reapplying for a listing on ACE would incur extra costs.
He is aware that some LEAP Market companies are already ACE Market-ready.  "What they want is a clear roadmap, what it takes, what should be the performance and what the indicators are. These are the conversations we are having with the SC."
LEAP Market investors, he says, are sophisticated and thus, it is not prospectus-based.
"We have to be mindful of the awareness and risk. It is really not about involving the SC or Bursa. If you move to ACE, then at this point in time, you have to issue a prospectus," he explains, warning of the possibility of regulatory arbitrage.
"We want it to be seamless, we want it to be easy and to mitigate cost, but we don't want certain people to use LEAP as a mechanism to get into ACE. We need to address the potential regulatory arbitrage. That's our main concern," he stresses.
"Ideally, the whole transfer process should be seamless, but the bottom line is, it has to be rules-based. LEAP is designed to allow entrepreneurs to access quick capital to grow their businesses. We want it to be efficient, from a time perspective, as well as cost perspectives."
 
A new definition of sophisticated investors?
Trading in LEAP Market-listed companies is limited to sophisticated investors, who are categorised as accredited investors, high-net-worth entities and individuals.
A sophisticated investor, by definition, is someone whose total net personal assets exceed RM3 million or its equivalent in foreign currencies. Corporations, partnerships and trust companies need to have assets worth more than RM10 million.
As LEAP Market companies are generally smaller, Umar says the teams behind them are often the staff who are not traditionally considered sophisticated investors.
They are technically not allowed to subscribe for shares of their own companies, which is why Umar thinks there is a need to get  a better definition of sophisticated investors.
"Trading history, asset base, asset class knowledge, modular learning and investor knowledge can be attached to the CDS account as a means of gauging an investor's experience and ability — to identify them as sophisticated investors. That is where we are going. But first, we need to build the infrastructure of knowledge," he says.