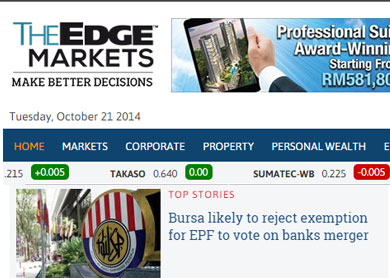 KUALA LUMPUR (Oct 21): Bursa Malaysia has rejected the applications from both RHB Capital Bhd (RHBCap) and Malaysian Building Society Bhd (MBSB) for their common major shareholder, the Employee Provident Fund (EPF), to vote in the mega merger, according to latest filings to the local bourse.
This confirms the newsbreak by TheEdge Markets.com earlier today, which had reported that Bursa was expected to disallow EPF to vote in the proposed merger of RHBCap, CIMB Group Holdings Bhd and MBSB.
In arriving at its decision, Bursa said it took into consideration a few factors which includes the fact that EPF had prior knowledge of the proposed merger, as it was notified by CIMB before the issuance of the letter of intent by CIMB, dated July 9, 2014.
"The objective of the related party transaction framework under the Listing Requirements is to govern potential conflict of interest situations. In related party transactions, related parties may be able to assert influence over a listed issuer's actions or transactions which then present a risk of potential abuse to the listed issuer.
"By virtue of EPF being the common major shareholder in all three affected companies (MBSB, RHBCap and CIMB) as well as being the single largest shareholder of both MBSB and RHBCap, there exists such a potential conflict of interest situation, where EPF may be able to influence the proposed merger to its own benefit," it noted.
"As the single largest shareholder of MBSB and RHBCap and a major shareholder in CIMB, EPF may benefit from the transaction as a shareholder of RHBCap and/or CIMB. As such, its overall position would differ from a party who is merely a shareholder of MBSB, especially given the differing terms and valuations applicable to these three affected companies," it added.
The EPF is the single largest shareholder of RHBCap and MBSB with 41.5% and 64.6% stakes, respectively. It also holds 14.6% of CIMB.
This latest move by Bursa seems to be in line with the concerns of the Abu Dhabi government and RHBCap's Middle Eastern investors - Aabar.
On Sept 30, The Edge Financial Daily, quoting sources, reported that the Abu Dhabi government has formally reached out to the Malaysian government and expressed its concern about the EPF's right to vote in the proposed mega merger.
With the EPF not being allowed to vote, RHBCap's other substantial shareholder — Aabar — will hold the trump card. With its 21.2% stake in RHBCap, Aabar will hold a crucial vote for or against the deal.
Nevertheless, the proposed merger of CIMB, RHBCap and MBSB could still proceed even with Bursa saying no to EPF.
"The three parties may still want to proceed although the chances of getting shareholders' approval will not be as good if the EPF can't vote," a source told TheEdge Markets.com.