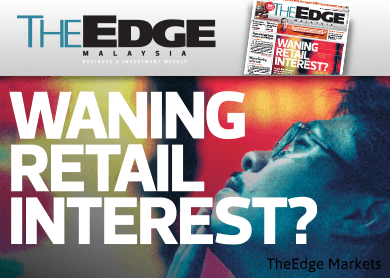 KUALA LUMPUR (Jan 31): Retail participation in Malaysian shares is deemed weak, prompting concerns the local stock market lacks vibrancy versus Asian peers, The Edge Malaysia business and investment weekly (Edge Weekly) reported in its latest February 2-8 issue.
Edge Weekly, quoting stockbroking executives and equity analysts, reported that the slow growth in the number of new share-trading accounts here was a crucial sign of weak retail participation.
"Despite Bursa Malaysia seeing a bull run over the past six years — the longest since the 1997/98 Asian financial crisis — retail investors have not jumped on the bandwagon,
as reflected by the marginal increase in the number of CDS (central depository system) accounts," Edge Weekly reported.
Edge Weekly quoted Hong Leong Investment Bank Bhd dealer representative Frank Lin as saying the Asian financial crisis had created a negative perception of share investing till today.  
Prior to the crisis, Lin said remisiers had seen brisk business from retail investors, who were more keen to park their funds in equities.
 
"(Today) When children ask their parents about investing in stocks, they tend to react negatively due to their past experience. The Gen Ys (those born in the 1980s) are now not keen at all to put their money in the market, which partly explains the little retail participation that we see now," Lin said.
Edge Weekly, quoting Bursa Malaysia data, reported that in 2014, institutional and retail investors accounted for 74% and 26% of local share trades respectively.
In January 2015, Bursa Malaysia's vibrancy, as measured by the velocity barometer, stood at
26.8%. This compares with the Hong Kong and Singapore bourses' 51.5% and 38.9% respectively.
For a better understanding on Malaysian share-trade dynamics, kindly pick up and read the latest issue of the Edge Weekly.