This article first appeared in The Edge Malaysia Weekly, on March 2, 2020 - March 08, 2020.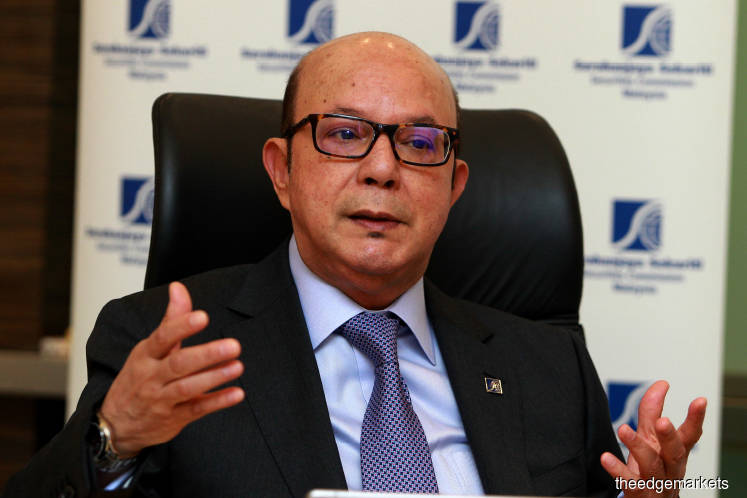 LAST week, regulatory authorities Bursa Malaysia Bhd and the Securities Commission Malaysia (SC) announced that the former would be setting up a wholly-owned subsidiary to take on the regulatory functions of the stock exchange.
The news comes close to a year after SC chairman Datuk Syed Zaid Albar disclosed last March that the commission was in talks with Bursa to resolve the conflicting priorities of the stock exchange operator.
For context, Bursa has been operating as a profit-driven entity since its demutualisation in 2004/05 and concentrating on trading activities to generate revenue.
At the same time, Bursa functions as the market regulator for public-listed companies, a role that has the potential to put the entity in a conflict-of-interest situation.
In their joint statement, Bursa and the SC announced that the regulatory subsidiary (Bursa RegSub) will be governed by a board of directors, the majority of whom will be independent of Bursa. The chairman of the subsidiary will be appointed from among the independent board members.
"The SC and Bursa Malaysia have been working closely to further enhance the governance structure of the exchange by segregating its regulatory functions from its commercial objectives to address the perception of potential conflicts of interest between the two roles," says the statement.
The new regulatory subsidiary is expected to be operational by the end of the year.
Bursa's move to establish a wholly-owned subsidiary mirrors that of the Singapore Exchange in 2017, when it transferred its regulatory functions to a new subsidiary to handle and also to address potential conflicts. The Japan Exchange and Brasil Bolsa Balcão also have a similar model.
Minority Shareholders Watch Group CEO Devanesan Evanson sees the proposed structure as a step in the right direction as it will better manage the perception of conflicts of interest within Bursa.
He adds that while adequate checks and balances are already in place to manage conflicts of interest, the creation of a separate body will further structurally distance Bursa's regulatory functions from its commercial objectives.
"To the minority shareholders, this structural distancing, by the creation of a separate regulatory subsidiary comprised of a board whose majority will be independent of Bursa, will make a positive difference to ensuring a fair and orderly market."
It is worth noting that other regulatory models have been adopted by stock exchanges the world over. In 2000, for example, the London Stock Exchange (LSE) had its regulatory functions for listing transferred to the UK Listing Authority, which is a division of the country's Financial Conduct Authority. But the LSE continues to be responsible for the monitoring of trading compliance.
Meanwhile, the Australian Securities Exchange, Hong Kong Exchanges and Clearing Ltd as well as the New York Stock Exchange have an oversight committee comprised mainly of independent directors who oversee regulation and conflicts.
"I think it is good that Bursa has decided to implement this now. But for me, I would have liked to see Bursa adopt the LSE model — a regulatory body that is totally independent of the exchange. Ideally, there should be minimum link between Bursa and its regulatory functions in order for it to be more independent," says Lya Rahman, adviser to the Institutional Investors Council Malaysia.
Meanwhile, funding for the proposed regulatory subsidiary will come from Bursa. Syed Zaid says Bursa will remain accountable to the SC to ensure that the regulatory subsidiary is allocated sufficient financial and human resources to enable it to discharge its functions effectively.
Devanesan opines that there is no one right answer to the choice of structure as it would depend on many local factors, including the capital market's maturity and its ecosystem.
"Under the proposed structure, it is incumbent upon Bursa to allocate sufficient financial and human resources to enable Bursa RegSub to discharge its regulatory functions effectively and for these reasons, some exchanges prefer the nexus offered by a 'subsidiary' structure and adopt it.
"Other exchanges may not view such nexus as important enough for their capital market, perhaps due to their capital market's maturity and ecosystem and prefer a standalone structure," he explains.
Lya says it is too early to tell how this structure will turn out, given that the operational details of the subsidiary have not been disclosed yet. Nevertheless, she hopes Bursa will adopt best practices from other countries, for example Singapore, which has already set up a regulatory subsidiary.
"I hope we can learn from Singapore and not repeat its mistakes. Nevertheless, I have to commend Bursa. Even before this separation of roles, it improved its enforcement and monitoring functions.
"My hope is that we can see even more of this and that the regulatory subsidiary will be independent and focus on its task and not the bottom line of the listed entity," she adds.
Devanesan too wants to see more independent regulatory functions that are "without fear or favour" as the structure provides for the regulatory operation to report to a board that is independent of Bursa.
"Previously, both the regulatory and commercial operations reported to the same board, making it a challenge for it to manage the perception of conflict of interest," he remarks.