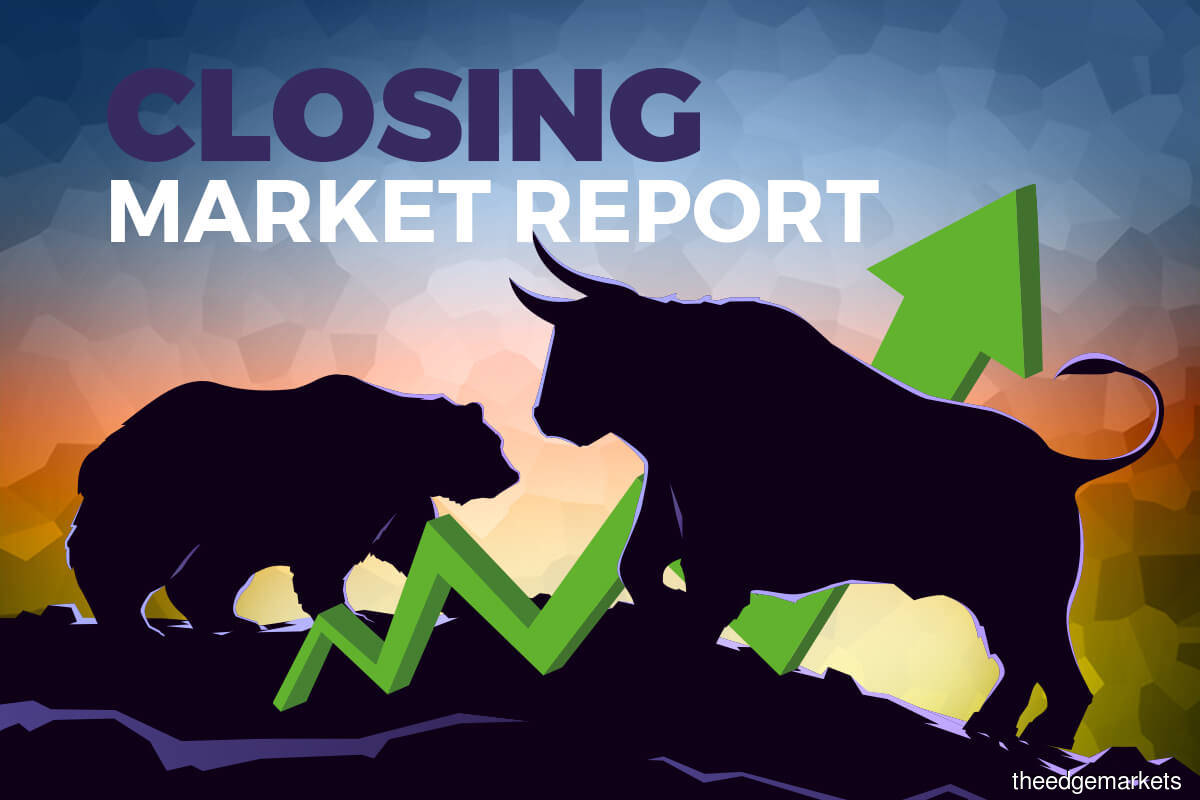 KUALA LUMPUR (Nov 30): Bursa Malaysia recouped early losses to end in the positive territory on Wednesday (Nov 30) as bargain-hunting emerged in selected heavyweights in utilities, consumer products and services, as well as industrial products and services counters.
At 5pm, the FTSE Bursa Malaysia KLCI (FBM KLCI) rose 11.84 points to 1,488.8 from Tuesday's closing of 1,476.96.
The market bellwether opened 0.74 of-a-point lower at 1,476.22, and moved between 1,464.81 and 1,489.78 throughout the day.
Market breadth was positive with gainers leading losers 524 to 468, while 381 counters were unchanged, 917 untraded, and 67 others suspended.
Turnover expanded to 4.71 billion units worth RM4.41 billion versus 3.4 billion units worth RM2.47 billion on Tuesday.
Rakuten Trade Sdn Bhd vice president of equity research Thong Pak Leng said the regional key indices trended mostly higher with strong gains in Hong Kong after Beijing announced multiple measures to ease the strict lockdown in critical areas following a decline in the daily Covid-19 infections from a record high.
"Additionally, expectations of smaller interest rate hikes by the US Federal Reserve (Fed) somewhat lifted investor sentiment.
"On the domestic front, we expect buying to remain particularly in banks and telecommunications companies as earnings posted by these two sectors remain solid," he told Bernama.
Hence, the stockbroking firm expects the FBM KLCI to move higher towards the 1,500 mark for the remainder of the week, with immediate resistance at 1,500 followed by 1,530, and support at 1,470.
Region wise, Hong Kong's Hang Seng Index rose 2.16% to 18,597.23, the Shanghai Composite Index inched up 0.05% to 3,151.34, the Shenzhen Index gained 0.18% to 11,108.5.
Elsewhere in the region, Japan's Nikkei 225 fell 0.21% to 27,968.99 and Singapore's Straits Times Index added 0.43% to 3,290.49.
Meanwhile, Hong Leong Investment Bank (HLIB) Research said market sentiment has turned increasingly positive in view of political stability and growth in Malaysia as well as the potential return of foreign investors.
"Nonetheless, this euphoria is seen to be abating as the market awaits more details on the prime minister's new Cabinet line-up and the structure of the unity government.
"Not to mention the prevailing external headwinds such as the hawkish Fed, geopolitical tensions, global recession fears, and China's Covid-19 situation," the research firm said in a note on Wednesday.
Among the heavyweights, Malayan Banking Bhd (Maybank) erased seven sen to RM8.63, CIMB Group Holdings Bhd decreased two sen to RM5.80, IHH Healthcare Bhd declined 15 sen to RM5.80, while Public Bank Bhd went up nine sen to RM4.50, and Petronas Chemicals Group Bhd climbed two sen to RM8.54.
Of the actives, MMAG Holdings Bhd was half-a-sen lower at 2.5 sen, Advance Synergy Bhd dipped half-a-sen to 19 sen, and SMTrack Bhd slipped half-a-sen to 5.5 sen, ACE Market debutant Leform Bhd shed 4.5 sen to 18.5 sen, while MQ Technology Bhd was flat at five sen.
On the index board, the FBM Emas Index increased 89.19 points to 10,633.7, the FBMT 100 Index gained 92.35 points to 10,352.26, the FBM Emas Shariah Index put on 120.52 points to 10,783.09, the FBM 70 rose 154.72 points to 12,851.09, and the FBM ACE garnered 14.43 points to 5,211.15.
Sector-wise, the Financial Services Index dipped 25.71 points to 16,623.34, the Plantation Index lost 79.46 points to 6,727.77, while the Industrial Products and Services Index inched up 0.18 of-a-point to 181.76, and the Energy Index added 3.6 points to 767.51.
The Main Market volume improved to 2.68 billion shares worth RM4.09 billion against 2.16 billion shares worth RM2.18 billion on Tuesday.
Warrants turnover increased to 416.42 million units valued at RM65.11 million from 356.1 million units valued at RM68.81 million.
The ACE Market volume swelled to 1.61 billion shares worth RM258.21 million from 880.66 million shares worth RM226.95 million previously.
Consumer products and services counters accounted for 752.92 million shares traded on the Main Market, industrial products and services (555.33 million), construction (82.25 million), technology (183.86 million), SPAC (nil), financial services (222.72 million), property (183.24 million), plantation (50.5 million), REITs (15.12 million), closed/fund (12,500), energy (256.8 million), healthcare (156 million), telecommunications and media (99.49 million), transportation and logistics (64.37 million), and utilities (56.78 million).