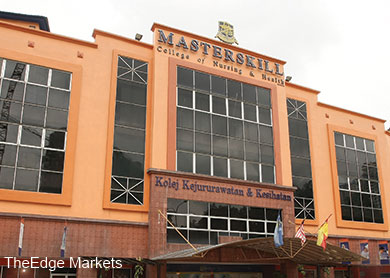 KUALA LUMPUR (Nov 24): Masterskill Education Group Bhd has been slapped with an unusual market activity (UMA) query by Bursa Malaysia today, over the recent rally in its share price and trading volume.
The education group's share price has shot up to an intra-day high of 76.5 sen, before it closed at 74.5 sen today with 122.2 million shares changing hands, making it the day's second most-traded stock on Bursa Malaysia. Today's trading volume is almost one third of the company's issued share capital of 376.1 million shares.
In the filing, Bursa Malaysia has requested Masterskill to disclose any corporate development relating to the group's business and affairs that has not been previously announced, that may account for the trading activity.
In a reply to Bursa's query, Masterskill said the company's board was not aware of any corporate development and rumour that might have contributed to the usual market acvity on its share price.
The stock soared 26.5% last Thursday (Nov 20) to 74 sen, from 58.5 sen the day before. Its trading volume swelled to 49.15 million shares, from just 5.16 million on Wednesday (Nov 19).
Its share price has more-than-doubled since September, climbing from a low of 35 sen then.
On Nov 7, Creador II LCC emerged as a substantial shareholder in Masterskill, with an equity stake of 16.26%. The private equity fund has since raised its stake to 19.3%, as at Nov 19. Meanwhile, Creador is partnering SMRT Holdings Bhd to buy Masterskill's Executive Chairman Siva Kumar Jeyapalan's 32.9% stake, should the partnership be happy with the outcome of a due diligence on the ailing education group.
Masterskill's controling shareholder, Siva Kumar, has agreed to sell his entire equity stake to the partnership at 60 sen per share.