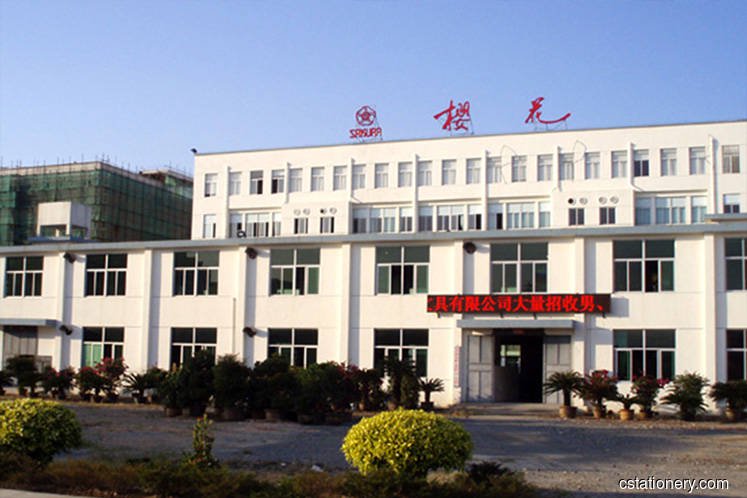 KUALA LUMPUR (June 7): Bursa Securities Bhd has publicly reprimanded China Stationery Ltd (CSL) and its directors for breaches of its Main Market listing requirements and slapped two directors with fines totalling RM5.38 million.
The China-based stationery maker was publicly reprimanded for financial reporting breaches such as failing to announce its quarterly reports for the financial period ended Sept 30, 2017, Dec 31, 2017, March 31, 2018, June 30, 2018, Sept 30, 2018 and Dec 31, 2018 within the stipulated timeframes. It also failed to issue the company's annual report for the 18-month period ended June 30, 2018 by the Oct 31, 2018 deadline.
In a statement today, Bursa said CSL also breached the stock exchange's corporate governance rules regarding the composition of its board of directors and audit committee.
"(For example, the company) failed to ensure that there were at least two independent directors in the board of CSL after three months from the resignation of independent director Herman Widjaja on Nov 2, 2017. Further, after the resignation of Dr Risambessy Izaac on Nov 7, 2017, the company does not have any independent director in its board," it added.
Additionally, CSL breached Bursa's foreign listing requirements and was in non-compliance with Bursa's directives such as to have its quarterly report ended Sept 30, 2017, as well as its advertisement expenses amounting to RMB146.2 million (RM88 million) for FY16 reviewed by its external auditors.
The company also breached the disclosure requirements of Bursa for failing to make the announcement on its inability to issue the quarterly reports for December 2017, March 2018, June 2018, September 2018 and December 2018 and annual report 2018 within the stipulated timeframes.
The two directors who are fined are executive chairman and chief executive officer Chan Fung @ Kwan Wing Yin and former executive director Angus Kwan Chun Jut, who had resigned on Dec 18, 2017.
Chan was fined RM5.22 million for causing and permitting CSL to commit all the five breaches, while Kwan received a smaller fine of RM157,500 for permitting CSL's failure to announce the quarterly reports for September 2017 and CSL to commit the non-compliance with Bursa's directives.
Bursa said it views the contraventions seriously as the timely and accurate disclosure of material information and submission of financial statements are fundamental obligations of listed companies.
"These obligations are of paramount importance in ensuring a fair and orderly market for securities traded on Bursa Malaysia and necessary to aid informed investment decisions," it added.
Trading in CSL shares was suspended on Dec 5, 2017 after the group failed to furnish the regulator with the results for its third quarter ended Sept 30, 2017 within the stipulated timeframe. It last closed at one sen, bringing a market capitalisation of RM12.43 million.