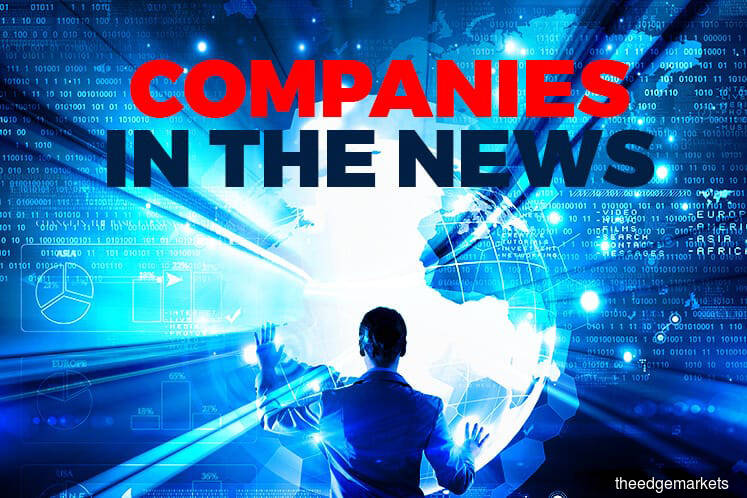 KUALA LUMPUR (Feb 5): Based on corporate announcements and newsflow today, companies in the spotlight tomorrow (Feb 6) could include: Bursa, MCT, Vivocom, Serba Dinamik, DBE Gurney, Daibochi, Kuantan Flour Mills, Sapura Energy and Anzo.
Bursa Malaysia Bhd's net profit for the fourth quarter ended Dec 31, 2017 (4QFY17) rose 10.2% year-on-year (yoy) to RM55.3 million, from RM50.2 million, due to better performance of the securities market.
Its quarterly earnings per share stood at 10.3 sen, compared with 9.4 sen. Revenue for 4QFY17 grew 14.1% to RM141.2 million, versus RM123.7 million a year ago.
It declared a dividend of 18.5 sen amounting to RM99.5 million for the financial year ended Dec 31, 2017 (FY17), as opposed to 17 sen in 4QFY16. 
MCT Bhd shareholders have been told to reject the takeover bid launched by Philippines-based property developer Ayala Land Inc's unit Regent Wise Investments Ltd, which has been deemed "not fair and not reasonable" by independent adviser Kenanga Investment Bank Bhd (Kenanga IB). 
On Jan 2, Regent Wise bought 230.12 million shares or a 17.24% stake in MCT from Tan Sri Goh Ming Choon for RM202.5 million or 88 sen per share. 
In an independent advice circular today, Kenanga IB said in view that the offer price of 88 sen is lower than and represents a discount of 36.23% over the estimated fair value per MCT share of RM1.38, the offer is deemed not fair. 
Vivocom International Holdings Bhd has secured a RM27.57 million contract from China Construction Third Engineering Group (M) Sdn Bhd for aluminium and glazing works in Melaka.
The group, which specialises in building telecommunication towers, said its subsidiary Neata Aluminium (M) Sdn Bhd had accepted the letter of award from China Construction. 
The project will be completed by September 2019. 
Serba Dinamik Holdings Bhd is acquiring a 40% stake in Maju Renewable Energy Sdn Bhd, Maju RE (Talang) Sdn Bhd and Maju RE (Temenggor) Sdn Bhd from Maju Holdings Sdn Bhd — controlled by businessman Tan Sri Abu Sahid Mohamed — for a combined RM24.85 million. 
Serba said its wholly-owned subsidiary Serba Dinamik Group Bhd has entered into a memorandum of agreement (MoA) with Maju, which currently owns 70% of the shares in each of the target companies, for the stake buy. The remaining 30% in the three target companies are held by Perak Hydro Renewable Energy Corp Sdn Bhd. 
Serba said it will fund the purchase entirely in cash through proceeds from its initial public offering (IPO), which was completed on Feb 8 last year. Some RM95 million from the IPO proceeds have been identified for business expansion, through investment and acquisition. 
DBE Gurney Resources Bhd has proposed to diversify into property development and construction via a joint development with Misi Jutari Sdn Bhd (MJSB) for a mixed development project in Perak. 
The project, developed on a 3.68-hectare land in Bota Kanan in Perak Tengah district, comprises 95 units of semi-detached and terrace houses and 19 units of shop houses. 
DBE said the move was for the group to diversify into other industries with strong growth prospects, instead of relying solely on its core business which is primarily in the operation of poultry breeding farms and trading of related products. 
Daibochi Plastic and Packaging Industry Bhd declared a dividend of 1.3 sen a share after the company reported higher fourth quarter and full-year net profit for financial year ended Dec 31, 2017 (FY17), from a year earlier. 
Daibochi declared its latest dividend after the company said 4QFY17 net profit rose to RM7.93 million, from RM5.93 million. Revenue grew to RM105.66 million, from RM90.36 million, Daibochi said.
 
The company said the dividend's ex and payment dates are on Feb 27 and March 21, 2018 respectively. The 1.3 sen dividend brings full-year dividends to 4.77 sen a share. 
Kuantan Flour Mills Bhd's external auditors McMillan Woods Thomas has issued a qualified opinion on the company's audited financial statements for the year ended Sept 30, 2017 (FY17), amid uncertainty over its proposed regularisation plan. 
The company submitted its proposed regularisation plan (PRP) to Bursa Securities for approval on Sept 29, 2017. 
"Till to date, the PRP has yet to be approved by Bursa and this situation indicates the existence of a material uncertainty that may cast significant doubt on the group and the company's ability to continue as a going concern, and therefore, the group and the company may be unable to realise their assets and discharge their liabilities in the normal course of business," the auditors said in a statement filed on Bursa Malaysia today. 
The auditors noted that the group incurred net loss of RM12.26 million in FY17, with net liabilities of RM28.98 million and negative shareholders' funds of RM23.07 million. 
Sapura Energy Bhd, formerly known as SapuraKencana Petroleum Bhd, said it has secured several contracts with a combined value of about RM905 million via its subsidiaries. 
Its unit Sapura Fabrication Sdn Bhd secured three provision of engineering, procurement, construction and commissioning (EPCC) contracts. Two of them are from Petronas Carigali Sdn Bhd, while the remainder is from Hess Exploration And Production Malaysia BV.
Another unit, Sapura Offshore Sdn Bhd, secured two projects: one involving the transportation and installation works for the Bokor Central Processing Platform project for Malaysia Marine and Heavy Engineering Sdn Bhd, and the other is for the provisioning of offshore/onshore pipelines and terminal works for the Fifth Oil Berth project at Mumbai Port Trust.
Anzo Holdings Bhd, which has been anticipating securing a potential RM1.21 billion contract to build the [email protected] shopping centre in Selayang with a partner, is not going to see the project take off anytime soon. 
Its developer KL Northgate Sdn Bhd is now reviewing the whole development concept and development components of the project, in view of the "current real estate glut and the imbalance in the supply-demand conditions". 
The review could take six to nine months, Anzo said in a filing with the bourse today. 
"As the progress of the project, including the decision to revise the whole development concept and development components, solely depends on the direction from KL Northgate, ACSB as the tendering party, will only be able to submit the tender documents upon KL Northgate finalising the contract document and pricing for the project, estimated by October 2018," Anzo added.