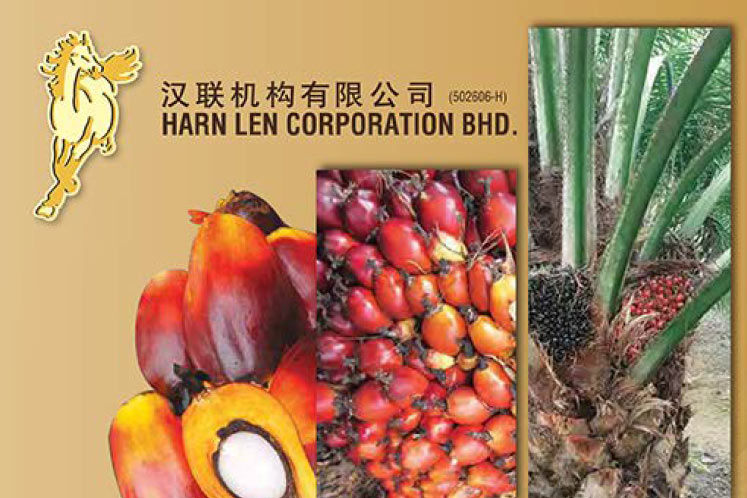 KUALA LUMPUR (April 11): Plantation company Harn Len Corp Bhd was publicly reprimanded by Bursa Malaysia Securities Bhd today for failing to account for adjustments in the group's financial report for the fourth quarter year ended Dec 31, 2016 (4QFY16).
Bursa Malaysia said in a statement that Harn Len had failed to ensure that the report, released on Feb 24, 2017, took into account the adjustments subsequently announced.
The regulator noted that Harn Len had reported an unaudited loss attributable to the owners of the company of RM2.29 million in its 4QFY16 report, compared with an audited loss attributable to owners of the company of RM8.34 million in the audited statements announced on April 28, 2017.
The difference of RM6.05 million represented a variance of 264%.
"The public reprimand was imposed pursuant to paragraph 16.19(1) of the Main Market Listing Requirements after taking into consideration all facts and circumstances of the matter including the materiality of the breach and upon completion of due process," Bursa Malaysia said.
The regulator said a timely and accurate submission of financial statements to enable investors to make informed investment decisions, is one of the fundamental obligations of listed companies.
While Bursa Malaysia did not find any Harn Len directors to have caused or permitted the breach, it required the company to review and ensure the adequacy and effectiveness of its financial reporting function.
"The limited review must be performed by the company's external auditors for four quarterly reports commencing no later from the quarterly report for the financial period ended June 30, 2018," it said.
The board of directors of Harn Len at the material time were Puan Sri Chan Pui Leorn, Low Quek Kiong, Low Kueck Shin, Low Kwek Lee, Low Kuek Kong, Lee Chon Sing, Low Kok Yong, Low Kok Yaow, Loh Wann Yuan, Brig Jen. (B) Datuk Ali Musa, Law Piang Woon and Mohamed Akwal Sultan Mohamad.
Harn Len was instructed by Bursa Malaysia to ensure that all its directors and relevant personnel attend a training programme on compliance with the listing requirements pertaining to financial statements.
Harn Len's shares closed unchanged at 55 sen today, with a market capitalisation of RM95.271 million.