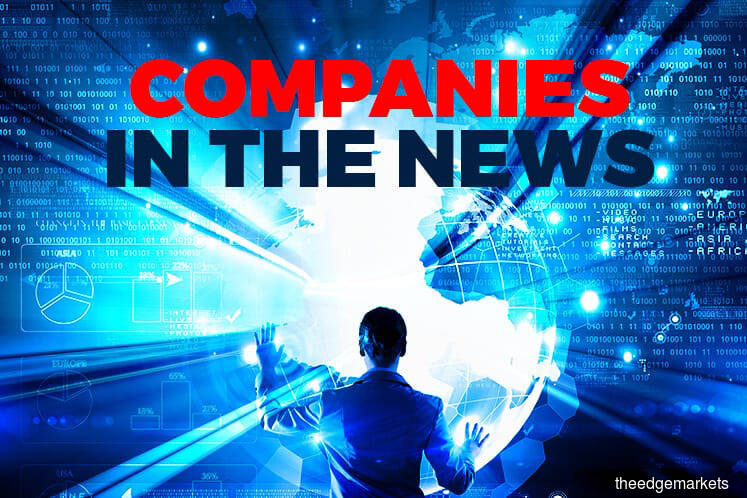 KUALA LUMPUR (Oct 29): Based on corporate announcements and news flow today, companies in focus tomorrow (Oct 30) may include: Bursa Malaysia Bhd, Malakoff Corp Bhd, Globetronics Technology Bhd, Axis Real Estate Investment Trust (Axis REIT), Malayan Banking Bhd (Maybank), IHH Healthcare Bhd, MISC Bhd, Berjaya Media Bhd (BMedia) and Gagasan Nadi Cergas Bhd. 
Bursa Malaysia Bhd's net profit for its third quarter ended Sept 30, 2019 (3QFY19) fell 6.2% to RM47.1 million from RM50.19 million in the same quarter last year, as revenue declined 5.5% to RM122.67 million from RM129.82 million, largely due to an 8.8% decline in securities market's trading revenue to RM55.8 million. 
For the nine-month period ended Sept 30, 2019 (9MFY19), Bursa Malaysia's net profit retreated 18.5% to RM140.3 million from RM172.19 million a year ago, as revenue fell 11.4% to RM373.16 million from RM421.09 million. 
Malakoff Corp Bhd's unit is planning to sell its entire 50% participating interest in the Macarthur Wind Farm in Australia for A$356.85 million, cash, which will give the group a disposal gain of approximately RM546 million. It is disposing off the stake to Megawatt Financing Pty Ltd and AMPCI Macarthur Wind (T) Pty Ltd — the trustee of AMPCI Macarthur Wind Trust. 
Globetronics Technology Bhd's net profit fell 19.74% to RM18.94 million in the third quarter ended Sept 30, 2019 (3QFY19), from RM23.6 million in the same period last year, due to "lower volume loadings of products from certain customers in the group". Revenue was down 24.45% at RM66.26 million, versus RM87.7 million.
 
For 9MFY19, Globetronics' net profit slipped 37.3% to RM30.18 million from RM48.13 million last year, while revenue fell 35.96% to RM157.36 million from RM245.72 million.
 
Axis Real Estate Investment Trust (Axis REIT) proposed to place out up to 247.46 million new units in the property trust to third party investors to be identified later, to repay bank loans and reduce Axis REIT's gearing ratio. 
The placement represents up to 20% of Axis REIT's total issued units of 1.24 billion units as at Sept 30, 2019. However, the exact amount of proceeds to be raised from the proposed placement is dependent upon the issue price and actual number of the placement units.
Malayan Banking Bhd's (Maybank) Indonesian unit PT Bank Maybank Indonesia Tbk saw its net profit fall 26.7% to 1.1 trillion rupiah (RM327.69 million) for the nine months ended Sept 30, 2019 (9MFY19), from 1.5 trillion rupiah (RM446.85 million) in the same period a year ago. 
The bank attributed the fall in profit after tax and minority interest (Patami) to an increase in loan loss provision, as it took a conservative stance in setting aside provision for a few accounts in the commercial and corporate segments, which were impacted by weaker financial performance. 
The bank increased its loan loss provision by 59.4% to 1.6 trillion rupiah as of September 2019, while total loans declined by a marginal 1.1% to 129.8 trillion rupiah as at Sept 30, 2019, from 131.2 trillion rupiah a year ago. 
IHH Healthcare Bhd's group head of operations and integrations Ashok Bajpai has been appointed by Gleneagles Development Pte Ltd to serve as the new chairman of Continental Hospitals in India, which took effect on Oct 24, 2019. IHH owns 62.23% in the healthcare group. 
Petroliam Nasional Bhd (Petronas), through its subsidiary Petronas LNG Sdn Bhd, has signed a time charter party (TCP) with MISC Bhd and with UK-based Avenir LNG Ltd. Under the TCP, Petronas will charter a 7,500 cubic meter liquefied natural gas (LNG) bunker vessel from MISC and Avenir. The collaboration positions Petronas among the first LNG bunkering service providers in the South East Asia region, moving Malaysia closer towards becoming a LNG bunkering hub. 
Tan Sri Vincent Tan Chee Yioun's private company Singer (M) Sdn Bhd has been identified as the white knight to regularise Practice Note 17 firm Berjaya Media Bhd (BMedia). BMedia, which publishes The Sun newspaper in Malaysia, has proposed that Singer be injected into BMedia, pursuant to the regularisation plan. 
Gagasan Nadi Cergas Bhd is planning to acquire polytechnic hostel asset concessionaire Konsortium PAE Sepakat Sdn Bhd (KPS) for RM158 million in cash. The company intends to raise the needed funds for that via the issuance of Islamic medium-term notes and a convertible sukuk. 
KPS holds concession agreements with the Malaysian government for seven polytechnic hostels in six states nationwide, entailing design, construction and facilities management.