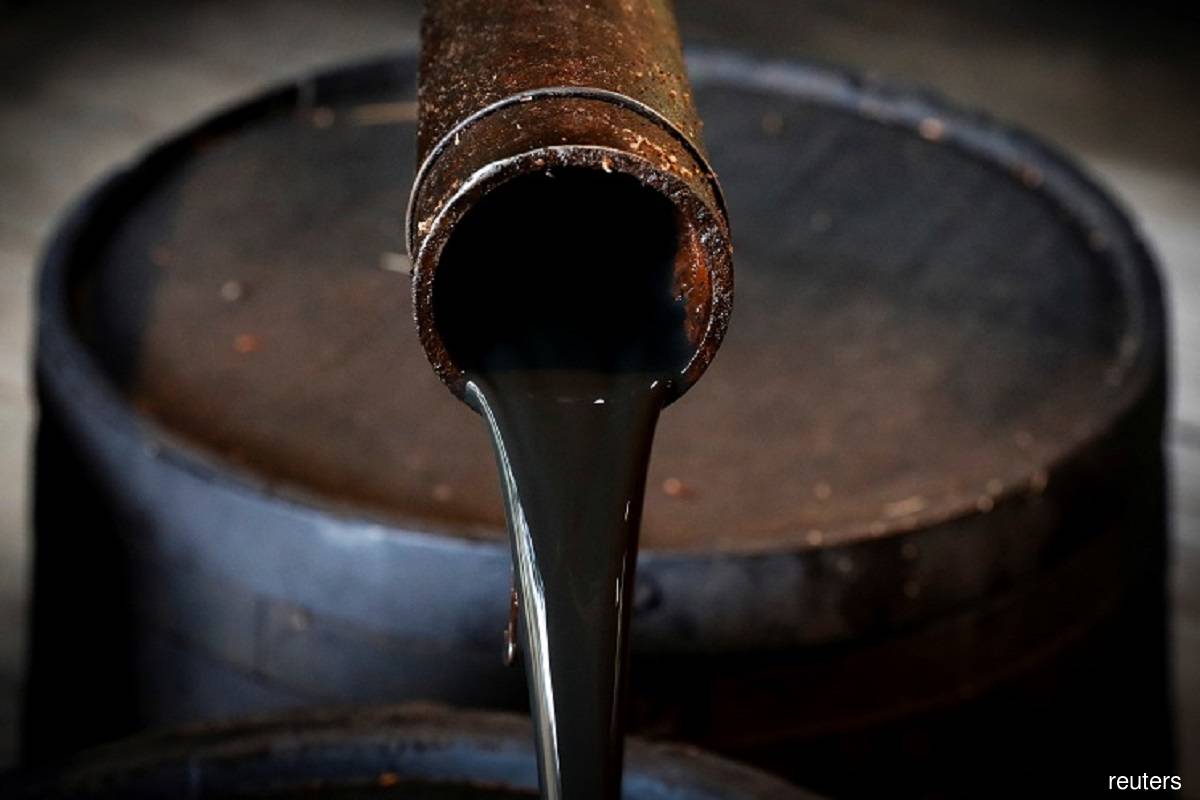 KUALA LUMPUR (Oct 11): Bursa Malaysia's Energy index rose over 5% on Monday (Oct 11) to be the top percentage gainer among the bourse's indices as global crude oil prices climbed to their highest in seven years at above US$80 a barrel on factors including the anticipation of a Covid-19 vaccination-driven economic revival and amid restrained oil supplies from major producers.
The energy index, which tracks share prices of oil and gas-related firms, closed the day at 842.26, up 51.2 points or 6.47%.
Across crude oil markets, it was reported that oil prices surged again on Monday, extending multi-week gains as an energy crisis gripping major economies shows no sign of easing amid a pickup in economic activity and restrained supplies from major producers.
Brent crude was up US$1.20, or 1.5%, at US$83.59 a barrel by 0656 GMT, after gaining nearly 4% last week. US oil was up US$1.46 or 1.8% at US$80.81 a barrel, the highest since late 2014 after rising 4.6% through Friday (Oct 8).
"Prices have risen as more vaccinated populations are brought out of coronavirus lockdowns, supporting a revival of economic activity, with Brent advancing for five weeks and US crude for seven. Coal and gas prices have also been surging as economies recover, making oil more attractive as a fuel for power generation, pushing crude markets higher.
"In India, some states are experiencing electricity blackouts because of coal shortages, while in China the government has ordered miners to ramp up coal production as power prices surge. The energy crisis sweeping the world is raising the prospect of a difficult northern winter as heating demand rises.
"The Organization of the Petroleum Exporting Countries (OPEC) and allies, together called OPEC+, last week decided to maintain a steady and gradual increase in production," Reuters reported.
In Malaysia, TA Securities Holdings Bhd analyst Kylie Chan Sze Zan wrote in a note on Monday (Oct 11) that TA upgraded its 2021-2022 crude oil price assumption to US$70-US$75 a barrel from the previous forecast of US$65-US$70.
Chan said TA's bullish outlook is underpinned by higher-than-expected crude oil demand, subdued production from US shale players, sustained lean inventories and OPEC+ holding back output increases.
"However, over the medium term, we expect price momentum to ease off as demand destruction may kick in when oil price hits the boiling point. This is likely because consumers are unable to cope with abrupt hikes in price. As such, consumers may adapt by seeking alternative fuels or reducing intake.
"We are 'overweight' on the (oil and gas [O&G]) sector mainly because of near- to medium-term cyclical earnings recovery. This is on the back of high oil price which will compel Petronas to ramp up capex (capital expenditure) spend for brownfields in these areas: (1) expansion projects, (2) well drilling, (3) production enhancement, and (4) platform and facilities maintenance etc.
"As a result, demand will spike for offshore fleet and services. In turn, this would catalyse a rebound in daily charter rates (DCR), fleet utilisation and new contract awards. Moreover, increased O&G production from OPEC+ and other countries will translate into higher demand for crude and LNG (liquefied natural gas) transportation. As such, this also translates into higher DCR for oil tankers and LNG carriers," she said.
For Kelvin Wong, who is a commodities analyst at CMC Markets in Singapore, the rise in crude oil prices is however seen as momentum-driven instead of news-driven.
"There's no direct news flow. The moves are momentum-driven where inter-market factors implying higher expected inflation are supporting the bullish move in oil prices," Wong was quoted as saying by Reuters.
At TA, Petronas Chemicals Group Bhd and MISC Bhd are among O&G stocks highlighted in TA's note.
Chan said TA raised its Petronas Chemicals share target price (TP) to RM10 from RM8.50 previously and upgraded the stock's recommendation to "buy" from "hold".
For shipping company MISC, Chan said TA's TP for MISC has been raised to RM8 from the previously estimated RM7.30.
She said TA has a "buy" call for MISC.
At the end of Bursa's trading session on Monday, MISC's share price was down five sen or 0.72% at RM6.94, valuing the shipping firm at RM30.97 billion with 2.03 million shares traded.
Petronas Chemicals' share price rose seven sen or 0.81% to RM8.75, valuing the company at RM70 billion with 10.47 million shares exchanged hands.