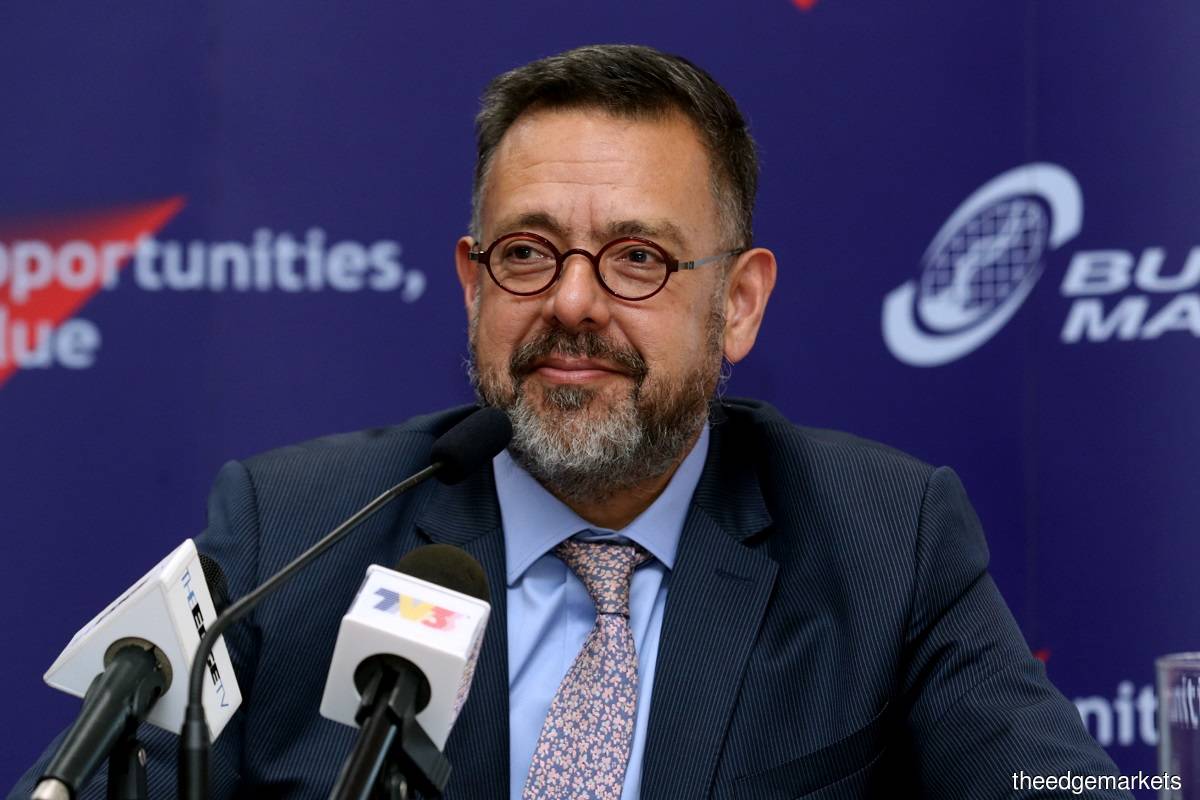 KUALA LUMPUR (Oct 4): Bursa Malaysia Bhd chief executive officer (CEO) Datuk Muhamad Umar Swift said on Monday it is crucial for businesses to implement a more robust commodity price risk management strategy to mitigate fluctuating prices in anticipation of another uncertain year for the sector on Covid-19-driven economic recovery uncertainty, unpredictable weather and global trade policy change.
Muhamad Umar said the Covid-19 pandemic had greatly affected the global commodities sector by affecting production and demand besides creating supply chain and market disruptions.
"In a highly volatile environment, it is critical for businesses to consider implementing a more robust price risk management strategy to mitigate against fluctuating commodity prices while remaining competitive," he said in his speech at the virtual launch of East Malaysia Crude Palm Oil Futures (FEPO).
Amid economic volatility, Umar noted that trading volume of Bursa's derivatives market continued to see growth after the exchange recorded approximately 9.6 million contracts traded during the first half of 2021 (1H21).
"The overall monthly trading volume of crude palm oil (CPO) futures also reached an all-time high of over 1.7 million contracts in June 2021, which was equivalent to 42.6 million metric tons of CPO traded. This surpassed the previous high of 1.66 million contracts traded in March 2020.
"Collectively, these historical milestones signal the strong appeal of Bursa Malaysia Derivatives [Bhd's] products to market participants, as well as the trust and confidence that investors have in participating in our derivatives product offerings in managing [their] price and risk exposure," he said.
To ensure a sustainable marketplace for the long term, Umar said Bursa would continue to enhance product development to meet evolving investor needs, with the latest initiative being the launch of FEPO.
"With Sabah and Sarawak accounting for nearly half of the country's CPO production, the need for a hedging avenue that caters to East Malaysian palm oil players could not be more timely.
"The new FEPO contract is a significant development that will provide greater price transparency and an alternative risk management tool for palm oil industry players in Sabah and Sarawak, the two states that account for 45% of Malaysia's crude palm oil production," he said.
With physical delivery ports in Sabah and Sarawak, Umar added that the FEPO contract will eliminate the logistical cost barrier that has kept East Malaysian firms from hedging with Crude Palm Oil Futures (FCPO).
He viewed that it will improve the cost-effectiveness of managing price risk for palm oil industry players in East Malaysia, both upstream and downstream. As a result, their refining margins and competitiveness in selling end products to their customers will also improve, said Umar.
Meanwhile, Plantation Industries and Commodities Minister Datuk Zuraida Kamaruddin in her keynote address believes that the establishment of FEPO in Sabah and Sarawak will cumulatively alleviate the Malaysian palm oil industry to greater heights, especially in setting the benchmarks for global palm oil prices.
"Likewise, countries neighbouring Sabah and Sarawak such as China can now purchase palm oil in East Malaysia instead. Such [an] avenue enables greater transparency of the East Malaysia palm oil market, potentially safeguarding refining margins and pricing competitiveness of local palm oil players. 
"Despite the restrictions imposed due to the Covid-19 crisis, the Malaysian palm oil industry has taken this temporary setback as a challenge-turned-opportunity to prove our mettle in this trying situation. I urge East Malaysian companies to consider implementing FEPO into their risk management strategy to remain globally competitive," she added.
Also present at the launch ceremony were both Sabah Chief Minister Datuk Seri Hajiji Noor and Sarawak Chief Minister Datuk Patinggi Abang Johari Tun Openg. 
Chong Jin Hun & Joyce Goh