This article first appeared in The Edge Financial Daily, on April 22, 2019.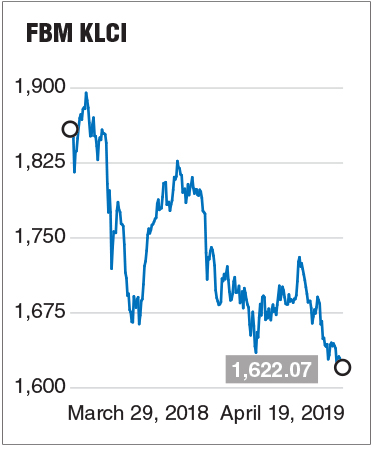 KUALA LUMPUR: Not even a month into the second quarter of the year (2Q19), Bursa Malaysia has been tagged as the "worst performing major stock market of the year".
Its benchmark FBM KLCI — which reached an all-time high of 1,895.18 points just 12 months ago — has continued to sink after skidding to a two-year low of 1628.66 at the start of April. It fell further to 1,619.73 last Thursday, before edging up a little to close at 1,622.07 last Friday.
Regionally, the KLCI is the only index in the red. Year-to-date, it has lost 4.05%.
The local stock market has been lacklustre after a 1Q19 that was less than inspiring as corporate earnings failed to meet expectations, with no clear catalyst in sight then. But even news of the East Coast Rail Link go-ahead announced on April 12 failed to arrest the further decline in the benchmark index last week.
It remains to be seen if and how much Putrajaya's latest decision to revive the Bandar Malaysia project — announced last Friday — will boost the market this week. For now, here are the top issues weighing on local equities, according to fund managers and analysts whom The Edge Financial Daily spoke to:
1. The shadow of a possible bond downgrade
Fears that Malaysian government bonds could be removed from FTSE Russell's index dragged on trading sentiment for almost the whole of last week, and Phillip Capital Management Sdn Bhd chief investment officer Ang Kok Heng sees this as a major problem.
Malaysia's government bonds are now on the FTSE Russell watchlist due to market liquidity concerns, where it will remain until a decision is reached on whether to downgrade them in a September review. Notably, a downgrade will result in an exclusion from the World Government Bond Index.
Both Morgan Stanley and Maybank Kim Eng estimated last Wednesday that Malaysia could face an outflow risk totalling some US$8 billion, or about RM33 billion, if it was dropped from the global index.
FTSE Russell's announcement came a week after Norway's US$1 trillion (RM4.13 trillion) sovereign wealth fund was told to cut emerging-market government and corporate bonds, including Malaysia's. Concerns of a possible exodus of foreign funds in the bond market is causing the ringgit to fall further, which is in turn affecting the stock market, said Ang.
In evaluating overseas investments, foreigners do not just look at equity prices, but also a currency's strength, Ang said. "So, when the ringgit depreciates, they (foreign investors) will lose money due to the exchange rate. To avoid losing money, these foreign investors may have to reduce their investments in Malaysia ... which is what is happening right now," he said.
At the time of writing, the ringgit was trading at 4.1333 against the greenback, after having eased slightly from the three-month low of 4.1420 it fell to last Thursday.
2. Bailouts spark rerating worries
Putrajaya's decisions to rescue the ailing Federal Land Development Authority (Felda) and Lembaga Tabung Haji, where it was revealed that questionable transactions took place under the previous government's watch, do not sit well with certain rating agencies.
Notably, the RM6.23 billion financial assistance Putrajaya plans to spend on bailing out the Felda will add to the government's debt burden, said Moody's Investors Service, who described the bailout package as "credit negative".
Given that government's revenue collection is not anticipated to be strong after the abolition of the goods and services tax, Ang said this warrants concern. "[The country is going to have] lower revenue, and higher liability ... so financial side is not very promising. In terms of capital structure, the government's debts appear to keep on increasing," said Ang.
Meanwhile, Fortress Capital Management director Geoffrey Ng said there is a lack of clarity on whether the government will be as pro-fiscal policy like the previous government in its spending to boost the economy.
"The Barisan Nasional (BN) government before had always been very pro-fiscal policy ... It made use of the fiscal policy a lot to ensure that the economy continued to grow. Because of that, they did a lot of infrastructure spending, and a lot of projects that had a lot of multiplier effects on the economy," Ng said.
"Of course the previous government used a lot of government-linked companies (GLCs) as their main driver for all these policies. Now, we are seeing less clarity in terms of what the GLCs will be doing going forward," said Ng. These uncertainties, he said, lead to expectations of lower earnings growth.
3. Poor liquidity in the market
Given various uncertainties buffeting the local market, Inter-Pacific Securities research head Pong Teng Siew said the domestic stock market is experiencing "very poor liquidity".
Pong noted that the best indicator to measure liquidity is M1 — the money supply in an economy that contains currency and assets that can be quickly converted to cash — which grew an "unbelievably bad" 0.5% year-on-year, in February.
He said M1's growth is traditionally on par with the national gross domestic product's (GDP) growth, which means around 5% to 6%.
"What this tells you is that there is no liquidity, no spare money lying around in current accounts or cash [form]. This also tells you that the most liquid form of money isn't keeping pace with the growth of the economy," said Pong.
Banks are not lending aggressively either, so loan growth has slowed down. "But, I think it will pick up again given that the ringgit has weakened," said Pong.
4. Spotlight still on OPR
As global economy slows, all eyes remain on Bank Negara Malaysia to see whether it would cut the key overnight policy rate (OPR) to sustain the domestic economy's growth. Talks of such a possibility have gathered steam and continued to weigh on the ringgit, as the Monetary Policy Committee's meeting scheduled on May 6 and 7 nears.
"I think the central bank should be very careful about any possible tinkering with the interest rates," said Pong, who noted that when the key rate was last reduced by 25 basis points (bps) in mid-2016, ringgit slumped to as low as 4.50 against the US dollar. It was later bumped up by 25 bps in January 2018 to 3.25%.
An OPR cut will impact banks' net interest income — particularly those with high floating rate loans like Alliance Bank Malaysia Bhd and BIMB Holdings Bhd — said MIDF Research head Mohd Redza Abdul Rahman. But the adjustment impact will be temporary before net interest margin normalises again.
"Our in-house view is that it [OPR cut] won't be so soon, especially with GDP growth expected to do better," said Redza, adding that while 1Q19 GDP growth is expected to be slow, economic growth in the second half of 2019 is expected to show greater traction.
5. Earnings not growing but valuations still high
The biggest problem remains that while the FBM KLCI has fallen, its valuations remain high.
"[A price-earnings ratio of] 16 times isn't a big issue under normal circumstances, but earnings have been so bad in recent quarters," said Inter-Pacific's Pong. "The FBM KLCI is [still] expensive despite the fact that it has fallen ... and corporate earnings have fallen, with no clear signs of any turning around at this point."
To Phillip Capital's Ang, Malaysian stocks are just not attractive at this point. "If you look at just the 30 stocks (KLCI constituents) alone ... they are not very exciting," he said, adding that high valuations are okay if earnings growth or the prospect of it is high.
"This is the reason we are looking at other stocks outside the 30 constituents. To look for other stocks that can provide better opportunities."