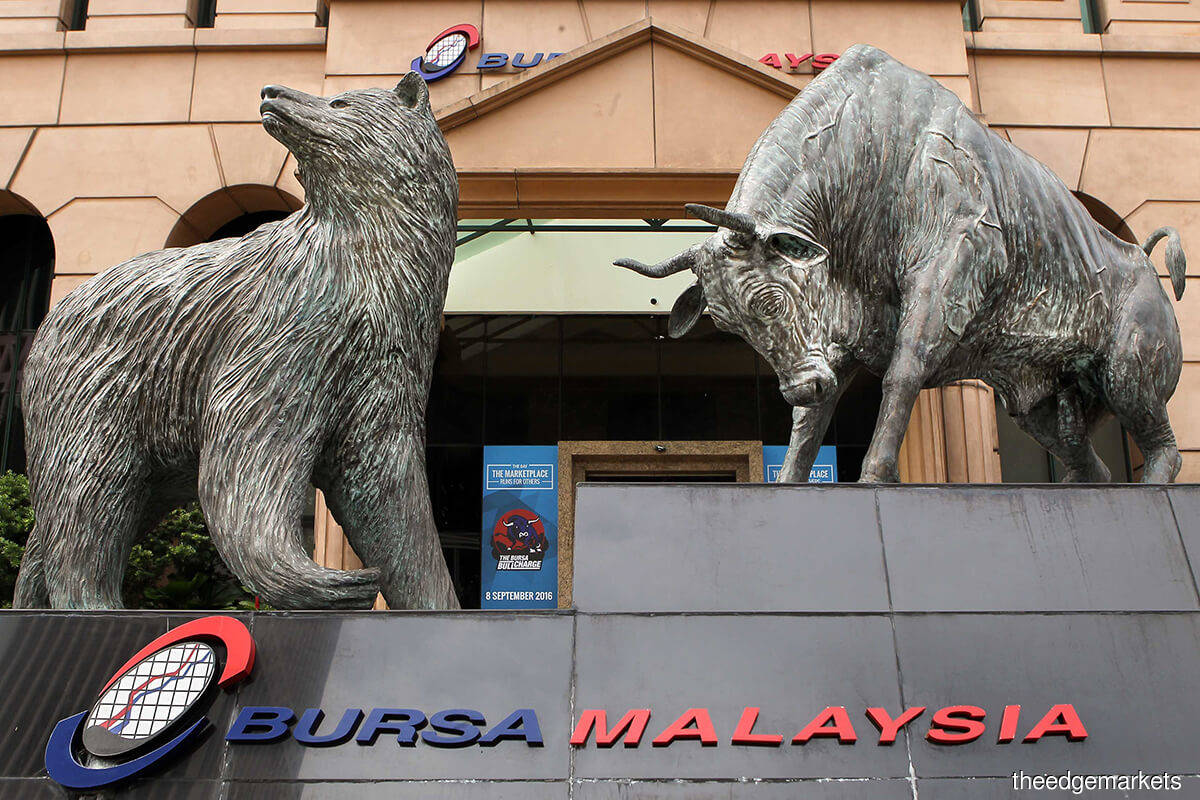 KUALA LUMPUR (Feb 2): After posting a record high quarterly net profit of RM121.94 million in the third quarter ended Sept 30, 2020 (3QFY20), Bursa Malaysia Bhd reported a net profit of RM104.85 million in 4QFY20, up 130% from RM45.56 million a year earlier.
Quarterly revenue went up 78% to RM230.7 million from RM129.33 million in 4QFY19 as trading revenue grew significantly for the securities and derivatives markets segment, Bursa Malaysia said in a filing today. 
Net profit for the full year surged 103% to RM377.75 million from RM185.86 million in FY19, the exchange's highest full-year earnings since its listing in 2005.
Revenue rose 59% to RM798.97 million from RM502.49 million in FY19.
The bourse declared a final dividend of 26 sen per share and a special dividend of eight sen per share for FY20, amounting to RM210.3 million and RM64.7 million, respectively. 
This brings the total dividend payout for FY20 to 51 sen per share, 145% higher than the 20.8 sen paid in respect of FY19.
In separate filings today, Bursa said the final and special dividends' ex and payment dates will be on this February 19 and March 3 respectively.
Bursa Malaysia chief executive officer Datuk Muhamad Umar Swift said the impressive financial result reflects the strength of the company's core business in capitalising on opportunities which emerged within the capital market in 2020, as Malaysian equities demonstrated resilience despite the pandemic. 
He highlighted that retail investors have had a positive impact on improving liquidity and depth in the capital market. 
"The continued operation of our markets has helped preserve the flow of capital in our economy to meet the needs of businesses and individuals alike," he said in a statement. 
"In FY20, retail average daily trading value (ADV) had increased by 236% to 1.6 billion, the highest retail ADV in Bursa Malaysia's history. Improved financial literacy among retail investors demonstrates the increased effectiveness of our outreach programs in recent years.
"Aside [from] that, 65% of the total CDS (Central Depository System) accounts opened were millennials (ages 25-40 years). The increase of millennial investors is a positive development for the long-term sustainability of the market, as they are key drivers of socially responsible investing," Umar said. 
Bursa Malaysia chairman Tan Sri Abdul Wahid Omar said the exchange aims to build a sustainable momentum by driving the sustainability agenda, with renewed focus to help deliver equitable growth for all stakeholders.
"We will be implementing a three-year strategic framework that is future-focused and embeds sustainability in our organisation and offerings. We have also pledged to contribute 1% of our profits after tax for FY20 towards community projects that will have a positive change and benefit society. This is inclusive of the inaugural RM667,000 zakat provided by Bursa Malaysia in FY20," Abdul Wahid said. 
Umar also said Bursa Malaysia will continue to focus on fostering sustainable development in the marketplace through the diversity of its product and service offerings. 
In addition, Umar said the exchange's established leadership position in the Islamic equity market is a potential growth catalyst given the greater prominence of sustainability, and the overlap between responsible and Shariah investing. 
"Moving forward, Bursa Malaysia will focus on developing and growing the Islamic Capital Market by promoting Shariah-compliant stocks and introducing new Islamic products and services such as Waqaf ETF and Hibah. 
"We are also looking to forge new partnerships to grow the exchange's non-traditional revenue stream. One such area is through data collaboration with various players, allowing the exchange to expand our datasets beyond market data. Creating enriched datasets will help facilitate Bursa Malaysia into a sustainable and attractive ecosystem, beyond a traditional exchange marketplace," Umar added. 
At the time of writing, shares of Bursa Malaysia were trading down three sen or 0.32% at RM9.34.
Read also:
No plans on banning regulated short selling anytime soon, says Bursa CEO
Only 76 listed companies compliant with Bursa's ESG measures