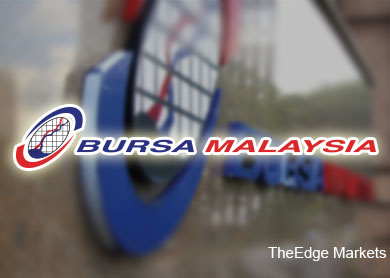 KUALA LUMPUR (Oct 20): Bursa Malaysia Bhd saw its net profit for the third quarter ended Sept 30, 2014 (3Q14) jumped 14% to RM53.09 million from RM46.21 million a year ago, underpinned by an increase in contracts traded during the quarter in review.
In an announcement on its website this afternoon, Bursa said its revenue for the quarter also increased 7.2% to RM128.96 from RM120.28 last year, while its earnings per share expanded to 10 sen against 8.7 sen in 3Q13.
For the cumulative nine months of the the current financial year, its net profit grew to RM145.09 million from RM139.23 million, while revenue rose to RM375.28 million from RM361.07 million.
Bursa recorded an RM87.9 million total segment profit for 3Q14, an 11% increase from RM79.6 million in 3Q13.
The securities market saw a segment profit of RM78.8 million in 3Q14 against RM68.7 million previously, due to higher trading value on the securities market for the quarter under review. Operating revenue for the segment was RM95.9 million, up 9% from RM88 million in 3Q13 due to the exchange regulator and operator registered higher equity-trading income.
Bursa said profit for the derivatives market was up marginally by 1% to RM10.3 million against RM10.2 million in 3Q13. The higher profit in 3Q14 was attributable to the increase in contracts traded.
"Operating revenue for 3Q14 was RM20.6 million, representing an increase of 2% compared to RM20.2 million in 3Q13. The increase came mainly from trading income, as a result of higher contracts traded in 3Q14 compared to 3Q13.
"The income is partially offset by lower guarantee and collateral management fees earned, which are components of trading revenue," Bursa said.
On outlook, the bourse noted the global economy is rather uncertain as key central banks contemplate measures to stimulate and sustain their economies.
"Global liquidity flows are expected to continue to be affected by such measures...The global volatility experienced this year has affected and is expected to continue to impact trading on capital markets worldwide."
Nevertheless, it foresees Malaysia's economy to exceed Bank Negara Malaysia's growth forecast of 5.5% for the year.
"The underlying strong fundamentals of the Malaysian economy and the economic growth prospects are expected to continue to support investors' confidence.
"The ample liquidity in the domestic financial system is also sufficient to support the capital market over the short and medium term," it said, adding that against this backdrop, investor sentiment for equities should remain positive.
"Crucial to the growth of our market in the current economy are our outreach activities as well as the ability to provide diversified and investable products to existing and potential investors," it said.
Bursa said the challenges and uncertainties which affect investor sentiment and appetite on the equities market will continue to affect FTSE Bursa Malaysia KLCI Futures (FKLI) volumes, while the present uncertainty in palm oil prices will influence the volumes traded for futures crude palm oil (FCPO).
"Overall, our efforts to deepen our distribution channels, promote our products and widen our range of derivatives offerings are expected to improve visibility and sustain trade volumes for the remainder of the year.
It added that the Islamic capital market continues to register positive growth, and wider usage of the Murabaha principle is expected to spur greater utilisation of its commodity trading platform, Bursa Suq Al-Sila'.