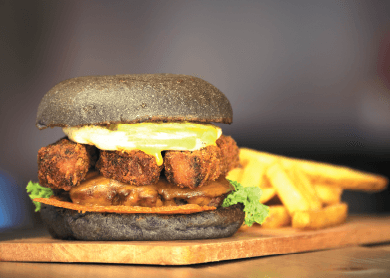 The humble street burger goes gourmet
FOR many Malaysians, our first encounter with burgers began on street corners — the humble but oh-so-tasty Ramly burger, fulfilling many a late night craving and hunger pangs across neighbourhoods.
And while the quintessentially Malaysian bite with its unique flavours will always hold a special place in our hearts, not to forget tummies, it has also spawned a generation of burger lovers, many of whom have become catalysts for the boom in the burger business in the last few years.
The burger as we know it today has evolved from the cheap, quick, late night street snack to now having a presence in malls, standalone shops and restaurants. It has gone mainstream, becoming a legitimate meal choice.
The entry of California-based premium burger chain, The Counter — a specialist in the build-your-own-burger experience — in Pavilion Kuala Lumpur this month is freshly served proof that the food trend is here to stay.
Teoh Wee Kiat of myBurgerLab agrees that the love for burgers will not be waning anytime soon, though he thinks the market has certainly got more crowded from when it first kick-started the burger revolution in 2012. Despite opening in a rather hidden location in the suburb of Sea Park, Petaling Jaya, myBurgerLab saw lines around the block on a regular basis even before it opened at 5pm, often selling out long before closing time at 10pm.
"After we started, there were a lot of burger restaurants that popped up," says Teoh, admitting that it had an impact on their business. "I guess whenever business is good, people will want to have their hands on it as well."
Trend aside, the myBurgerLab phenomenon was a clear sign that there was a gap in the market for freshly made burgers that were affordable yet different. As Teoh, a founding member of the burger joint, points out, "[At the time] there was already Chilli's and T.G.I. Friday's and The Daily Grind in Bangsar …" all of which served cooked-to-order gourmet burgers.
"For us, it was our unique concept that drew people. We offered very innovative and distinct flavours, so much so people would say, 'like this also can ah'?"
The pioneering brand proved to be a game changer with its close to gourmet-style burgers, but differentiated by a fuss free suburban community concept and affordability (averaging RM12 to RM20 for an a la carte burger). Other suburban joints soon opened, including Burger Junkyard and KGB (Killer Gourmet Burgers).
It wasn't only urban joints that evolved. Even roadside stands developed their own identities and brands, multiplying in many locations, such as the Burger Bakar Kaw Kaw, with its towering signature burger and trendy names. The Rawang Burger Bakar now offers franchise licences (at only RM1,500) and is proud to boast of its 50 plus branches, including the first overseas franchise in Cardiff, Wales.
In the last two years, the burger trend has begun to penetrate into central city locations and into the shopping malls. KGB opened a branch in Mid Valley Mega Mall last year, taking on the bigger, established burger chains such as American fast food chain Carl's Jr as well as pioneering Malaysian pork burger chain, Ninja Joe.
With the international big boys such as The Counter and the soon-to-be-opened Caliburger entering the fray, it would seem that the burger boom has reached maturity.
That being said, Vijay Chinnasami, the chief executive officer of AAR Fusions, who runs Caliburger in Malaysia, believes the market is far from being saturated. He says people are still hungry for good quality and fresh options, something Caliburger aims to provide.
Modelled after the famed In-N-Out Burger in California, Caliburger — which will open in Avenue K in May — aims to keep a "simple menu" that maintains a more classic burger flavour. The emphasis is on freshness, using imported meat from Australia but locally supplied vegetables, all cut by hand in store.
Positioning its price range between the typical fast-food burger joint and a gourmet outlet, Caliburger aims for multiple outlets within Malaysia, focusing on providing an aspirational experience that will heavily involve social media engagement.
The next question is, what happens when the boom comes down to just a simmer?
Teoh believes it all comes down to the product: there must be something different offered. "Everyone rushed for it in 2013, then by 2014 there were [a few] burger joints which closed. But the competition is healthy. For now, there are only a few strong burger players in thr market and they will have to strive to excel in their offerings."
Echoing Vijay's sentiment that there will always be a demand for better quality products, Teoh says he is looking forward to the challenges and changes in the next few years. "As a start, any burger brands coming into the market is a sign that consumers are open to try new things," he said.
Confident in Malaysians' love for food and hunger to try new things, Teoh is also cautious that it's not just competing among burger brands. "The burger market is not saturated, but the food market on the whole is. At the end of the day, it is about customers deciding which restaurants to eat at, not just among a particular type of food."
Well judging from the thriving burger scene that we have today, the meat patty between two buns is going nowhere just yet, except getting juicier and better.
This article first appeared in The Edge Financial Daily, on April 29, 2015.