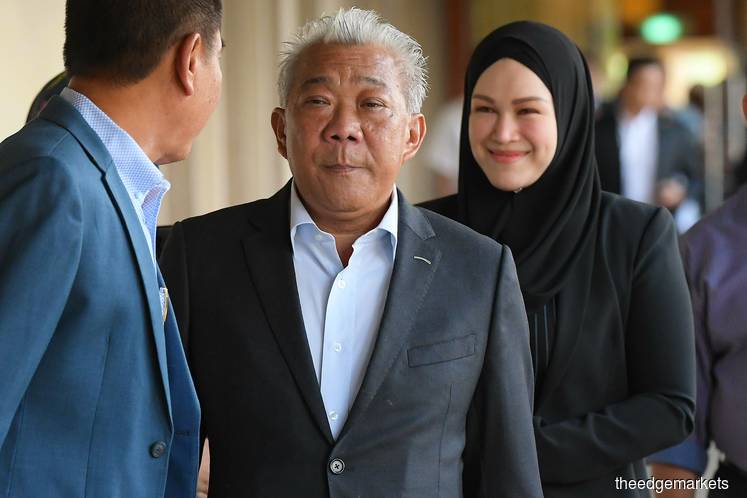 Former Felcra Bhd non-executive chairperson Datuk Seri Bung Moktar Radin (centre) with his wife, Zizie Izette A Samad, at the Sessions Court today. Photo by Suhaimi Yusuf/The Edge
KUALA LUMPUR (May 3): Former Felcra Bhd non-executive chairperson Datuk Seri Bung Moktar Radin today claimed trial at the Sessions Court here, to three counts of accepting a bribe totalling RM2.8 million in relation to using Felcra fund to invest in a trust fund scheme through his actress wife, Zizie Izette A Samad, three years ago.
Bung Moktar, 60, is charged with receiving the amount in three different transactions of RM2.2 million, RM262,500 and RM337,500 at Public Bank Taman Melawati between June 12 and June 19, 2015.
This is for Bung Moktar to go against his principal task by getting approval from the Second Finance Minister for Felcra to invest RM150 million in Public Mutual trust.
He claimed trial before Sessions Court judge Rozina Ayob.
Bung Moktar is represented by lawyers Datuk C Vijaya Kumar and Datuk K Kumaraendran while Malaysian Anti-Corruption Commission deputy public prosecutor (DPP) Datuk Umar Saifuddin Jaafar and DPP Allan Suman Pillai are the prosecutors.
Umar Saifuddin asked that bail of RM100,000 be imposed on the former Felcra chairperson and that his passport be impounded until the end of the case.
Kumaraendran agreed to the conditions.
Former premier Datuk Seri Najib Razak met Bung Moktar, after he was charged.
Meanwhile, former Urban Wellbeing, Housing and Local Government Minister Datuk Seri Abdul Rahman Dahlan was also spotted among those present to lend support to Bung Moktar, who is also Sabah Umno liaison chairman.
Zizie Izette is meanwhile charged before Sessions Court judge Azura Alwi with three counts of abetment in relation to the same charge where she also claimed trial.
Justice Azura imposed the same bail conditions on Zizie Izette of RM100,000 bail and that her passport be impounded.
Justice Rozina has fixed June 10 for mention as Umar Saifuddin asked that Zizie Izette's case be jointly tried before her.