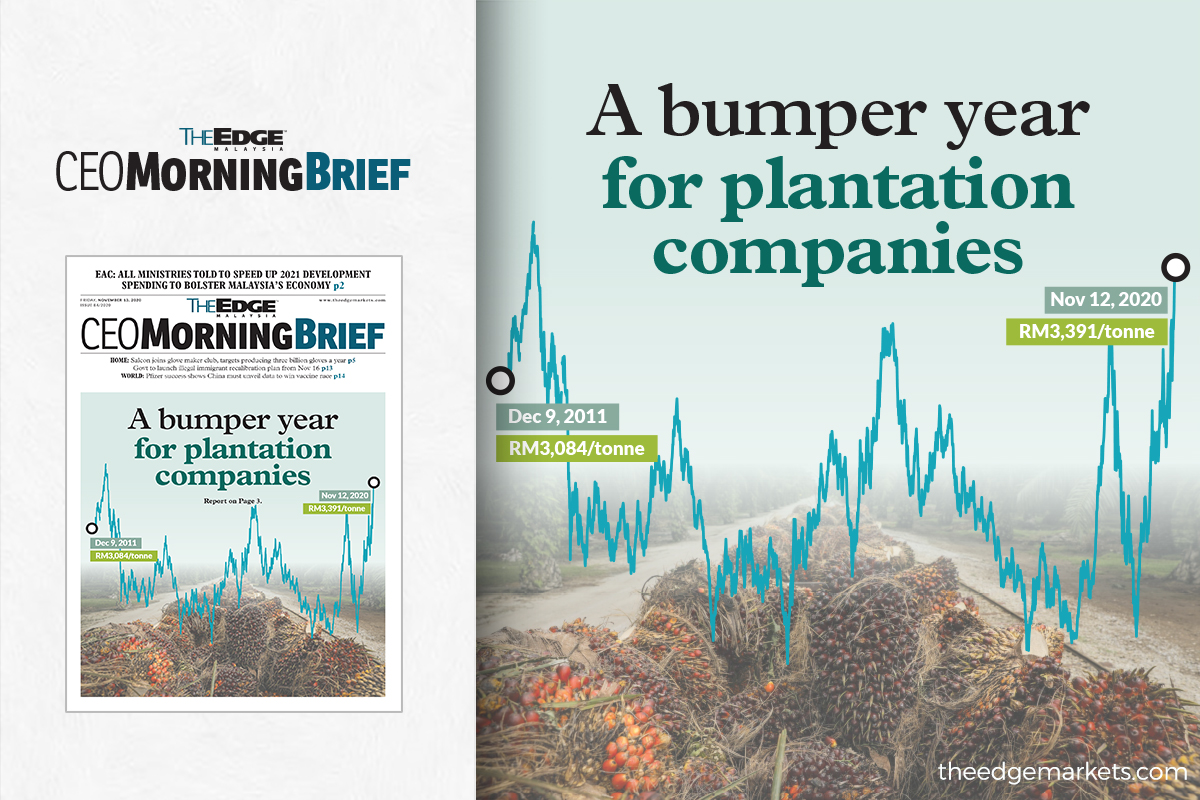 KUALA LUMPUR (Nov 13): While investors have been obsessed with the abnormal strong demand for rubber gloves, few might have paid attention to the solid V-shaped rebound on the crude palm oil (CPO) prices, which is now at an eight-year high level. 
The two-month CPO futures contract closed at RM3,391 — highest since May 2012. 
The steady climb on CPO prices since June, according to commodity experts, could last until the first quarter of 2021, if not longer, given the sustained tight supply-demand dynamics. This paints a rosy picture on the plantation companies' earnings prospects. But, some quarters say the commodity may be nearing its peak soon.  
Just when many thought that the CPO price rally, which started in August last year, was ended by the coronavirus, the commodity prices, however, has not only regained lost ground since June but it exceeded last year's peak. 
The CPO prices plummeted in the first half of the year to RM1,946 in May, from RM3,137 in early January. It then staged a strong rebound from the trough. 
The latest statistics show CPO stockpile has dropped to a three-year low of 1.57 million tonnes at end-October, prompting investment analysts to lift their forecasts on CPO prices. 
CGS-CIMB raised its forecast on CPO average price to RM2,620 per tonne from RM2,500. "We expect CPO prices to trade in the range of RM2,600 to RM3,200 per tonne in November and raise our average CPO price to RM2,620 per tonne for 2020 from RM2,500 per tonne, in view of the stronger-than-expected CPO price achievement over the past month," CGS-CIMB said.
Maybank Kim Eng's analyst Ong Chee Ting commented in a note that low stockpiles in Malaysia and weak Indonesian output in the third quarter have lifted CPO spot prices to more than RM3,000 per tonne.
"While prices will remain robust in the near term, we are concerned about its sustainability on widened palm oil-gas oil spread and prospects of an output rebound in 2021.
"Nonetheless, we raise our CPO average selling price (ASP) assumptions for 2020 to RM2,660 per tonne (from RM2,400) and for 2021 to RM2,500 per tonne (from RM2,400)," Ong wrote in the note.
CGS-CIMB Head of Research and Regional Head of Agribusiness Ivy Ng earlier commented that tight supply and festive demand could sustain the CPO prices at current level until the first quarter of 2021, if not longer. 
What drives CPO prices higher?
The Covid-19 outbreak did not hit palm oil demand in China. The country has been restocking over the past few months, this has lent tremendous support to the CPO prices, according to analysts. 
For the cumulative 10 months ended Oct 31, 2020 (10M20), exports of Malaysian palm oil to China grew by 20.5% y-o-y to 2.82 million tonnes, from 1.89 million tonnes in 10M19.
However, exports to India, the country with the second highest Covid-19 infections, shrunk by 52.2% y-o-y at 1.97 million tonnes for 10M20, from 4.13 million tonnes in the previous corresponding period.
Among other countries that have bought substantially higher palm oil from Malaysia are Kenya (up 180% to 372,923 tones), Saudi Arabia (up 163% to 311,870 tones), Egypt (up 245% to 135,283 tones) and Bangladesh (103% to 289,118 tones).
Meanwhile, La Nina weather phenomena have also played a role in lifting the edible oil, including soy oil and palm oil. 
According to palm oil consulting firm Ganling Sdn Bhd's director Ling Ah Hong, the development of the La Niña weather conditions would impact soybean production and in turn, CPO prices.
Ling anticipates a moderate La Niña production impact on palm oil in 1H21 can yield average CPO prices of RM2,800 by end-2020, RM3,100 in 1H21 and RM2,200 in 2H21.
A stronger La Niña, meaning drier weather in south-western America, would result in a more severe impact on soybean production. He said this, combined with a limited supply of sunflower and rapeseed oil from the Black Sea region, would result in generally higher vegetable oil prices in 1H21. 
In this scenario, CPO prices are expected to be RM2,800 end-2020, RM3,300 in 1H21 and RM2,200 in 2H21. He believes the chances of a severe impact is lower.
Oil World's Thomas Mielke commented that overall prices of vegoils will be impacted by higher prices of soybeans until 1H21. 
Any drop in soybean production translates into higher soy prices, thus having a spillover impact on other vegoils.
That said, it is worth noting that CPO had been at a discount for the most part of the year, reaching a US$104.08 discount on May 12. Since then, the discount between the two vegoils has been narrowing, and ultimately turning into the premiums that have been seen since late October. This might point to downward pressure on CPO prices.
As of Nov 11, daily CPO prices were commanding a US$14.43 or RM59.6 premium over soybean oil, based on daily spot prices provided by the Malaysian Palm Oil Board (MPOB) and the US Department of Agriculture (USDA). Soy oil prices stood at US$817.03 per tonne, while CPO was at US$831.46 a tonne. 
In fact, CPO has been posting premiums over soy oil since Oct 27, 2020, having reached a US$44.86 per tonne premium on Nov 5, 2020. 
High CPO prices an earnings boost
Given the CPO price rally, upstream plantation companies have been seeing better fortunes in terms of earnings.
For instance, United Plantations Bhd's net profit for the third quarter ended Sept 30, leaped 58.3% to RM95.33 million, from RM60.2 million a year ago, thanks to higher palm prices and production. Quarterly revenue grew nearly 20% to RM334.04 million from RM278.66 million, according to the group's filing. 
For the January-September period, the company's net profit ballooned almost 48% to RM300.1 million from RM203.07 a year ago, as revenue increased 8.7% to RM947.26 million from RM871.46 million. 
United Plantations' latest earnings figures could be the bellwether for its plantation peers who are mainly involved in upstream. 
MIDF Research analyst Khoo Zhen Ye said higher CPO prices are positive for upstream players. Companies operating downstream segments would see their segment earnings growth mitigated, as higher CPO prices represent higher raw material costs. Net-net earnings would be higher.
Khoo also pointed out that there is no worker shortage problem in Indonesia, so it would be good for those who own plantations there.
Areca Capital Sdn Bhd Chief Executive Officer (CEO) Danny Wong emphasised that cost management is important, and that will determine gross margins.
Both Khoo and Wong noted that companies with more prime hectares would have greater productivity, following higher fresh fruit bunches (FFB) and CPO production.
CGS-CIMB's Ng views higher CPO prices would mostly flow through earnings, taking into account various taxes.
That said, she cautioned this would be partially offset by lower output — if the higher price is premised on lower supply.
Generally, investment analysts are not overly excited with the current strong CPO prices, as some are not that upbeat that the upward trend could go far from current levels next year. 
"The market is concerned over whether this lift in prices is premised on demand or whether it is because of the performance of other competing vegoils such as soy," said Areca Capital's Wong.