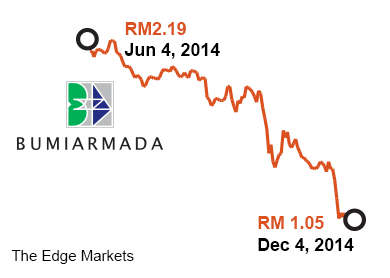 KUALA LUMPUR: Bumi Armada Bhd has failed to sign a US$1.18 billion charter contract with Indonesian-based Husky-CNOOC Madura Ltd (HCML) for the supply of one floating production, storage and offloading (FPSO) by its Nov 27 deadline.
This is fourth delay in the execution of the agreement.
In an announcement to Bursa Malaysia, Bumi Armada said that HCML and the consortium of Bumi Armada Offshore Holdings Ltd and its joint-venture company PT Armada Gema Nusantara "have mutually agreed to extend the period for the signing of the contract to next Wednesday.
"The extension is to enable parties to procure relevant internal approvals to execute the contract," said Bumi Armada.
The signing of the FPSO contract has been the subject of several delays since Bumi Armada first announced that HCML had issued a letter of intent for the deal in August.
The market was left to guess the fate of the contract after no announcement was made last Thursday, the day when the contract was supposed to be signed or terminated, unless a further extension was agreed upon.
Against the backdrop of tumbling crude oil prices, investors' confidence appeared to have been shaken by Bumi Armada's silence on the charter contract. Its share price dipped to an all-time low of 98 sen on Monday.
Its share price went up three sen or 2.94% to RM1.05 in afternoon trades today, with over 44.7 million shares changing hands.
Bumi Armada has had a dismal year so far with its share price plunging 58% since the beginning of the year.
While Bumi Armada's share price is going downhill, the company's CEO Hassan Assad Basma has been reducing his stake in the company. As at Nov 28, Hassan only has a 0.05% stake in the company, having last disposed 260,000 shares in the open market on Nov 26 and Nov 28.