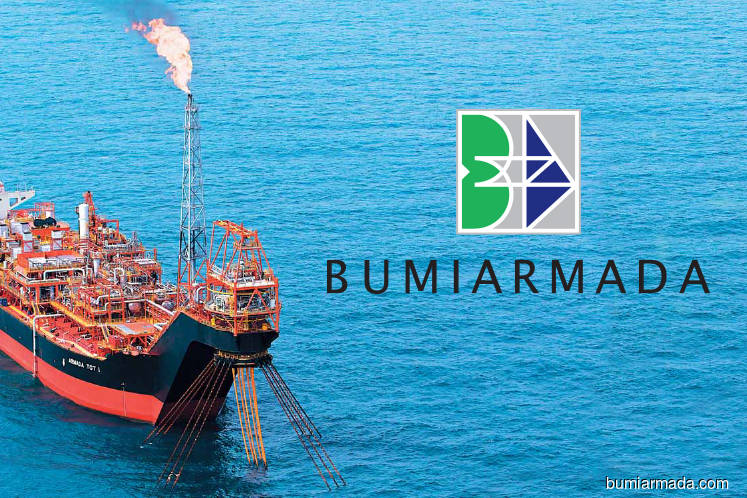 KUALA LUMPUR (May 27): Bumi Armada Bhd, whose share trade was halted from 9am to 10am today, announced a 28.5% jump in its net profit for the first quarter ended March 31, 2019 (1QFY19) to RM62.21 million, from RM48.42 million in the same quarter a year ago.
Bumi Armada in its exchange filing today said this was due to higher allowance for impairment losses of receivables as well as lower depreciation as a result of impairment losses recognised on the Armada Kraken floating, production, storage and offloading (FPSO) and certain offshore support vessels (OSV) booked in the corresponding quarter last year.
The increase is also contributed by higher share of results from Karapan Armada Sterling III in the quarter, arising from lower tax expense due to recognition of deferred tax assets and lower management fees recognised. The increase is partially negated by the lower revenue.
Quarterly revenue fell 18.1% to RM491.61 million, from RM600.34 million in 1QFY18, mainly due to the completion of the LukOil project in the Caspian Sea in December 2018.
Revenue from the floating production and operations (FPO) segment decreased due to lower revenue from Armada TGT FPSO subsequent to the signing of the extension agreement in August 2018, it said.
For the remainder of the year, Bumi Armada said it intends to focus on reducing costs and debt, improving the performance of Armada Kraken, monetising unutilised assets, securing charters for the offshore marine services (OMS) vessels, and selective growth in FPO sector, as well as its health, safety, security, environment and quality.
Bumi Armada CEO Gary Christenson said the group is looking to stabilise the its financial performance through various efficiency and performance improvement initiatives.
"Our focus will be on improving our performance on Armada Kraken, selectively pursuing new FPO projects and strengthening the balance sheet to support growth going forward.
"Since the close of 1Q19 the refinancing of our corporate debt has now been completed and we will monetize under-utilised assets to accelerate debt reduction. In addition, the group announced a new FPSO project for Oil and Natural Gas Corp Ltd's (ONGC) Kakinada 98-2 oil field with our Indian joint venture company," he said in a separate statement.
At 11am, shares in Bumi Armada were up 1.5 sen or 8.1% at 20 sen, bringing a market capitalisation of RM1.09 billion.