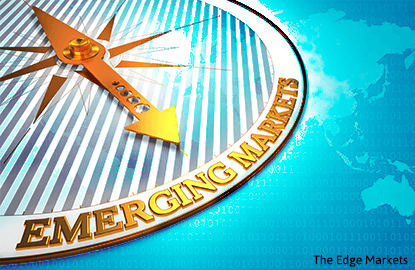 LONDON (Oct 17): Emerging stocks and currencies came under pressure on Monday, weighed down by the dollar romping to its strongest level in nearly seven months and long-dated US bond yields climbing higher following comments by Federal Reserve Chair Janet Yellen.
MSCI's emerging market benchmark weakened 0.5%, with bourses across Asia chalking up solid losses while stocks in South Africa, Turkey  and Russia fell by around 0.5%.
Currencies weakened against the dollar and bond yields clambered higher in many emerging economies after Yellen said on Friday the Fed may need to run a "high-pressure" economy to reverse damage from the 2008–2009 global financial crisis that depressed output.
Her remarks raised speculation that Yellen may be willing to let inflation run above the bank's 2.0% target and prefer to keep an easy monetary policy stance for a long time.
"She said she would allow the US economy to run a bit further than normal in terms of monetary policy, which would be positive for EM, but they are also signalling they want to try to steepen the yield curve, which could be negative for EM bond markets — so it's a mixed signal for emerging markets," said Jakob Christensen, head of EM research at Danske Bank.
Adding to the pressure was US data out on Friday, showing a rebound in retail sales in September, pointing to solid demand that reinforces expectations of a Fed interest rate hike in December.
Currencies bore much of the pain. Turkey's lira weakened by 0.4% in its seventh day in the red, yet stayed shy of the record low it had hit last week.
Russia's rouble matched that fall, shrugging off a decision by ratings agency Fitch on Friday to raise its outlook on Russia's sovereign debt to "stable" from "negative".
South Africa's rand also weakened for the third day, but losses were less pronounced after the deputy president was joined by business leaders showing support for Finance Minister Pravin Gordhan, who faces fraud charges.
The Chinese yuan slumped to its weakest since September 2010 on a weak central bank guidance rate, but selling was tempered by caution over possible intervention by authorities to halt further depreciation.
The picture was similar across central and eastern Europe.
Hungary's forint weakened 0.2% against the euro while Poland's zloty almost matched that fall after hitting its weakest level in the month earlier in the day.
Investors are also awaiting a raft of global economic data this week, including US industrial production on Monday, US consumer prices on Tuesday and Chinese third-quarter gross domestic product on Wednesday.