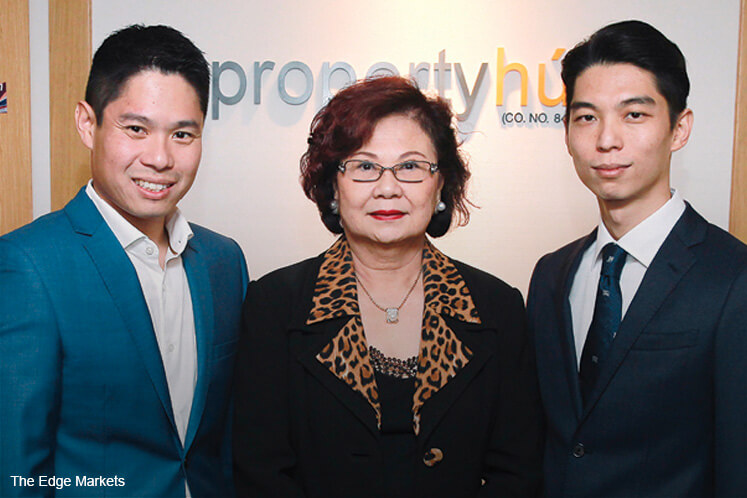 HAVING just celebrated its seventh anniversary early this year, Property Hub Sdn Bhd has grown from a small team of 12 to over 130 across three offices in Malaysia today.
Established in 1988 as Meru Utama Realty — which was founded by entrepreneur Patricia Ng, whose businesses range from advertising to real estate — the agency changed its name and was rebranded as Property Hub in 2010.
Ng, who is now Property Hub's principal, was introduced to the firm's co-founders, Christopher Lim and Benjamin Tee, more than a decade ago and was so impressed with them that she decided to run the business together with them.
"It's been 10 years since [I handed over the running of the real estate business to Tee and Lim]. They are very reliable and professional," she tells TheEdgeProperty.com.
On its rebranding, Lim, who is the non-executive senior vice-president of Property Hub, says there were two main reasons behind the move.
"When we had the opportunity to partner with Ng, we saw it as a seed of trust that she has sown [in us], where we were given the freedom to explore the business. Upon survey, we found that many people associated 'Meru Utama' to a place in Klang, Selangor that shares the same name.
"Another reason for the rebranding was that we would like to attract more young blood to the company, by forming a corporate culture and environment — something that has not been done much in this real estate industry," he says.
In the pipeline are two new branches to add to the ones in Mont'Kiara, KL city centre and Kota Kinabalu.
"We are earmarking [two new branches] in Taman Tun Dr Ismail and Bangsar within the next 18 months," says Lim.
Stable despite slowdown
Tee, who is the senior vice-president of Property Hub, acknowledges the slowdown in the property market. However, the real estate firm's business has remained stable due to its focus on the Mont'Kiara market, the high-end expat enclave in Kuala Lumpur.
"Yes, the slowdown in the property market is affecting us to a certain extent, but due to our location (Mont'Kiara), we are surrounded by a mix of foreign and local customers, so we are doing quite alright.
"During the time when the market was better, you [would] come across many potential buyers, but in a not-so-good market, buyers are hard to come by. But sellers are more willing to negotiate on prices," he says.
Property Hub will continue to strengthen its forte in the local market as well as the key overseas property markets such as London, Australia and Singapore.
"[It should be noted that] our overseas property market isn't a big component of our portfolio, contributing about 5% to 10% to our revenue," Tee adds.
Expansion comes with greater challenges
Tee notes that the current challenge for the firm is to enhance the effectiveness of communication within the company.
"When we talk about challenges, the first one would be during the foundation building stage between 2010 and 2014. We started in Mont'Kiara with only 12 people, so there's a lot of nurturing to do.
"Fast forward to this day, it is challenging to lead a pack of over 100 people because compared to managing just 12 people, I now have to communicate with team leaders who will then communicate with their teammates," he notes.
For 2017 and beyond, besides the plan to have two more branches, Tee also hopes to double the number of Property Hub team members. On top of that, the firm has set itself a sale target exceeding RM1 billion.
"This year, we have set a RM1.2 billion sales target for the group. We are hoping to increase our existing figures and hopefully breach the RM1 billion mark. We transacted about RM700 million worth of properties in 2015, while in 2016, we transacted about RM800 million.
"Besides our main headquarters here in Mont'Kiara, our two branches — one in Kota Kinabalu and the other in KL city centre — have settled in after a few years of operations, so we should be moving forward to gain more sales this year," he says.
This story first appeared in TheEdgeProperty.com pullout on May 19, 2017. Download TheEdgeProperty.com pullout here for free.