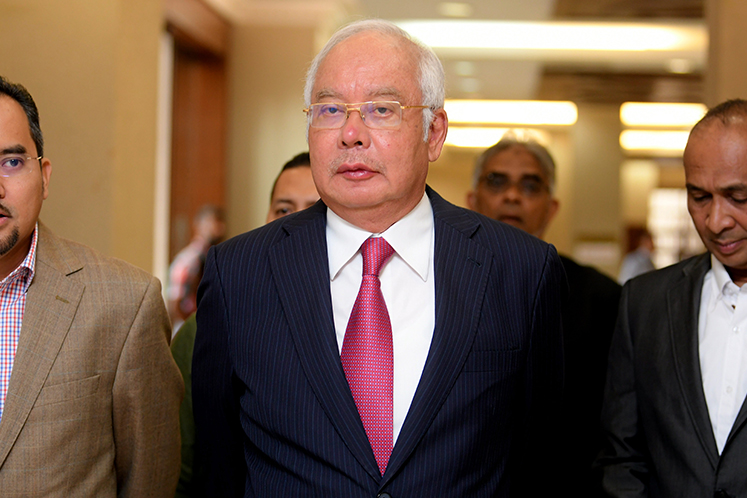 KUALA LUMPUR (Oct 11): Budget 2020 is not able to stimulate the Malaysia economy next year as it does not feature any tax relief while the cost of living is expected to continue rising, said former Prime Minister Datuk Seri Najib Razak.
"Budget 2020 is not enough to stimulate the economy, not even materialising their promises. Our plan in the past was to reduce income tax gradually, especially for the middle-income group, and reduce corporate tax, because our corporate tax is higher than Singapore's," he told reporters at Parliament lobby today.
"However, there was no change in corporate tax in Budget 2020, and no tax relief for households, so this is not helping the middle-income group," he added.
Najib also said the cost of living is expected to rise as well given that fuel prices will rise while new taxes will be introduced, despite their new targeted fuel subsidy scheme.
"On the targeted fuel subsidy, it is disappointing, because the benefit is too low, those who own vehicles below 1600cc, they only get RM1 a day, this is a joke, totally unacceptable, and they get to pay upfront when the fuel price is float based from Jan 1, 2020. This is not what they have promised in their manifesto, pricing fuel at RM1.50 per litre.
"So I don't think this Budget 2020 will excite the people, because we will see fuel prices increasing next year. Imposition of various taxes, like the digital tax, will translate into higher cost of living," he said.
The targeted fuel subsidy scheme, which will be launched in Peninsular Malaysia next January, comprises two categories.
The first category covers eligible recipients of Bantuan Sara Hidup, whereby a stipend of RM30 per month for car owners and RM12 per month for motorcycle owners will be deposited into their bank accounts every four months.
Meanwhile, the second category covers non-BSH recipients, who will receive a Kad95 that enables them to purchase RON95 petrol at a discount of 30 sen per litre of up to 100 litres for cars or 40 litres for motorcycles on a monthly basis.
The price of RON95 and diesel will gradually be floated once the scheme begins, with the fuel subsidy to kick in whenever the RON95 market price determined is to be above RM2.08 per litre by the Automatic Pricing Mechanism (APM).
Najib also said he is disappointed for the PH Government to revise the fiscal deficit target to 3.2% in 2020, from 3%.
"During BN times, we targeted 2.8% for 2020, and have a balanced Budget by 2022," he said.
Najib then expressed his doubt over Finance Minister Lim Guan Eng's projection of 1% inflation this year.
"I want to question the Finance Minister on the inflation rate, which is projected to be 2% next year, and 1% this year, we can ask consumers anywhere, nobody will believe that this year's inflation is 1%, and I don't think inflation will be only 2% next year," he said.
On government assistances announced by Lim earlier, Najib said the PH Government was just following BN Government's footstep.
"Many government assistances were announced, they are following BN's footsteps, if we examine these assistances carefully, they have been there when we were the government, but have been reduced [by the PH Government].
"For example, BR1M (Bantuan Rakyat 1Malaysia, now known as Bantuan Sara Hidup), they add another category for bachelors, but at a lower rate, at RM1,000. During BN's time in 2018, we were already giving out RM2,000, this year [the assistance] could be higher [if BN had remained in power]," he said.
In his Budget 2020 speech, Lim said Prime Minister Tun Dr Mahathir Mohamad's vision of transforming Malaysia into a high-income nation would have succeeded, "if not for the massive financial scandals, corruption and mismanagement of the previous Government".
Earlier this year, Lim revealed that individuals with Datukships were among the recipients of the Barisan Nasional Government's aid.