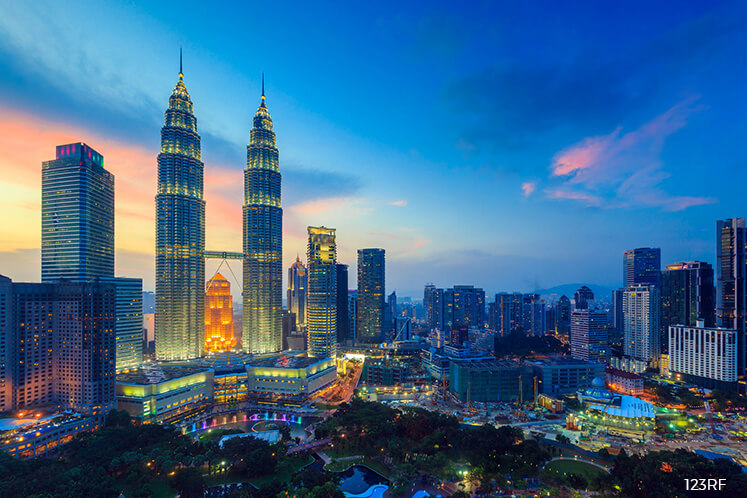 KUALA LUMPUR (Oct 13): The national budget to be tabled on Oct 27 is most likely to be modestly expansionary amid revenue challenges as the government maintains fiscal discipline, says UOB Kay Hian Securities.
"Budget 2018 will reaffirm high infrastructure spending, promote growth areas, bring goodies to low-income earners and civil servants and provide tax relief for the middle income," said the firm in a note to clients.
The "election budget" will be market-neutral just like in recent years, UOB Kay Hian said, adding that it is maintaining its end-2017 FBM KLCI target of 1,770.
The firm said mega infrastructure projects would remain in the limelight as a market impactful measure.
"Meanwhile, we do not expect a substantial relaxation on the property sector, given the high (but easing) household debt to GDP (2016: 88%) and an already robust headline GDP growth trend," it added.
On the tax front, UOB Kay Hian said that while the government aims to widen its tax base, Budget 2018 is not expected to introduce inheritance taxes nor raise the goods and tax (GST) and sin taxes.
It noted that tax collection from January to June made up 43% of the RM219.7 billion target set in Budget 2017, despite the authority "going overdrive against errant taxpayers".
Last month, the Customs Department said GST collection for 2017 is expected to breach its target of RM42 billion. The collection in 2016 was RM41 billion.
With regard to dividends to be paid by state-owned Petroliam Nasional Bhd (Petronas), UOB Kay Hian said it will be capped by "a likely substantial downward price revision for a quarter of its LNG (liquefied natural gas) exports".
Petronas had in August said that it will increase this year's dividend payment to the government by an additional RM3 billion to RM16 billion, from its earlier commitment of RM13 billion.
Going forward, UOB Kay Hian said it expects the government to maintain fiscal discipline, with an expected budget deficit target of 2.9% in 2018, from 3.0% in 2017.
"Nevertheless, fiscal stimulus efforts will continue to be reinforced by off-balance-sheet mega infrastructure projects and fiscal spending by government-linked companies," it added.