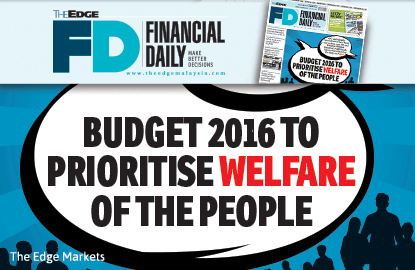 This article first appeared in The Edge Financial Daily, on October 23, 2015.
KUALA LUMPUR: The 2016 budget, which will be tabled in Parliament today, will give priority to the future and welfare of Malaysians, said Prime Minister Datuk Seri Najib Razak.
"Budget 2016 will demonstrate how the plan will improve the lives of all Malaysians, and our next steps towards achieving Vision 2020 and developed nation status," he said ahead of presenting Budget 2016.
The prime minister also said he will not be "distracted" from tabling the budget, amid calls by opposition lawmakers for all members of parliament to vote against the budget to express their disapproval of the present leadership.
"I have a plan, and the plan is working. I will not be distracted, for there are serious consequences of not seeing the plan through," said Najib.
While acknowledging that the fall in the price of oil and gas has resulted in a decline in government revenues,  Najib said the government has taken proactive measures to mitigate its impact — specifically the various measures implemented to diversify the economy over the past year.
"[The] two things we have done to increase resilience are to introduce the goods and services tax (GST) and rationalise subsidies. These decisions have been our saviour," he said.
"GST collection is higher than anticipated due to higher compliance, and fortunately we have other resources. Plus, the government has been prudent with expenditure," he added.
Despite the oil price fall, Najib also noted that Malaysia's economic fundamentals remain strong with growth expected to be 4.5% to 5.5% this year, inflation at 2% to 2.5%, and unemployment stable.
"The government is therefore well-placed to continue to put the people first. It will provide assistance, especially to vulnerable groups, to help with rising living costs. [It will] support the private sector with pro-business policies, ensure inclusive growth, enhance human capital development, and increase productivity, innovation and green technology," he said.