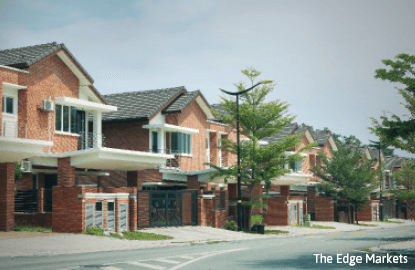 This article first appeared in The Edge Malaysia Weekly, on October 19 - 25, 2015.
Every annual national budget over the last four years had in some ways featured cooling measures in the real estate sector — a beneficiary of cheap and ample credit globally. As complaints about unaffordable housing increased, both the government and the central bank made efforts to keep the lid on harmful speculative activities. That Malaysia's property market is going through a correction should come as no surprise.
One of the cooling measures by the government was to increase the Real Property Gains Tax (RPGT). Bank Negara Malaysia also put a stop to easy credit, making it harder to secure home financing approvals. The loan-to-value ratio and loan tenures were tweaked as part of a plan to keep the country's escalating household debt under control. As at last year, the ratio of household debt to gross domestic product (GDP) had risen to 87.9%.
If the current property transaction volume and sales trends continue, the boom that the sector has seen for years will end in 2015.
Data from the National Property Information Centre reveals that the property transaction value in the country decreased 6% year on year to RM77.08 billion while volume was down 3.5% to 186,618. In the second quarter of this year, the property transaction value saw a 9.6% decline while transaction volume slipped 7.6% y-o-y.
In an Oct 7 note, Kenanga Research says it is forecasting a 10% drop in Malaysia Residential Transacted Values (MRTV) in 2015 on the back of declining volumes and lower house prices. If this holds true, it would be the sharpest fall in MRTV in 10 years.
As Budget 2016 looms, observers are asking if the time has come for the government to boost the property sector again. After all, prolonged lethargy in the property market cannot be healthy for the economy — the construction industry contributes over 10% to Malaysia's GDP and the property sector, in particular, has a high multiplier effect on the economy.
"The property industry provides a very high multiplier impact (per unit basis) to the economy. It involves a lot of other industries — property development, legal, architecture, real estate agencies, financial. A sharp slowdown or contraction in the property market could be detrimental to these industries and subsequently affect consumption and investment activities," says an economist.
Analysts say there is a "minimum" chance of the government relaxing any of the cooling measures it has imposed.
"We believe that Budget 2016 will focus more on the issue of affordable home ownership. We do not see measures such as the high RPGT rates and developer interest bearing scheme (DIBS) being reintroduced next year," says Alan Lim, an analyst at MIDF Research.
"Having said that, the cooling measures have been effective in limiting property price growth. The possibility of a further tightening of these measures will be slim. If that is the case, the trend of lower property sales will continue," he adds.
Meanwhile, Kenanga Research analyst Adrian Ng says, "Whatever they (the government and Bank Negara) have done is working and 2015 is not going to be a good year for property developers. The golden days when you used to see launches every month are also over. So, I don't see more tightening measures … but that doesn't mean they will be relaxed."
For property developers, however, maintaining the status quo is not good enough.
"I am not sure what to expect [from Budget 2016] but it is definitely time to relax the old measures. The industry serves the housing needs of the Malaysian market. We used to have a lot bookings but these have slowed because of the unavailability of housing loans. Nowadays, even booking rates are lower," says Sam Tan, managing director of Ken Holdings Bhd (fundamental: 2.30; valuation: 3).
Datuk Tee Eng Ho, CEO of Fututech Bhd (fundamental: 2.60; valuation: 3) says, "How will the youngsters own a home? The government needs to relax some of its measures. Having the property market too hot or too cold is not good."
Analysts say both large and small property developers are seeing sluggish sales as banks are more reluctant to approve housing loans. A local bank officer in charge of approving housing loans tells The Edge, "We reject more applications than we approve. The rule of thumb is that we approve financing up to 80% of the value of the property, even if the applicant is qualified for more."
According to Teh Lip Kim, group managing director of Selangor Dredging Bhd (fundamental: 1.30; valuation: 3), the current lending practices are "slowly strangling the industry". For the first eight months of this year, the number of residential loans applied fell 6% while the number of residential loans approved decreased 11%. Kenanga Research says the ratio of residential loans approved to loans applied has declined to 48% from 52% in the previous corresponding period.
It is no surprise then that many developers have chosen to hold back on new launches this year.
"Developers are holding back, and so are we. We need a proper climate to launch our projects and if the sentiment of buyers is not right, then it is difficult to do so. If the cooling measures remain the same, then this is the trend you will see," says Ken Holdings' Tan.
The more cautious property developers have issued profit warnings and asked their shareholders to brace for weaker future earnings, while others have aborted landbanking activities. It is worth noting that Mah Sing Group Bhd (fundamental: 2.80; valuation: 2.40) called off a proposed purchase of a 1,051-acre tract in Seremban for RM360 million in August and Tropicana Corp Bhd (fundamental: 1; valuation: 1.50) terminated a proposal to acquire a 34.2ha parcel in Johor Baru last month. The companies cited the failure to fulfil the terms under the sales and purchase agreement as the reason for their deals falling through, but there is a sense that the current climate has caused developers to take a more cautious approach when planning for the future.
Property counters have also seen their share prices suffer in the first three quarters of the year. Unlike the last two years, the Kuala Lumpur Property Index (KLPRP) is unlikely to outperform the broad market in 2015. Year to date, the KLPRP has declined 7.99% or 102.68 points while the FBM KLCI has shed 2.52% or 44.43 points.
Selangor Dredging's Teh recommends that the government relax the RPGT, lower the threshold for foreign purchases of residential properties and allow DIBS for first-time homebuyers in Budget 2016. The industry should also do away with existing lending rules and replace them with more supportive plans, she says.
"What we can do is to look towards additional support plans, such as having in place multi-tiered payment schemes (such as graduate loan schemes), longer terms of financing (such as resuming the 45-year terms instead of keeping the maximum at 35 years) ... These are all potential powerful tools that can offer the sector much assistance," she continues.
Mah Sing, meanwhile, wants the government to increase the housing grant for the youth, provide stamp duty exemptions to first-time homebuyers and further reduce the personal income tax for the middle class, among others.
How many of these suggestions will be taken into account by the government in Budget 2016 will only be known next week. As Fututech's Tee sees it, unless Budget 2016 "does something" different, the situation in the property sector could turn from bad to worse next year.
For now, economists are only expecting to see measures that will aid first-time homebuyers and whatever is announced will be far from the windfall that property developers have seen in the recent boom years. Still, given the sector's contribution to economic growth, the developers will not be alone in their hope for good news.
---
Note: The Edge Research's fundamental score reflects a company's profitability and balance sheet strength, calculated based on historical numbers. The valuation score determines if a stock is attractively valued or not, also based on historical numbers. A score of 3 suggests strong fundamentals and attractive valuations. Go to www.theedgemarkets.com for more details on a company's financial dashboard.