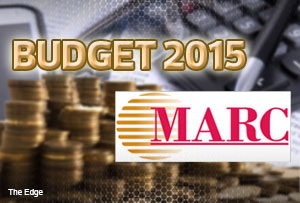 KUALA LUMPUR (Oct 8): Malaysian Rating Corp Bhd (MARC) expects Budget 2015 to address key issues of fiscal consolidation, economic growth and the rising cost of living.
MARC chief economist Nor Zahidi Alias said further fiscal consolidation efforts will be needed to ease worries of a downgrade of Malaysia's sovereign rating.
"At the same time, a respectable GDP growth momentum will be needed to offset other pressing macro issues such as mediocre revenue growth, the high government debt level and moderating momentum in private consumption.
"The government will also focus on alleviating the rising cost of living stemming from not just increased consumer prices but also asset prices, which have remained stubbornly high," he said in a note today.
He added that the budget will include measures to mitigate the effects of the Goods and Services Tax (GST) on the cost of living, which could include an increase in direct cash handouts.
Moreover, he said it is possible that residential properties priced below RM400,000 on the GST-exempt list will be classified as zero-rated.
"Such a measure is also meant to curb further escalation in house prices as developers may pass on the additional costs to consumers if these residential properties are maintained on the GST-exempt list in order to protect their profit margins," he said.
The rating agency also wishes to see more retail participation in the local bond market as most investors currently are big pension funds, insurance companies and financial institutions.
Greater retail participation, said Nor Zahidi, can be facilitated by lowering entry requirements into the bond market such as net assets required and minimum lot size.
He added that the government has to put long-term plans in place to strengthen the resilience of Malaysia's economy, which includes the unwinding of the current cash handout programmes, addressing rising contingent liabilities, operating expenditure, and also the impact of a more liberalised capital market.
Other measures listed on MARC's wish list for the budget include more packages for businesses to cope with GST, a multi-tier subsidy rationalisation package, an update on 1Malaysia People's Housing, and also clearer measures on the plan to reduce budget deficits.