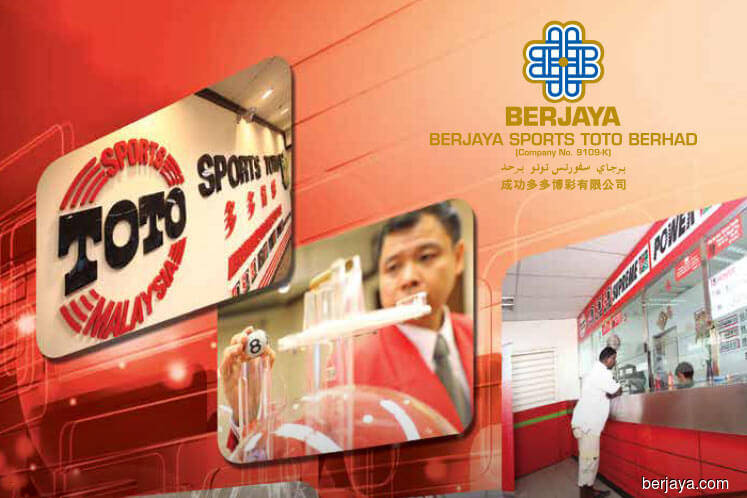 KUALA LUMPUR (Sept 20): Berjaya Sports Toto Bhd's (BToto) core net profit for its first financial quarter ended July 31, 2018 (1QFY19) which rose 27.6% year-on-year (y-o-y) at RM87.7 million was above CIMB Research's forecast, as it represented 32% of house full-year forecast but was at 20% of Bloomberg consensus estimate. 
In a note today, the research house said core net earnings grew y-o-y, mainly due to better performances from its gaming arm Sports Toto Malaysia (STM), as well as its luxury car distributor HR Owen.
"We maintain Add, with a slight higher dividend-discount model (DMM)-based target price of RM3.09 (from RM2.99).
"Potential re-rating catalysts include: i) disposal of non-core gaming business (i.e. HR Owen); ii) positive regulatory changes in Malaysia's gaming laws which could catalyse the entire sector, as legal numbers forecast operations (NFOs) regain market share as a result of the government's effective clampdown on illegal syndicates, with heavier punishments; and iii) higher-than expected dividend payout," the note added.
Meanwhile, despite BToto core net profit for 1QFY19 showing improvement, Affin Hwang Capital Research said it was not sustainable, as the tax holidays period during June until August is the main driver to push its earnings toward growth.
"Although 1QFY19 core net profit at RM85 million (+23.5% y-o-y) achieved 30% of our and the consensus forecast, we do not think that the earnings momentum is sustainable," Affin Hwang said in a client note today. The new sales and service tax (SST) regime would not change the group's cost structure, which is similar to the goods and service tax (GST) regime for BToto, it added.
To recap, BToto was absorbing the cost of GST under the GST tax regime. 
For Philippines leasing operations, the research said the outlook remains unclear, as its unit Philippine Gaming Management (PGMC) lost its exclusivity for being an online lottery lessor to Philippine Charity Sweepstakes Office (PCSO) in Luzon, after losing the arbitration case.  
To recap, PGMC received a final award decision issued by the Arbitral Tribunal on Feb 23, which ruled PGMC did not have an exclusive contractual right to supply an online lottery system for the Luzon territory.
The Arbitral Tribunal also ordered PGMC to pay all of PCSO, the lessee of PGMC for lottery systems, reasonable costs and expenses in the arbitration, which amounted to 53.6 million pesos (RM4.03 million), and to reimburse PCSO US$200,000 (RM780,000), which PCSO paid as advance on costs.
According to the research house, the management has filed an appeal to the court, and the petition is still pending. 
"We make no change to our earnings per share (EPS) forecasts and DDM-based target price of RM2.20. However, we upgrade our call to "Hold" due to the limited downside from current levels," Affin Hwang said. 
At 11.29am, BToto gained 0.87% or 2 sen to RM2.13, with 656,200 shares done.