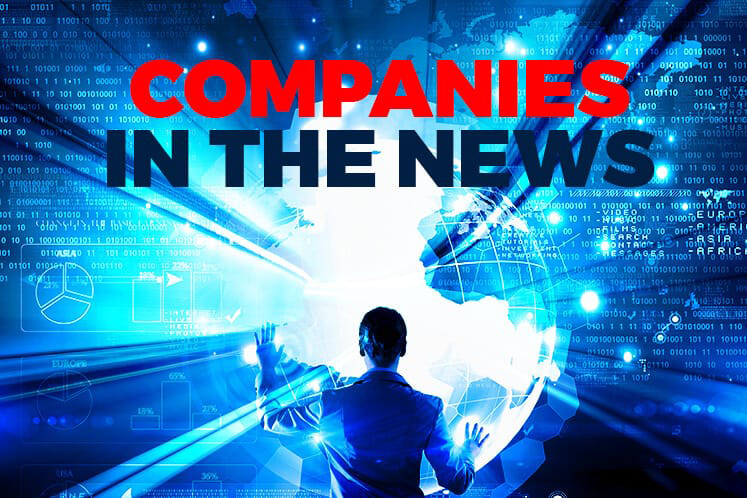 KUALA LUMPUR (May 12): Based on corporate announcements and news flow today, companies in focus tomorrow (May 13) may be as follows: BTM Resources Bhd, Damansara Realty Bhd, Destini Bhd, Duopharma Biotech Bhd, Frontken Corp Bhd, K-One Technology Bhd, Mlabs Systems Bhd, SMTrack Bhd, Tasek Corp Bhd, UEM Edgenta Bhd and Yee Lee Corp Bhd.
BTM Resources Bhd has scrapped its plan to venture into the liquefied petroleum gas business in Kazakhstan by terminating the heads of agreement it entered into last November with Tan Sri Halim Saad-controlled Markmore Energy (Labuan) Ltd.
Damansara Realty Bhd (DRealty) has appointed AWC Bhd's former business development general manager Azman Tambi Chik as its new chief executive officer effective yesterday. Meanwhile, executive director Azhari Abdul Hamid has left his role, following the non-renewal of his fixed-term contract due to the restructuring that is currently being undertaken. Azhari controls a 14.59% stake in DRealty's subsidiary HC Duraclean Sdn Bhd.
Destini Bhd secured a four-year contract from Japan's JX Nippon Oil & Gas Exploration (Malaysia) Ltd to provide tubular equipment and services. The contract's value was not disclosed.
Duopharma Biotech Bhd's office and headquarters have recommenced operations and will be open during ordinary business hours. The premises were closed in accordance with the initial phases of the Movement Control Order. Research and development unit Duopharma Innovation Sdn Bhd in Zon Perindustrian Hicom-Glenmarie has also resumed operations with all manufacturing sites in Klang, Bangi and Glenmarie continuing their respective operations.\
Frontken Corp Bhd's net profit for the first quarter ended March 31, 2020 rose 10.4% to RM17.01 million, from RM15.04 million a year earlier, on the back of better revenue from its Taiwan semiconductor business. Quarterly revenue rose 1.24% to RM84.87 million from RM83.83 million.
K-One Technology Bhd expects to obtain approval from the Medical Device Authority under the Ministry of Health and other like authorities in other markets for the nasal swabs it plans to manufacture. This comes on the heels of its announcement on May 6 that it was going into manufacturing nasal swabs for Covid-19 tests.
Mlabs Systems Bhd has signed a memorandum of understanding with Cisco International Ltd to distribute Cisco Webex Meeting and Webex Team solutions. The group said that it will also be offering Cisco's virtual annual general meeting service for listed companies.
SMTrack Bhd is to undertake a private placement to raise up to RM53.3 million in working capital. The working capital encompasses payment of utilities expenses, rental, trade and other payables and administrative and operating expenses.
Tasek Corp Bhd will see Hong Leong Asia Ltd — through subsidiaries HL Cement (Malaysia) Sdn Bhd and Ridge Star Ltd — offer an unconditional voluntary takeover for the shares they do not own at RM5.80 apiece. HL Cement and Ridge Start now control 79.91% and 8.26% of Tasek's ordinary shares respectively, bringing the total indirect stake held by HLA to 88.16%. HL Cement also controls 64.91% of the preference shares in Tasek.
UEM Edgenta Bhd has appointed ex-Touch 'n Go Sdn Bhd CEO Syahrunizam Samsudin as its new managing director cum CEO effective July 1. He replaces Datuk Azmir Merican Azmi Merican, who left UEM Edgenta to be Sime Darby Property Bhd's managing director.
Yee Lee Corp Bhd's founder cum executive chairman Datuk Lim A Heng @ Lim Kok Cheong and parties acting in concert, who control an 89.94% stake in the company, have launched a voluntary general offer for the remaining 10.06% stake at RM2.06 per share — an 11.5% discount to their previous offer price of RM2.33 last year.