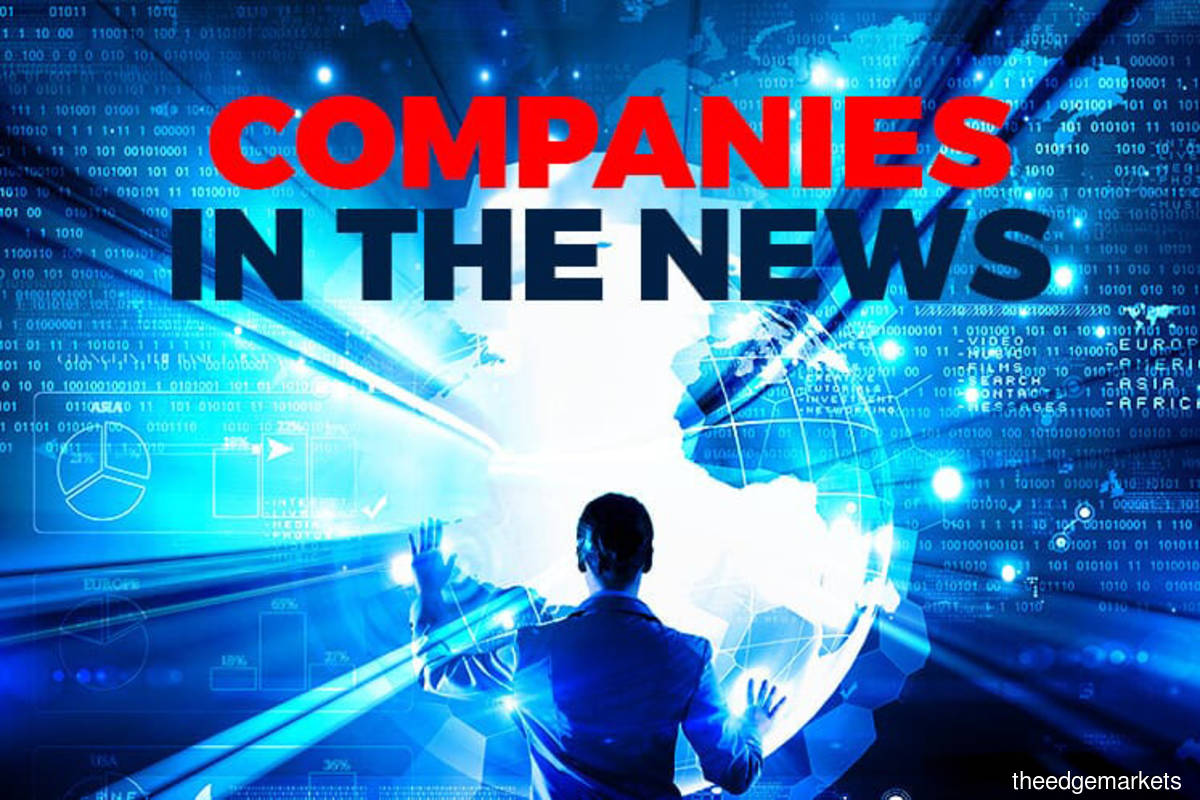 KUALA LUMPUR (Jan 7): Based on corporate announcement and news flow today, the following stocks are likely to be in focus tomorrow (Friday, Jan 8): BSL Corp Bhd, Tomei Consolidated Bhd, Bintai Kinden Corp Bhd, Apex Equity Holdings Bhd, UMW Holdings Bhd, CN Asia Corp Bhd, Time dotCom Bhd and KESM Industries Bhd
Bursa Malaysia has issued an unusual market activity (UMA) query to BSL Corp Bhd due to the sharp rise in the group's share price and trading volume. The share price surged as much as 30 sen or 69.8% to 73 sen before retreating to close at 63.5 sen, still up 20.5 sen or 47.7% from yesterday. The counter saw 7.86 million shares traded today, sharply higher than an average of 117,700 shares per day over the past 200 days
Tomei Consolidated Bhd is mulling over the listing of its design and manufacturing of jewellery arm through a special purpose vehicle on the ACE Market. Tomei said that it is planning to list YXG Group, which will house four wholly-owned subsidiaries — Yi Xing Goldsmith Sdn Bhd, Gemas Precious Metals Industries Sdn Bhd, Emas Assayer Sdn Bhd and GPM Refinery Sdn Bhd. The group did not reveal any timeline of the listing plan.
Bintai Kinden Corp Bhd's partner Generex Biotechnology Corp has filed for a trademark for its li-Key vaccine, to be known as "The Complete Vaccine", and patent for its li-Key SARS-CoV-2 vaccine. Bintai Kinden said the technology offers the safest and best route for the rapid development of a Covid-19 vaccine that can be safely administered to everyone, including children and pregnant women, without side effects.
Apex Equity Holdings Bhd, which last week announced the disposal of four parcels of freehold land in Shah Alam for RM37 million, had initially planned a project with an estimated gross development value of RM86.5 million on the land. The project was to involve the development of 61 units of shoplots, the company said in a filing with to provide additional information on the proposed disposal. The building plan is, however, still pending approval from the Shah Alam City Council (MBSA). Most of the 2.39-hectare land is currently vacant except for a small plot which is currently let out to MBSA.
The sales tax exemption introduced by the government in the middle of last year propelled strong sales for UMW Holdings Bhd in the second half of the year, resulting in 59,320 units of Toyota vehicles and 220,154 units of Perodua automobiles being sold last year, exceeding its 2020 targets of 53,000 vehicles under the Toyota marque and 210,000 units of Perodua automobiles. UMW Toyota Motor (UMWT) chalked its highest monthly sales in December at 9,246 units, with Toyota Vios, Yaris and Hilux being UMWT's bestselling models for the year. Meanwhile, 38%-owned Perusahaan Otomobil Kedua Sdn Bhd (Perodua) sold 25,171 units in December — its second-highest monthly sales last year.
CN Asia Corp Bhd said it will apply for a digital banking licence to offer services for women. The group said it had signed a memorandum of understanding with Intcys Sdn Bhd, under which it plans to invest RM400 million in the establishment of a consortium to provide digital banking for women. Via the proposed MyWeW (Women Empowering Women) Digital Bank, the group plans to offer services such as entrepreneurial financing, microloans, applications of debit and credit cards, and opening of digital bank accounts.
TIME dotCom Bhd has acquired a 60% stake in Malaysia's leading private cloud computing provider AVM Cloud Sdn Bhd for RM58.7 million. TIME said the acquisition marks the group's efforts in accelerating the growth of cloud computing as the newest pillar of its business, alongside fixed line services, global network connectivity and data centres. "With the inclusion of AVM in the TIME family, the group now possesses a full spectrum of product offerings that can meet the needs of its enterprise customers across the region," it said.
KESM Industries Bhd's executive chairman and CEO Sam Lim today announced a new investment of a factory space of more than 100,000 sq ft in Melaka to support future growth in burning and test of automotive semiconductors, in anticipation of the business recovery. He said the reliability of semiconductors for safety of cars will always be the top concern for all new car designs.