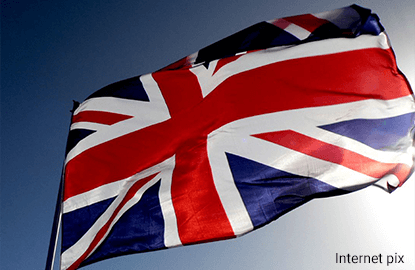 SOLIHULL, England (Feb 6): Each aluminium Land Rover body that rolls along the production line at Solihull carries a lengthy sheet of paper giving the vehicle's specifications. At the top of the "build card" is the name of the country for which the vehicle is destined.
In recent years around one in five of the cards has had "China" printed on it.
"I often think 'how rich are the people in China?' They buy so many," said line worker George Baker, amid a cacophony of forklift horns, beeping machinery and trumpeting line stoppage alarms.
Jaguar Land Rover (JLR), owned by India's Tata Motors, increased sales to China from around 250 million pounds in its 2009 financial year to almost 8 billion pounds in 2014-2015, allowing it to more than double its UK workforce.
Jaguar's success, and deals to export other British goods and services worth billions of pounds, are cited as examples of the opportunities for selling into China and of how the government can help "open the door for British companies".
Exploiting those opportunities is especially urgent since Britain voted last year to leave the European Union, a fact well understood by Prime Minister Theresa May, who needs fast-growing markets like China to make up the numbers that may be missing soon from its European trade.
But the impressive deals touted by the government are not quite what they seem, a Reuters analysis of the figures shows.
The value of announced deals to export British goods and services to China since 2010 adds up to 36 billion pounds, according to official government releases over the period, often issued around the time of ministerial visits to Beijing.
However, a Reuters examination of company statements, corporate filings and interviews with executives shows the value of actual exports from those deals have totalled less than 6 billion pounds.
The upshot: government figures are giving an overly rosy picture of the state of UK-China trade, economists said.
"If you look at these headline deals and they have a big number on them, I think that's not really very informative," said Holger Breinlich, professor of international economics at the University of Nottingham.
"You have to look at the small print and what's being spent in the UK."
The Reuters analysis highlights the challenges British companies face in China, with whom the UK has a ballooning deficit, and how even a post-Brexit free trade deal may fail to accelerate exports.
The government declined to comment on the conclusions reached for this story. A spokeswoman for the Department of International Trade said the announced trade and investment deals would "help retain or even grow jobs in the UK, and will have benefits for the Exchequer too".
CHINESE CHALLENGES
There are a variety of reasons why the deals have turned out smaller than announced.
For one thing, more than 3 billion pounds worth of deals were preliminary agreements that were never completed.
In other cases the amounts cited were for the overall value of a project in which the UK entity had a small role.
For example, in 2013, the government touted a 6-billion-pound deal between Oxford University and China Construction Bank (CCB) to help fund research into regenerative medicine.
Donal Bradley, head of life sciences at Oxford, said the figure referred to the amount of money CCB could contribute towards research work, almost all of which would be done in China. Oxford's role was largely to provide advice on the creation of new research facilities in China.
So far, the Chinese partner has paid around 1.5 million pounds to Oxford for its work, he said.
In some cases, deals involved British companies agreeing to provide products that are manufactured outside Britain.
For example, Thomas Pink was cited as signing a 57 million deal with a Chinese franchisee, but the London-based shirt-maker produces almost all its garments in Asia and Morocco.
Government announcements in 2014 and 2015 cited agreements by oil and gas group BP Plc to export 18.5 billion pounds worth of liquefied natural gas (LNG) to China. But LNG is not produced in the UK, and BP typically supplies customers from facilities in Indonesia, Trinidad and Australia.
Although companies fulfilling contracts from non-UK operations still make profits which can flow back to Britain, the impact is much smaller.
The muting of the announced deals also reflects the reality that Britain's strength is more in services than manufacturing.
British companies have signed billions of dollars of deals to provide Chinese clients with training, product testing, architectural and other services in recent years. But the services are largely delivered by staff on the ground in China, reducing the benefit to the British economy.
Northumberland-based Annie Barr International provides training to doctors and nurses in China. Founder Barr said she had signed deals worth 57 million pounds in recent years including a contract to open 100 clinics across China.
At the early stages it was necessary to send out staff from the UK and her courses used training materials developed by staff in the UK. But most of the activity was in China.
"We won't have too many exports from the UK," Barr said.
Distance, culture, language and government procedures around issuing visas, for example, all make China a harder place for British companies to do business, especially when compared with neighbouring Europe.
WIDENING GAP
The trade gap between Britain and China has widened sharply in the past decade, with a drop in UK exports in 2015 pushing the deficit to over 25 billion pounds, equivalent to more than 1% of Britain's GDP.
Goods exports to China dropped 18% in the first 11 months of 2016, according to the UK tax authority, which does not provide reasons behind its data.
The US deficit with China has prompted President Donald Trump to threaten protectionist actions, but Britain is taking the opposite tack, hoping for more open markets.
Ministers have said they want a free trade deal with China but declined to identify their priority market segments saying they were still in consultation with businesses.
Andy Goss, Global Sales Director at JLR, said his cars can face a Chinese tariff of 25%.
But other exporters, including Rolls Royce which sells aero engines and technology group TestPlant, said their products and services faced low or no tariffs already thanks to World Trade Organization rules.
Alan Winters, professor of economics at the University of Sussex, said non-tariff barriers, such as government support for state-backed enterprises or difficulties in securing permits, were bigger limitations on UK businesses competing for Chinese customers. Trade treaties had a poor track record at tackling such barriers, he said.
China's restrictive banking and insurance regulations are a key hindrance to capitalising on one of Britain's biggest competitive strengths, said Guy Dru Drury, chief representative in China for the CBI, Britain's biggest business trade body.
He added there was little sign China would open up its financial services sector, and instead, new Chinese regulations around areas like data protection were actually making the environment tougher for overseas companies.
A spokesman for the Chinese embassy in London said "the Chinese government has made unremitted efforts to improve its investment climate" and that policies to increase domestic consumption would improve opportunities for exporters to the country.
Even where the market outlook is strong for UK companies, that may not lead to increased exports, however.
JLR's exports to China have dipped since the company opened a plant in China in late 2014, for example.
"The authorities in China want us to build cars in China. Like most governments around the world, they want employment in China and they want Chinese parts purchased for the cars," Goss said, adding the approach was no different to other countries.
"Because of localisation, you are going to see a different pattern of revenues," Goss added.
This almost certainly will impact overall UK export growth given the increase in JLRs exports generated 60% of the growth in UK goods exports to China since 2008.