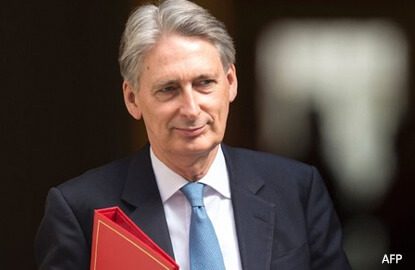 DAVOS, Switzerland (Jan 19): British finance minister Philip Hammond warned the European Union on Thursday that Britain would find other ways to remain competitive after Brexit if it did not strike a comprehensive trading deal with the bloc.
At the World Economic Forum in Davos, Switzerland, he stuck closely to the government's message that it wants to explore ways with the EU to ensure that decades of close ties are not broken — saying with goodwill, anything was possible.
But Hammond, who is keen to show Davos that Britain is "open for business", said while the government did not want to leave the economic mainstream and trigger a race to the bottom on tax, the decision was "not entirely in our gift".
"We have to remain competitive. The best way to do that is to have a comprehensive trading relationship with the European Union, our closest neighbours," the finance minister, known as the Chancellor, told Reuters.
"But if we can't achieve that then we will have to find other ways to maintain our competitiveness, because our first obligation of government is to make sure that our people are able to maintain their standard of living."
Hammond later said that this was not a threat, but German Finance Minister Wolfgang Schaeuble said Britain should not try to gain competitive advantage by cutting corporate tax rates after the G20 leading economies agreed not to do so in 2015.
Recalling a pledge by Prime Minister Theresa May to make Britain a global player post-Brexit, Schaeuble said: "A truly global economy has to stick to what's been agreed globally."
FAR APART
Britain and the EU have stuck fast to their opening gambits as May prepares to trigger some of the most complicated talks since World War Two by the end of March.
The prime minister said in a speech this week that Britain would quit the EU single market when it leaves the European Union.
She threatened to withdraw the bloc without any agreement with Brussels in place, unless she failed to win a good deal, in what aides say was a speech aimed at a domestic audience.
British officials however now hope to reassure businesses in Davos that there will be prospect of falling off a "cliff edge" into uncertain trading conditions.
On Wednesday, two of the world's biggest banks, UBS and HSBC, said they could each move about 1,000 jobs out of London to prepare for Brexit disruption.
In her speech on Tuesday, May did offer some comfort to those who want to see Britain retain close ties with the EU, saying that she is aiming to secure an agreement that "may take in elements of current single market arrangements in certain areas" and to have a customs agreement with the EU.
'WELCOMING SOCIETY'
Asked how such an arrangement could work, Hammond said Britain wanted to explore options to find ways in which businesses — including the financial industry, which fears losing the right to sell their services in the bloc — could trade freely.
"Obviously we can't be in the full customs union because the restrictions that implies goes beyond the political imperatives from a UK point of view," said Hammond, who had campaigned to stay in the EU ahead of the Brexit referendum in June last year.
"But we have a lot of reasons on both sides of this discussion to want to try and maintain the most frictionless border system possible," he said, pointing to fresh produce imports every day, which neither side would want to disrupt.
And he said Britain would always be an attractive investment destination because of "the high level of confidence in our institutions".
British economic growth would slow this year, but the government did not expect to have to borrow more to keep the economy afloat, said Hammond, adding that Britain was still a haven for foreign talent and entrepreneurs.
"We want to go on being that kind of open, welcoming society which people choose as a venue to do their business," he said.