This article first appeared in City & Country, The Edge Malaysia Weekly, on June 28, 2021 - July 04, 2021.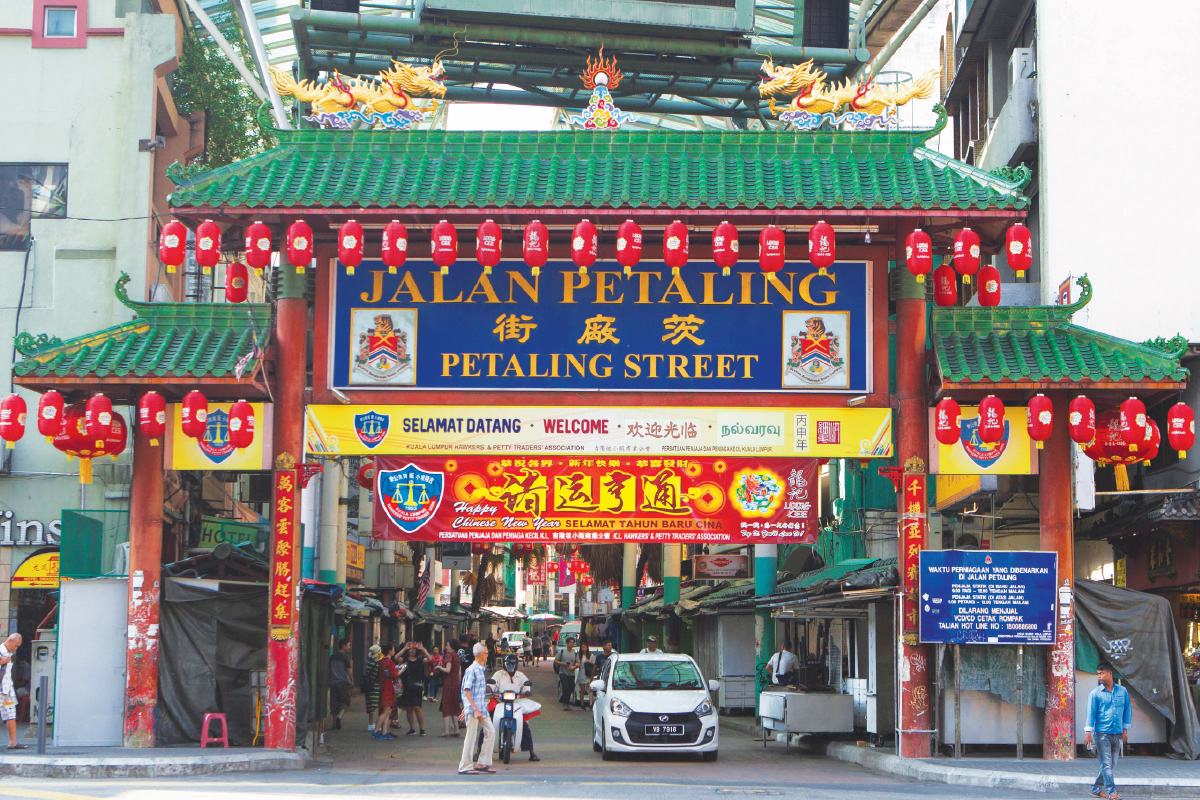 Every major city has its own Chinatown. Kuala Lumpur is no different. The most famous street in its Chinatown is Petaling Street, or Chee Cheong Kai in Cantonese. 
The street is famous for its market, which sells everything from cheap knock-offs to fresh flowers. However, there is more to Petaling Street than the market, and much has changed in the area in recent years. 
VPC Malaysia managing director James Wong notes that Chinese Kapitan Yap Ah Loy had set up a tapioca mill in Petaling Street in 1870, which is how Chee Cheong Kai, or "tapioca mill street" in Cantonese, got its name. 
"Generally, Petaling Street refers to the covered pedestrian shopping street between the two arches. Actually, the road goes beyond this part of Petaling Street — it stretches up to the north until Jalan Yap Ah Loy and extends towards the south until Bulatan Merdeka," he says.  
According to Knight Frank Malaysia executive director of research and consultancy Judy Ong, Jalan Petaling was one of the earliest roads built in Kuala Lumpur. 
"It is regarded as a heritage site. The locality was once home to Chinese settlers, mostly from the Hakka and Cantonese dialect groups, who worked in the flourishing tin mining industry in the early 19th century," says Ong. 
In 2003, the government spent RM11 million to transform Petaling Street into a pedestrian shopping arcade by installing Chinese-style arches at the two ends of the street and a green translucent roof to cover the street. 
"Prior to the 1990s, the area was a thriving commercial hub well known for its open-air market, traditional flower market, hawker food, places of worship (Sri Mahamariamman Temple, Sin Sze Si Ya Temple, Kuan Yin Temple and Gurdwara Sahib Sikh Temple) and budget hotels," says Ong. 
JLL Property Services (M) Sdn Bhd country head YY Lau recalls that Petaling Street used to appeal to the locals for its eateries and clothing and grocery stores, especially in the 1980s. 
"It has now been transformed into an international tourist attraction. The growth in e-commerce and the development of other areas in Kuala Lumpur, such as KLCC, have also contributed to the changes seen in Petaling Street," says Lau.
"For example, the change in trends had resulted in the closure of Popular's iconic outlet in the Lee Rubber Building on Jalan Tun H S Lee. We conducted the tender exercise in 2015." 
The Covid-19 pandemic has taken its toll on Petaling Street. 
"Prior to the Movement Control Order (MCO), which was imposed to contain the spread of ­Covid-19, stalls in Petaling Street were mostly run by foreigners. Since the MCO last year, the foreigners have been forced to move out, owing to strict regulations, and the locals have taken over the stalls. 
"Many of the shops located there closed down during the MCO. Business has been badly affected as the products are mainly targeted at tourists, both domestic and foreign," says Wong.
"Rapid urbanisation and the influx of foreigners running the stalls and shops prior to the pandemic may have led to KL's Chinatown losing its attractiveness in recent years, although positive initiatives such as Kwai Chai Hong @ Petaling Street and RexKL in the last two years have helped to gradually restore it to its former glory," says Ong. 
A place for food and art
In recent years, a transformation has been quietly taking place in the area. According to Wong, the other streets in the vicinity of Petaling Street, particularly Jalan Balai, Jalan Panggung and the stretch of Jalan Petaling from Bulatan Merdeka, have been transformed into a new tourist hotspot with trendy food and beverage (F&B) outlets and murals. 
"Even though Chinatown is not a retail destination for youths, many are attracted to this area for the creative and contemporary spaces such as RexKL. This is on top of the Instagram-worthy cafés and trendy bars, as well as murals and wall art that have popped up in recent years," says Lau. 
On a visit to the area one Sunday after the first MCO, we saw for ourselves how much has changed. Even under the hot late morning sun, people were standing in line to get into trendy F&B outlets such as the Hungry Tapir and Merchant Lane. We queued for 1½ hours to get a table in the latter. 
A large number of people milled about in Lorong Panggung. Most were either ready with their smartphone camera to snap a photo or were posing for photos against the brightly painted yellow walls  and blue wooden windows and doors. Again, there was a line of people, this time waiting to go into Kwai Chai Hong. 
Wong credits the project for making this part of Chinatown popular among locals and tourists. Kwai Chai Hong, which translates into Ghost Lane in Cantonese, was a restoration project undertaken by Bai Chuan Management Sdn Bhd and was opened to the public in April 2019. 
"The project cost RM1.5 million and urban regeneration organisation ThinkCity gave a grant of RM94,255 for the restoration, along with support and guidance as well as access to restoration experts since the early days of the project. It comprises 10 units of Category 3 heritage buildings that are parallel to Petaling Street. The Insta-worthy spots, which showcase art, culture and heritage, attract tourists, the younger crowds and families," says Ong.
There are six murals in the lane that depict the daily lives of Chinese settlers in the 1960s, which in our Instagram-loving society make it a "must visit" place. 
The F&B outlets are also a draw. According to Wong, the tenants include Bubble Bee Café, Pandan Republic, Concubine KL, Asia Street Food Club, Daboa, Gui Gui BBQ, G-String KL and Bunn Choon. 
"The leases of these F&B outlets are mostly managed by Bai Chuan Management. Apart from the outlets at Kwai Chai Hong, there are many new cafés, such as Luckin Kopi, Café 16, Urban Artisan and Mary Jane, along Jalan Panggung and Petaling Street," says Wong.
Located on Jalan Sultan is RexKL, which used to be the iconic Rex Cinema. In September 2017, RexKL co-founders and lead architects Shin Chang and Shin Tseng were asked by the building's landlord to take over the operations of the building. With the support of well-known names in the landscape and architecture industry, the once-abandoned building was transformed into a creative and community space with a sustainable marketplace, F&B and retail outlets as well as spaces for exhibitions, shows and so on. It will be home to BookXcess' new flagship store, taking up about 6,000 sq ft of space on the second floor. 
"Apart from RexKL, the 100-year-old Pos Malaysia headquarters in Jalan Panggung had also been refurbished and turned into a retro-style café known as Kafei Dian in 2019," says Wong. 
With the popularity of the new offerings in the area, he expects to see more pre-war shophouses turned into old-style cafés, shops, budget hotels, bars, hip eateries and a cultural museum that taps into Kwai Chai Hong's 1960s theme. 
Ong agrees that there are opportunities to preserve the heritage of Petaling Street and the streets in its vicinity with adaptive reuse/repurposing of heritage buildings to breathe new life into the locality. She cites Concubine Lane in Ipoh as an example of a successful urban regeneration project. The street is popular with locals and tourists as a hangout spot with a variety of pop-up stalls.
Ong also notes that accessibility to the area has improved over the years. Public transport includes the Maharajalela monorail station; the Pasar Seni MRT station, which is fully integrated with the Pasar Seni LRT station; and the Merdeka MRT station. Both MRT stations are part of the Kajang Line. 
Limited transactions
There have been a limited number of transactions in Petaling Street and the other streets in its vicinity. According to Ong, the asking prices in Petaling Street range from RM1,196 to RM2,077 psf while in other parts of Chinatown, the asking prices are lower and generally range from RM763 to RM1,305 psf. 
Wong says, "In our opinion, the properties located along the stretch of Jalan Petaling from Bulatan Merdeka, Jalan Balai and Jalan Panggung command higher property values than those located on Petaling Street. That is because they enjoy higher visibility and are not constrained by the stalls along Petaling Street." 
Knight Frank Malaysia data shows that a 2,648 sq ft pre-war shophouse in Petaling Street was transacted for RM4.9 million in March 2012, up from RM1.7 million in April 2001, giving such transactions an estimated compound annual growth rate (CAGR) of 10.1%. Meanwhile, a 2,423 sq ft pre-war shophouse was transacted for RM6.8 million in February 2015, up from RM2.8 million in July 2007, for an estimated CAGR of 11.9%. 
As for rents, Knight Frank Malaysia puts the asking rent in Petaling Street at between RM6.70 and RM7.53 psf per month and that in other parts of Chinatown at RM5.13 to RM7.40 psf. 
"There are limited records of transactions in 2020, owing to the various phases of the MCO and property market conditions. Asking prices appear to be generally lower as there may be more motivated sellers," says Ong.
Knight Frank Malaysia associate director for residential agency Kelvin Yip notes that landlords have generally lowered the asking rent and are willing to negotiate terms with potential tenants. 
Meanwhile, JLL is seeing healthy interest in the hotels and office buildings that it has been appointed to sell in the area, such as the two adjacent red buildings in Lebuh Pudu that were once owned by Yap Ah Loy.
A stone's throw away
JLL's Lau believes the 118-storey Merdeka 118 being built by Permodalan Nasional Bhd (PNB) will become a catalyst for change.
"Petaling Street is just a stone's throw from Merdeka 118, and I am confident that it will change the whole of Chinatown. The influx of more than 10,000 office workers [upon completion of Merdeka 118] will no doubt increase the vibrancy of the area. The building will top out in 3Q2021 and is expected to be operational by mid-2022. At this point, the office and hotel components will be open," she says. 
Ong concurs with her, noting the spillover effects from Merdeka 118, which is set to revitalise the former Merdeka Park area near Merdeka Stadium and Stadium Negara off Jalan Stadium. 
According to Ong, PNB and its subsidiaries reportedly will take up 42 floors while 14 floors will be for amenities, four floors for observation decks and another 41 floors (500,000 sq ft) for office space. The upper 17 floors of the tower will house the 5-star Park Hyatt Kuala Lumpur, which will have 232 guest rooms, 28 suites and 30 serviced apartments. 
Despite the more subdued values seen in the last couple of years, Wong believes that Petaling Street, being a tourist destination and with its heritage and cultural features, has the potential for property value appreciation in the future. 
"The increase in value will be proportionate with the increase in tourist visits and foot traffic/demand in the area. It will strongly depend on the transformation and extension of the trendy F&B outlets or similar shops in Petaling Street to restore its attractiveness," he says.
"However, the pre-war shophouses in Jalan Balai, Jalan Panggung and Jalan Petaling that are leased to restaurants with high foot traffic are expected to fetch good rents and increase in value gradually after the MCO is lifted." 
Ong feels that more effort is required to promote private-led initiatives such as Kwai Chai Hong and RexKL, as well as the F&B outlets to draw the local crowd.
"With Merdeka 118 bridging the past and the present [in its design and location], in addition to the [anticipated] economic recovery and border reopening, Petaling Street and the surrounding areas are primed for a healthy revitalisation. Even in the near future, we see high potential for this area and there are many ways for buildings here to capture this opportunity and optimise their value, including enhancement and conversion to the best use while still preserving their culturally rich heritage," says Lau.