This article first appeared in The Edge Financial Daily, on January 10, 2019.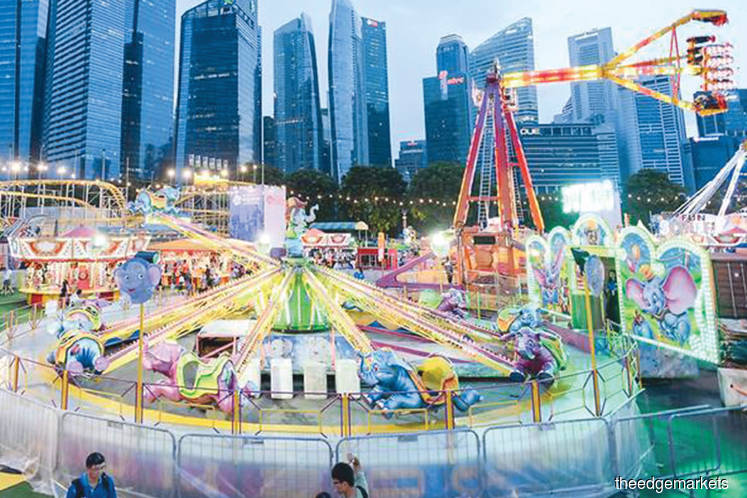 i Light Singapore — Bicentennial Edition, Asia's leading sustainable light arts festival, presents a curated mix of more than 20 programmes and 33 light installations available to the public from Jan 28 to Feb 24.  Activities that promote environmental sustainability will be featured in five hubs located at Fort Canning Park, The Lawn @ Marina Bay, Marina Bay Sands Event Plaza, Bayfront Event Space and Esplanade Park. Here is a rundown of what to expect.
Festival at the Fort
The historic Raffles Terrace at Fort Canning Park is hosting the light art installations for the first time as Singapore commemorates the 200th anniversary of the arrival of Sir Stamford Raffles on the island. Visitors will be welcomed with a musical experience featuring acoustic acts, roving performances, movie screenings, guided tours of Fort Canning Hill led by fellow heritage lovers and piano showcases by local talents'. There will also be activities for the whole family such as installations such as Land-pass Bird, Reflecting Holons and Keys of Light. Guests have the option of either enjoying the musical performances as part of the programming for Keys of Light, or interact with the installation by playing a tune on the piano to create an array of magical light displays. A wide variety of food and drinks will also be provided at the festival.
Eco Lawn
Following the focus on sustainability within this festival, The Lawn at Marina Bay will be transformed into Eco Lawn, where environmental sustainability, fitness and socialising come together. Guests can join Terra SG, a local environmental social enterprise, to give a diverse range of upcycling workshops at Terra Village a try. Visitors can also go on either a shopping spree at the Sustainable Lifestyle Market, or alternatively join a mass yoga event. They also encouraged to indulge in yet another event, the Popcorn Pop-up Cinema, which is an outdoor cinematic experience presenting a wide range of films from classics to blockbusters and award-winning eco-themed films.
Camp Kilo
Enjoy eclectic groovy beats by resident DJs at the Marina Bay Sands Event Plaza with friends and family while engaging in warm conversation alongside indulging in the delicious grilled food served on biodegradable food ware.  
Prudential Marina Bay Carnival
For all the thrill seekers, Prudential Marina Bay Carnival located at Bayfront Event Space presents 50 thrilling rides and games from around the world alongside entertaining programmes and performances that are set to turn the precinct into an LED-lit, vibrant playground. On Feb 2, there will be percussion music, hip hop dances and martial arts by Republic Polytechnic students captivating festivalgoers around Marina Bay.
Transporta
Guests are welcomed to Transporta at Esplanade Park to explore multi-dimensional, kaleidoscopic spaces and embark on a fantasy adventure that redefines our reality. This will be an incredibly unique experience revolving around the space-time continuum, designed by a group of Singaporean multimedia designers and artists based on the Festival Theme of Bridge of Time. The signature Switch Off, Turn Up campaign which is held in conjunction with the festival, will continue to rally corporations and building owners around Marina Bay to conserve energy. The festival with also be supporting the movement Straw Free Singapore to encourage the reduction of single-use plastic straws at food and beverage establishments around the bay.
---
Admission for the festival is free, but you will need to sign up for guided tours of the sustainable light art installations by foot or boat, or go on a self-guided audio tour with mobile application VoiceMap (charges apply for both guided and self-guided tours). Visit www.ilightsingapore.sg for more information.