KUALA LUMPUR (Sept 5): A briefcase full of RM10 notes was pictured on social media, floating on the water in Bristol, the United Kingdom.
British news portal Bristol Live reported that the briefcase may have been in protest against the the involvement of Malaysian conglomerate YTL Corporation Bhd in a proposal to build a controversial arena in the city located in southwest England.
The photos, posted by Twitter account @totterdown_, show an open briefcase filled with the red-coloured RM10 notes, floating in a water feature in front of the Bristol City Hall.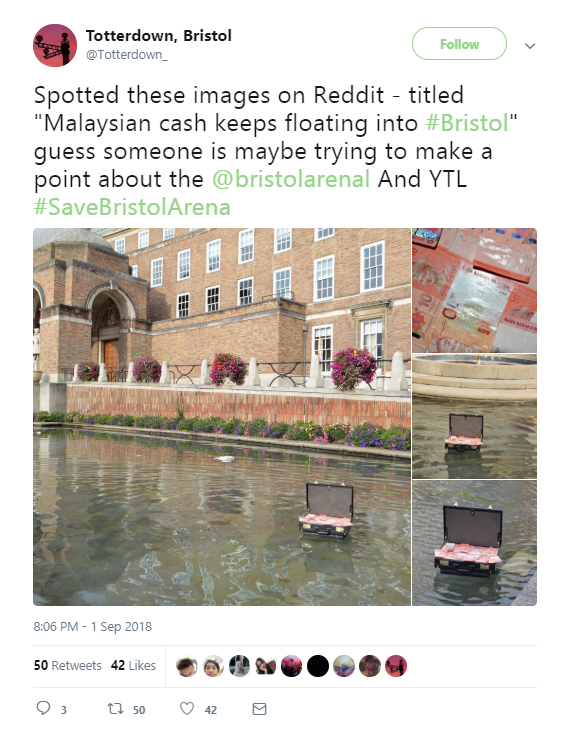 "Spotted these images on Reddit — titled 'Malaysian cash keeps floating into #Bristol' guess someone is maybe trying to make a point about the @bristolarenal and YTL," said the tweet, which @ mentioned an unofficial Twitter account of the arena.
The tweet included the hashtag #SaveBristolArena.
According to Bristol Live, the account has been a vociferous critic of the proposal. The original source of the pictures was not found at the time of reporting.
It is theorized that the stunt is in reaction to YTL's announcement of its plan to transform the Brabazon Hangars at Filton Airfield into a world-class arena to rival London's O2 and Birmingham's NEC.
The planned arena would be larger than the one the Bristol council itself plans to build, which will be a 12,000-seater arena at 'Arena Island', next to Temple Meads station.
Bristol mayor Marvin Rees' is said to be expected not to go ahead with the arena, and instead is expected to build an office, conference centre and residential development.