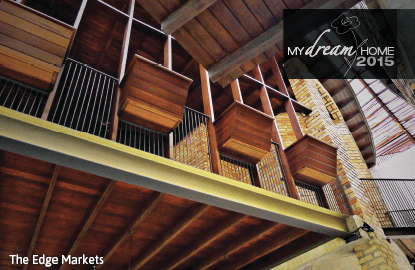 This article first appeared in haven,digitaledge Weekly, on Issue #75 October + November 2015.
A dream home
Urban living has seen the notion of home progress to one that goes beyond a purely physical need. Today, it has psychological and emotional connotations that embrace security, privacy, togetherness and peace. 
Like blank canvases, a home takes on the personality of its occupants who transform it into a haven that meets their various needs. Social areas and private corners have to be defined, everyday interaction with the décor has to be thought through and functionality has to meet aesthetics to create a pleasing yet practical sanctuary. Thus, the collaboration between architect and homeowner relies on mutual understanding and trust — the end result, after all, is a living, evolving space that will bear witness and cater for the journeys of those who reside within its walls.
In this edition of haven/The Edge My Dream Home, we showcase a sumptuous spread of ideas, materials, textures, colours and spaces. As you flip through the pages chronicling the stories of detached/semi-detached, terraced, condominium and green homes, we hope you, too, will draw inspiration and pleasure from these manifestations of a dream home.
Unconventional choices and clever manipulation of space create a raw and authentic living experience
WITH its dramatic cement wall and lush patch of green, the façade of James Khor and Prudence Wong's semi-detached home in Setia Eco Park, Shah Alam gives the house a foreboding feel. But once you pass through a meandering pathway and arrive at the brick-lined entry courtyard, the home simply explodes with warmth and love. "That's the idea," says architect Wooi Lok Kuang of Wooi Architect. "You can't see much from the front, but when you're inside, that's when you see all the magic." 
This palatial 8,000 sq ft home is an ode to raw and unfinished beauty — the combination of bare brick walls and terrazzo flooring, quite an unconventional choice for a contemporary urban home, is a magical union. Wooi's creative handprint has extended to the way he's manipulated the spaces. As he encourages me to look upwards, I see internal balconies and bridges criss-crossing the upper floor as the pale and watery sunlight streams in in a zig-zag pattern. How unusual.
"I like lots of air, space and light," Wong shares. "And we both like the idea of a unique living space that is also authentic and real. I had visited Wooi's home before and I wanted that same feel — spacious but welcoming, with an interesting use of materials. So that was the brief that I gave him." 
Wooi begins all residential projects in the same way — by interviewing the entire family and piecing together all its needs. The houses he designs reflect both his client's requests as well as his own perception of the family. "I like houses in which you feel comfortable right away," he says, looking around. "In designing a home for a family, this is especially important, because I want to ensure that no one part of the house is completely cut off from the other. To create a sense of intimacy in such a big space was quite a challenge, but one that I enjoyed."
The house is accessible via the car porch or the main entrance, which leads into a cavernous living space dominated by tall pillars. Seating is by way of custom-designed furniture as well as small and elegant lips that extend from both walls and the pillars — Khor and Wong have done these creative touches justice by limiting the use of any other decorations save for a centrepiece on the coffee table.  
A huge dining table — ideal for entertaining — is positioned ahead of a long terrazzo-topped island, which Wong admits is more of a magnet for friends and family than the living hall. The spacious lower floor, which opens out to a suspended lap pool, also includes a study, television room, powder room and guest bedroom. 
"It's great because I can stand here and say, 'Dinner is ready!' and everyone can hear me," Wong smiles. "It's like we are all connected, even in such a big house."
In deciding on the materials, architect Wooi opted for locally made products procured from nearby sources. This means rejecting the idea of the more uniformly coloured Korean-fired bricks in favour of locally made stones, which impart a nice effect with its rich warm hues. Each stone is different, which irks Khor, who is a bit of a perfectionist. "I've had to learn to understand that there is beauty in imperfection too," he quips.
Although Wooi likes the warming effect of wood, he's used it quite judiciously — the ceiling beams are made from yellow balau, while the cabinetry, doors and the dining table are all made from dark meranti wood. Wong had all the bedframes made from the same wood and commissioned small circular wooden plates for the exposed bulb lights in the living area. 
A broad and dramatic staircase first leads to the upper levels, beginning with the master suite on the mezzanine floor. The space is beautifully split into a small study, a spacious bathroom and an intimate and cosy bedroom. "My husband's study is separate, so he doesn't bother me if I want to sleep," Wong says, showing me around. "Because of the layout, we can have our alone time when we want it."
On the next level are their two children's bedrooms, which are direct reflections of their personalities. The brick walls of 14-year-old Natalie's room are covered with colourful Manga and cosplay posters, while 19-year-old Nicholas is much too averse to clutter to have a single thing out of place. Both rooms have small facing balconies, with the two teenagers often communicating here. "They are separated so they don't argue, but they can still talk. Best of both worlds," their mother laughs.
A slender bridge connects the two bedrooms to a spacious landing area, which is linked by another small bridge to a music room and a meditation room. The bridges are delightful in detail with what look like floating shelves jutting out of the metal walls are actually remarkably designed chairs. 
Wooi has a rather witty design style which is expressed in other parts of the house, too. Wong's study is fitted with cement shelves instead of wooden ones, for example, and a curving block of concrete in the car porch doubles as a seat and shoe rack. 
Ingenious, practical and memorable — definitely the features the homeowners wanted. 
The couple says the idea of a dream home is ever-changing, and so will their lovely abode. "We are planning for a vertical vegetable garden, near the swimming pool. We also need to get some artwork on these walls," Khor says, looking around lovingly. "But for now, it is everything we need, and more."