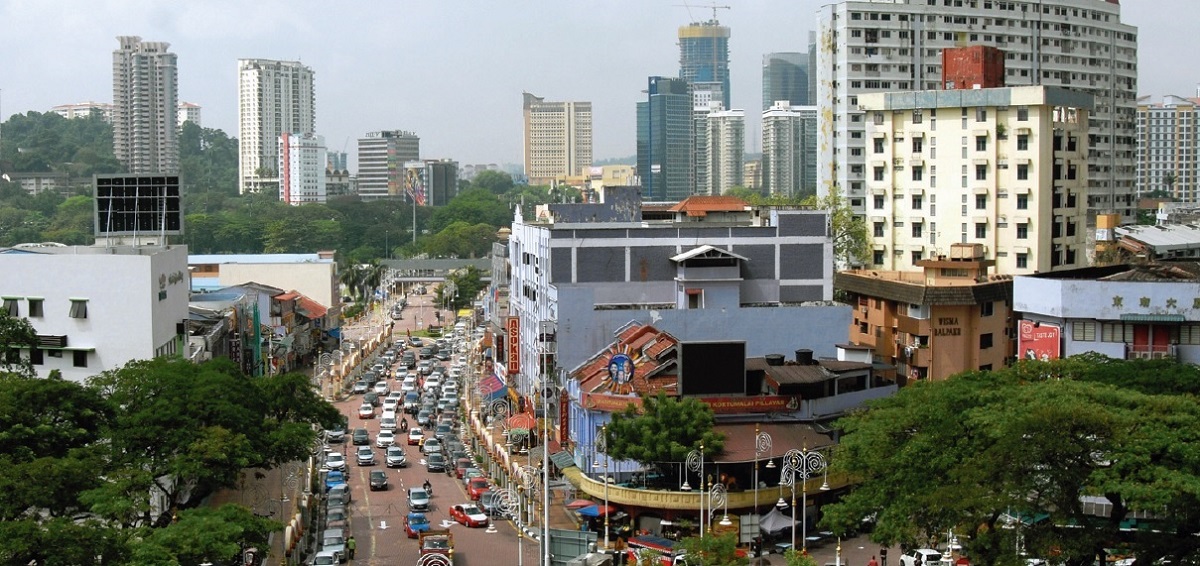 COLOURFUL textile shops, aromatic Indian cuisine and the Indian cultural street decorations along Jalan Tun Sambanthan make Brickfields a vastly different world from its upmarket neighbours, KL Sentral and Bangsar, and just a little bit farther away, Kuala Lumpur City Centre and Bangsar South.
Located at the fringe of central Kuala Lumpur, the area was once the home of brick-making fields back in the late 18th century, hence its name Brickfields.
It is now better known as KL's Little India, a tourist destination, a transit hub, as well as one of the oldest commercial areas in KL.
"Brickfields is very accessible as it is located next to KL Sentral, Malaysia's largest transit hub. The Nu Sentral Mall has internally connected the monorail station to the light rail transit station," says Zerin Properties head of research and consultancy Roja Rani Applanaidu.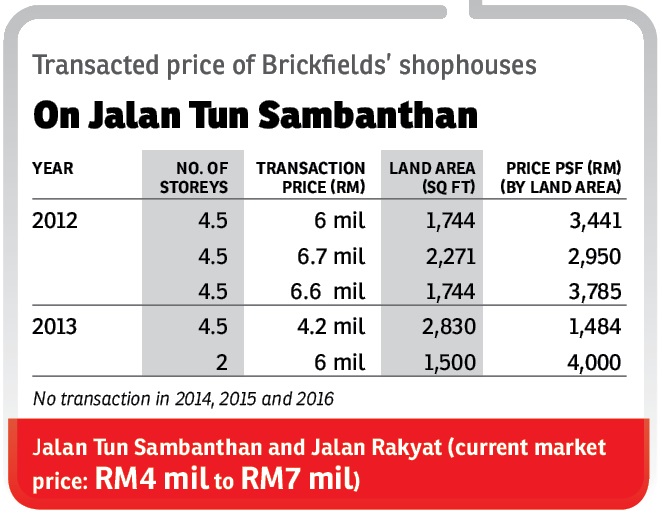 She adds that the pre-war shophouses here are "most probably the oldest commercial developments within Brickfields", which would have been built to serve the needs of the residents and workers back then.
"Besides brick-making, Brickfields used to be the main depot for the Malayan Railways. Sri Lankan and Indian workers were brought in to work on the railways. These workers were housed in housing quarters which became known as the 'Hundred Quarters' built in 1915 along Jalan Rozario and Jalan Chan Ah Tong," says City Valuers & Consultants Sdn Bhd head of real estate services and business development Ruben Kelvin.
The "Hundred Quarters" has now been replaced with the 43-storey Sentral Suites, currently under construction. Developed by Malaysian Resources Corp Bhd, Sentral Suites is the latest component of the transit-oriented development (TOD) of KL Sentral. It offers 1,434 serviced apartment units slated for completion by 2020. The project has a gross development value of RM1.5 billion.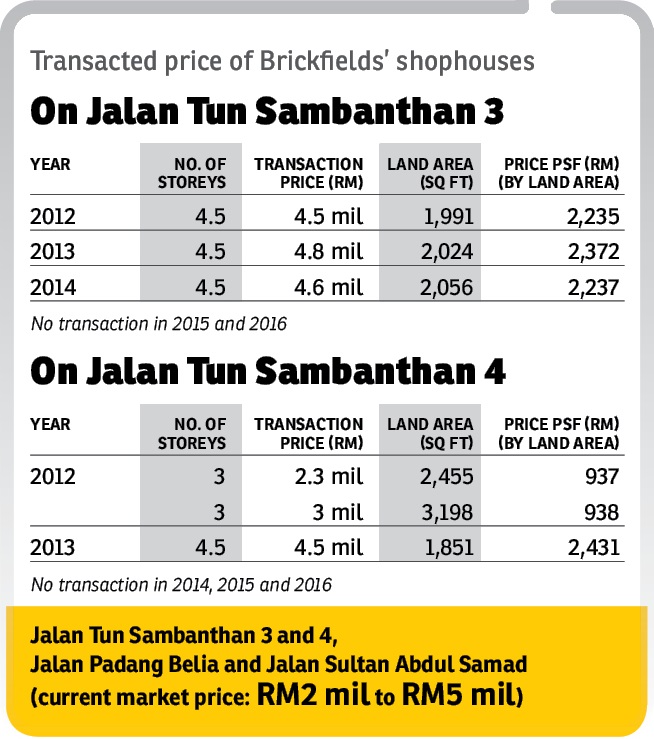 "The main transformation in Brickfields, in my opinion, is due to the development of KL Sentral. The TOD covers 72 acres. A TOD of this size will have an overwhelming effect on the commercial property market in terms of prices and demand, especially when supply is limited," Ruben says.
Brickfields specialist real estate negotiator Desmond Chia from Hartamas Real Estate (OUG) Sdn Bhd concurs. He says commercial property prices in Brickfields saw "a significant jump" about eight to 10 years ago.
"Eight years ago, a 20-year-old, 4,000 sq ft double-storey shoplot was valued at RM1 million. Eight years later, I closed a deal for a unit with a similar condition at RM4.1 million. And that was already at a discount. The price has grown four times in eight years, or over 300%. I don't see such property price appreciation anywhere else in KL," declares Chia, noting that the mentioned deal was not the exception in Brickfields.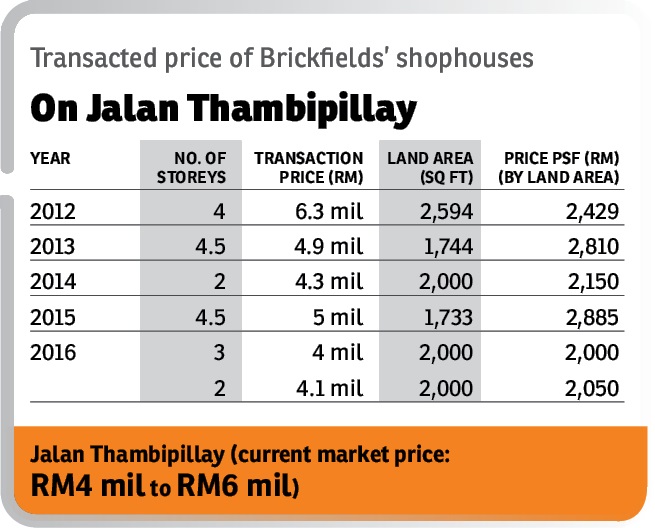 "In fact, the old shoplots along Brickfields' Jalan Tun Sambanthan, Jalan Rakyat and Jalan Thambipillay are all high value properties due to their limited supply and their locations just across the road from KL Sentral," he explains, adding that on average, old shoplots on these streets are asking for more than RM1,000 psf now (based on built-up), depending on the location of the unit. Values will generally decrease the farther away the units are from the main road.
"Do not forget that these two-storey old shophouses were first sold at around RM40,000 to RM50,000 over 20 years ago. Today, they are selling at RM4 million and above," he says.

Old but gold
According to Zerin Properties' Roja, the transaction prices for the commercial shopoffices in Brickfields between March 2015 and February 2017 ranged between RM508,000 and RM5 million, or RM605 psf and RM1,300 psf (based on built-up), depending on size, location and condition.
"Given the location, the shophouses in Brickfields are mostly tenanted by business operators comprising grocery outlets, restaurants, hotels, textile shops, goldsmiths, printing shops, flower stalls, clinics and others. They not only serve the residents but also travellers and tourists from around the world, students from the schools and colleges nearby, as well as corporate workers in the offices in KL Sentral across the road," Roja says.
"Moving forward, KL Sentral's integration with the MRT (mass rapid transit) Line 1 (Sungai Buloh-Kajang) will further enhance KL Sentral's position as a key transportation hub which is already a multi-modal interchange for the LRT (light rail transit), KTM (Keretapi Tanah Melayu), monorail KLIA Transit and the KLIA Express Rail Link. This is expected to bring even higher traffic to Brickfields and should encourage more business activities in the area," Roja reckons.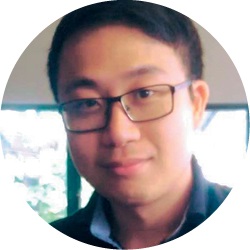 She believes the commercial properties here will continue to experience the spillover effect from KL Sentral.
"The gentrification and the commercial business mix in Brickfields are essential to capture and cater to the needs of the corporate and multinational tenants in KL Sentral," she notes.
According to Hartamas' Chia, commercial property prices and rentals in the area have appreciated significantly as KL Sentral matures, and as the area continues to undergo gentrification and upgrading of its infrastructure and streetscape.
Chia says buyers of Brickfields' commercial properties are often those from the hotel or restaurant business, especially budget hoteliers.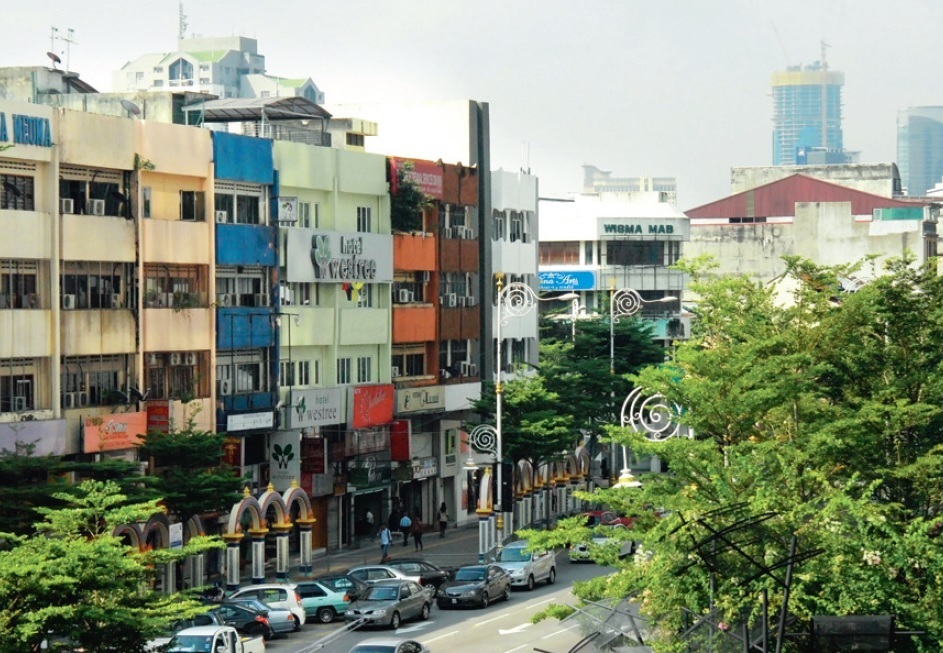 "When visiting Malaysia, the first stop in the country for many international travellers, including budget travellers, would usually be KL Sentral and Brickfields. Most of Brickfields' shop units that I had transacted were sold to budget hoteliers. Some of them even take their own initiative to talk to owners even when their properties are not on sale," Chia notes.
Besides the location, commercial properties in Brickfields are also attractive to investors because there are few renovation restrictions imposed.
"Most of the shopoffices were built at least 20 years ago but the government does not have many restrictions when it comes to renovations. The only restrictions are that they can only be rebuilt to a maximum of five levels, while no extension is allowed for the few units located next to the monorail station," Chia says.

Irreplaceable
Chia is confident that the prices of shopoffices in Brickfields still have room for further growth.
"Although we don't see many transactions of these old shoplots, demand never seems to wane. Whenever I release a new listing, I'll easily receive seven or eight calls in just half a day," Chia shares.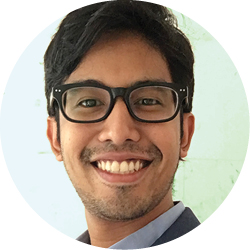 He cites a deal that he closed recently. "The bank valued the unit at RM4.5 million, but it was sold at RM4.1 million due to the slow property market and because the sellers wanted to cash out as fast as they could. This means prices have not reached the ceiling or peak yet."
City Valuers' Ruben wholly agrees that Brickfields' commercial property prices will continue to grow, tapping on KL Sentral's reputation as the most mature TOD in the country and as a popular business hub.
"We feel that old shoplots along Jalan Tun Sambanthan and Jalan Rakyat could go as high as RM4,000 psf (based on land area) or higher in future as they have KL Sentral at their doorstep which is an irreplaceable position at the moment," Ruben notes.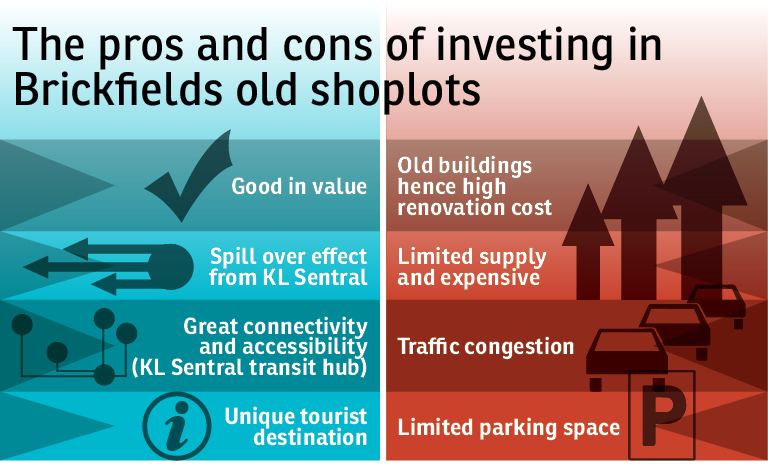 Although more TODs are under construction, including Tun Razak Exchange @ Jalan Tun Razak, Bandar Malaysia @ Sungai Besi, KL Metropolis @ Jalan Duta and Subang Jaya City Centre @ Subang Jaya, Ruben feels KL Sentral will be able to hold its stead for some time yet, and with that, Brickfields will continue to enjoy basking in its light.
"The re-branding of 'Little India' has promoted tourism as well. It was recently ranked as third in Airbnb's list of top trending destinations of 2016. Given such a strong position, I think Brickfields' commercial property market will shine on," he concludes.
This story first appeared in TheEdgeProperty.com pullout on March 17, 2017. Download TheEdgeProperty.com pullout here for free.