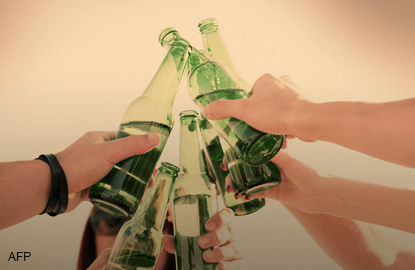 This article first appeared in
The Edge Financial Daily
, on January 5, 2017.
KUALA LUMPUR: Consumers of alcohol products are expected to better stomach price hikes compared to smokers, analysts believe. This is because the brewery sector only saw an overall net excise duty hike of 10% compared with the more than 40% hike for cigarettes in the last 15 months.
After the recent change in beer excise duty structure to RM175 per 100% volume per litre from previously RM7.40 per litre and 15% ad valorem tax effective March 1, 2016, analysts do not see any hike in beer excise duties in the midterm.
However, after the expiry of the Anti-Profiteering Act at the end of 2016, analysts are expecting another round of hike in beer prices this year.
Due to the increase in excise duty in March 2016, Heineken Malaysia Bhd reported a higher increase in average selling prices (ASPs) of 2.5%, while Carlsberg Brewery Malaysia Bhd's ASP increased 2%.
When asked about price increase, Heineken said that while the market environment is challenging with economic uncertainties, high excise duties and soft consumer sentiment, it is always cautious about increasing prices.
"We always seek to deliver our quality products to our customers at the same great price," said its group managing director Hans Essaadi.
CIMB Research analyst Walter Aw said the demand for Heineken and Carlsberg is defensive and inelastic as imported beers are more expensive. An analyst from a local research house concurred with Aw's outlook on the brewery sector, saying that it should continue to see a healthy consumption and competition between the two players.
However, UOB Kayhian Research analysts covering the sector have a different opinion on it.
"Given the still-weak consumer sentiment, we believe malt-liquor market volume will be relatively weak/flattish next year," the research house told The Edge Financial Daily in an email response.
"This is in line with some companies in the food and beverage consumer sub-sector which may continue to be impacted by the weak consumer sentiment.
"In comparison with the tobacco sub-sector, the brewery sub-sector will perform better given that it only experienced an overall net excise duty hike of 10% on its mainstream beers versus the more than 40% hike in excise duty on cigarettes in November 2015," it added.
Thus, consumers could still stomach the price hikes on alcohol compared with that of cigarettes.
Moreover, there is higher regulatory risk associated with the tobacco sub-sector compared with the brewery sub-sector.
Meanwhile, UOB's analysts see that beer sales volume has been weak since the third quarter of 2016 and it may continue to be so in the short- to mid-term until there is a strong recovery in consumer sentiment.
According to a report dated Dec 12 by Aw, amid the still weak consumer sentiment, the 150% increase in excise duty for local hard liquor recently announced by the finance ministry may boost the demand for malt liquor products (beer), which will benefit the brewery sector.
Aw said that this may result in drinkers switching from locally made hard liquor to beer and stout as a cheaper legal alternative.
Effective from Dec 15, 2016, the excise duty for locally produced hard liquor increased from RM24 per litre to RM60 per litre.
Hence, Aw opines that local brewers (that mainly produce beer and stout) Heineken and Carlsberg are likely to benefit as beer is the next cheapest choice after locally produced hard liquor.
Nonetheless, while the contraband beer has been easily available, the hike in excise duty of local hard liquor may also cause continuous challenges from the contraband alcohol market, which will reduce the legal sales of beer and stout.