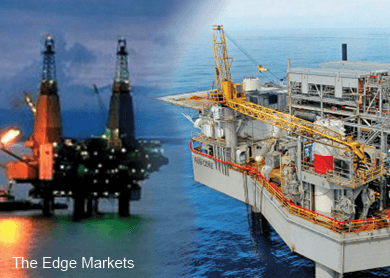 NEW YORK (Mar 12): Benchmark Brent oil jumped 2 percent on Wednesday, rebounding from a one-month low and widening its gap to U.S. crude, which closed slightly down after a new record high for oil inventories in the United States.
It was the first positive close in Brent after five straight days of losses exacerbated by a surging dollar that made dollar-denominated commodities such as oil costlier for holders of other currencies.
While the dollar remained strong at a 12-year high against the euro on Wednesday, London-traded Brent broke free from headwinds posed by the greenback to rally on the relatively weaker fundamentals in U.S. crude.
Aside from support from market bulls who felt the $5 drop in Brent over the past five sessions was excessive, traders said the global oil benchmark could have gained from activity in crude options and the final day of monthly contract rolls for investors in USO, the exchange-traded oil fund.
"I believe there were a host of factors, the chief of which was buying by those defending what they believed to be a bottom for Brent. That probably sparked covering by those short on the market," said Joseph Posillico, senior vice president of energy futures at Jefferies in New York.
Brent's front-month settled up $1.15 at $57.54 a barrel, rebounding from a one-month low under $56. Much of the gains came in the last hour of trade, when Brent jumped almost 70 cents within seven minutes.
U.S. crude's front-month closed down 12 cents at $48.17.
Brent's premium to U.S. crude <CL-LCO1=R>, a favorite spread play in oil, widened to $9.40 a barrel, after hovering at $8 and below on Tuesday, its narrowest in a month.
U.S. crude prices fell after domestic crude stockpiles rose by 4.5 million barrels last week to reach almost 490 million, in a ninth straight week of record builds, according to government data.
"We have to go back to the 1930s to find this much oil in the United States," said James L. Williams, energy economist at WTRG Economics in London, Arkansas.
The stockpile data was particularly bearish, considering the build of more than 2 million barrels just at the Cushing, Oklahoma delivery point for the U.S. crude contract. Genscape, a market data provider, had indicated earlier this week that Cushing builds were just around 157,000 million barrels last week.